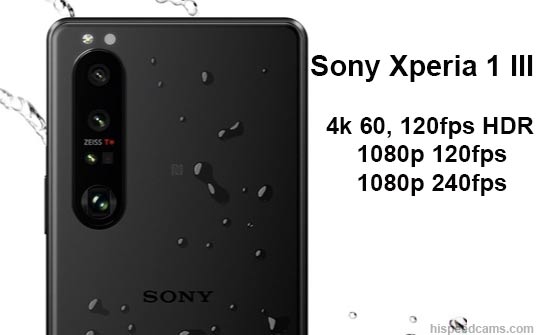 Sony has now released the third iteration of their Xperia 1 series which are the flagship phones from the company that really push the capabilities of the brand. Many point out that Sony smartphones are excellently made and perform admirably while also including the now coveted 3.5mm audio jack which has been removed at the behest of Apple iPhone influence in the vast majority of phones. We will say it once more, USB C audio adapters are terrible connections compared to 3.5mm jacks which offer the best possible audio transmission possibilities without compression and other trade-offs.
The new Sony Xperia 1 III continues the 120fps 4k HDR pedigree of the Xperia 1 II which is clearly a much-coveted feature for video enthusiasts. This time around the phone improves color, compression, and HDR fidelity to deliver an outstanding image when light allows it. The phone also has the typical 1080p 120fp and 240fps frame rate that have been showing up as commonplace features in flagship smartphones but absent is any higher frame rates that were included the Motion Eye TM technology used in previous Sony phones allowing 1000fps 1080p recording for a short time.
Sony Xperia 1 III Main Video Features:
Cinematography Pro "powered by CineAlta"
4K HDR Movie recording 24, 25, 30, 60 and 120 fps slow-motion
1080p 120fps and 240fps Slow Motion Modes
OIS and EIS Video, Optical SteadyShot, with FlawlessEye™
SteadyShot™ with Intelligent Active Mode (5-axis stabilization
3D iToF Sensor to calculate distance to subject and improve AF in Photo & Video
We have very good video specs but the absence of anything above 240fps makes it clear that Sony gave up trying to force super slow motion as a feature in their phones. A real shame considering they were some of the first with the technology out there with the introduction of Stacked Sensor MotionEye™ Technology!
Xperia 1 III Launch – in 3 minutes by WhatGear:
While Cinema Pro settings are very good for cinematography enthusiasts, the phone's real selling point is its 4k HDR screen which is far and above more vivid and detailed than 99% of other phones.
Sony Xperia 1 III product Tour by Sony:
Excellent video capture, fast and reliable AF for photo and video and immaculate Audio make this phone a clear choice for video and photo capture for professionals. There is still a big sales chasm between Sony and Samsung that does not seem to be alleviated no matter how good a phone is, the Xperia 1 III is arguably a better phone than the Samsung Galaxy S21 series when it come sto video mode but marketing and brand recognition/penetration in smartphone makes is extremely hard for Sony to get higher sales numbers compared to Apple or Samsung. In fact many predict that Sony will at some point exit the phone market like LG did just a few weeks ago, we think that even if sales are low, the phone margins are enough for Sony to continue having a presence which also serves as a springboard for their headphones and other products as users will get exposed to the brand more.
But What about the Slow Motion?
We are intrigued by the new optical design and the improved image processing of the Xperia 1 III. However, there is still a lack of reliable video samples since the phone had barely been in the hands of reviewers with an estimated summer 2021 release to consumers.  While the phone will not go above 240fps in 1080p or 720p like previous Sony phones with MotionEye TM technology, the 4k 120fps HDR mode should be a big selling point for anyone wanting the state of the art in 4k phone video. 
We were able to find a video that looks somewhat credible but cannot be corroborated as being a real representation of the phone shooting at 1080p slow motion. If this is in fact the Xperia 1 III in slow motion mode then it looks very good but far from perfect as all phones share compromises in higher frame rate recording.
Sony Xperia 1 III Slow-Mo Mode Video Test by Hyder Tech:
What to do?
It is clear that the Xperia 1 III which will ship some time in the Summer will not be a cheap phone. The Xperia 1 II debuted at $1,199 USD last year which is now just $759. We expect that the v 3 of the phone will debut with similar pricing. Sony is not cheap and the 4k HDR screen in these phones is not only expensive to produce but pretty unique for smartphones. 
If you cannot justify the cost of the phone,  the other Sony option will be the Xperia 5 III which should debut around the same time and offers mostly the same video features with a smaller less capable screen, less weatherproofing, and a slightly less capable all-around feature set.  That phone should debut at under $1000 USD.  
The third option would be to wait if you want this phone, in a year's time it should be found under $800 USD as new models are introduced.  You can also check the Xperia 1 II which is also a good phone as it will be heavily discounted as the summer approaches.
We hope to find more video samples of the slow motion mode on this phone as they are released, in that case, we will share them here at the website, thanks for reading!– HSC 
(Visited 2,414 times, 2 visits today)