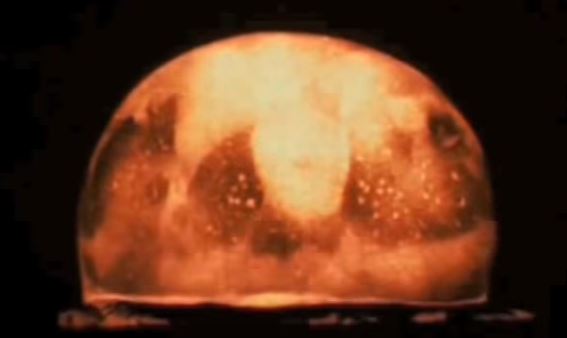 We have to share some amazingly cool slow motion videos we came across recently.  There is continuous production of quality high speed content as the democratization of slow motion cameras is happening. However there is so much content being produced that is sometimes easy to miss.
The videos below are using Phantom cameras or experimental cameras in the mid 20th century capable of 15 million frames/sec to capture the initial fireball of a nuclear detonation. That rapatronic camera used an array of separate camera modules to reach that speed. However the frames recorded only were fractions of a second
1. Our first video is a newly decommissioned nuclear test showing the amazing destructive power of a nuclear test. Learn more about the new footage here and see the rest!
Operation Teapot – Turk 28112 Lawrence Livermore National Laboratory:
Explanation of the Rapatronic camera in action:
‪First Milliseconds of Nuclear Bomb Test Fireball‬ pfirsicheisen:
2. German Shepherd Dog running in glorious 4k slow motion with the use of a Phantom Flex 4k camera.
German Shepherd Dog Running In 4K Slow Motion by Warped Perception:
3. C4 explosive test in Super Slow Motion up to 33k fps.
C4 Explosion (33,000FPS SlowMo) by BeyondSlowMotion:
4. Weed Whacker in super slow motion 4k 1000fps.  New respect for gardening tools.
Weed Whacker In 4K Slow Motion – A Different Look At How A String Trimmer Works by Warped Perception:
5. 750fps Phantom camera used to record sharp skateboarding tricks.
Awesome Freestyle Skateboarding (PHANTOM 750FPS SLOW MOTION) – LFTJ #1 by BeyondSlowMotion:
We hope you have enjoyed these videos and if you like them go ahead and subscribe to the creator's channels below to support their endeavors:
(Visited 622 times, 1 visits today)