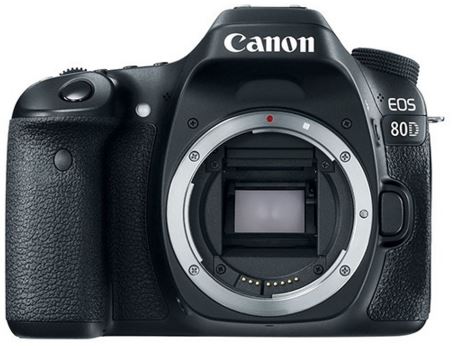 The EOS 70D was a big upgrade from the 60D in that nearly everything was better from the AF for stills, performance and live view Autofocus.  The Canon 80D just released improves even more on the 70D than ever before by using a truly exceptional AF stills module with 45 all cross type points. This is 1D level performance in a 1k USD price range.
They include a sensor that has Dual Pixel CMOS AF same as the recently released EOS 1DX Mk II which is a 5x more expensive camera.  This is in our view the killer feature of the 1DX Mk II and of the 80D as it becomes a true usable video camera with reliable autofocus. Previously unimaginable in either handycams, other video cameras and DSLRs.
Video wise aside from Dual Pixel AF which we expect to work as well as the one in the 1DX MKII, there is 1080p 60fps video in .MP4 format.   Yes that is the maximum frame rate you will get here.  Where is 120fps? Where is 4k? Nowhere to be found.  Sadly while there is a lot of value here there is little in the way of adoption from users of mirror-less Sony or Panasonic cameras that have 4k and higher frame rates for years.  It does have a headphone and microphone jack well positioned which is a first for the line and makes it a pretty good 1080p capture machine.
The 135mm f/3.5-5.6 IS USM Lens released today with the camera is built for video with ultrasonic focus with a STM (stepping motor) for smooth and quiet movie AF.  There is a very strange product released alongside the lens is the Power Zoom Adapter PZ-E1 which is built specifically for the introduced lens.  It allows smooth motor based quiet zoom in and out for the first time in a canon SLR lens.  It is unclear at this time if this adapter will also work on future lenses or this is a one time release.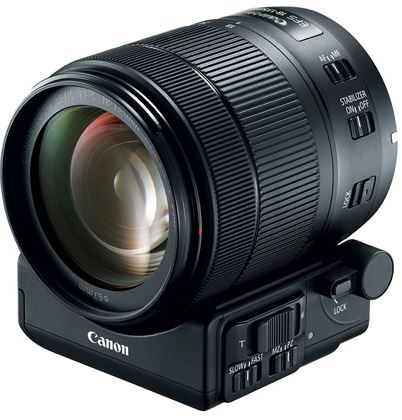 It finally brings the zoom feature into the SLR space in a usable through physical dials and controls or the camera interface via wifi.  Expect zoom shots to come back in rage into videos produced with the 80D.  80s and 90s zoom fans rejoice.  It has it's uses for sure and it would be ideal to allow for customized truck zooms so that the subject seems to warp forward independent of the background.   Ramp zooms are cool but no confirmation yet.
EOS 80D AF with the new 18-135mm lens Canon USA:
EOS 80D Introduction video by Canon USA:
Slow motion Verdict?
Sadly the Canon 80D with all of it's new features it is hardly a video shooters dream. 4k is missing altogether, the 1080p 60fps mode is so 2013 it is not even funny and the camera sensor while revolutionary with the Dual Pixel CMOS Autofocus is hardly a switchers dream.  WHy did canon omit these features? The Canon 1DX MkII is now the flagship camera and 120fps at 1080p plus 4k up to 60fps is included in that camera.  It is the sign of things to come to the Canon line but as for including it in an enthusiast DSLR; that is a step to far. The EOS 5D Mark IV or the EOS 7D Mk III should bring these features into the fold to be competitive.  Autofocus is now in play as a feature across manufacturers and Sony already showed it's cards with the Sony a6300 which in our view it is a much better value of a camera with 4k and 120fps full HD slow motion.
Canon EOS 80D Dual Pixel CMOS AF Demos:
Canon innovates but sure does take it's sweet time.  If you do not need 4k of slow motion features then the Canon 80D is a good upgrade in stills and video from everything before on their price range; and you get the continuous video Autofocus as the real icing on the cake here.
The EOS 80D has an MSRP of $1199 body only and $1799 for the Body plus the 18-135mm Lens kit.   The PZ-E1 Adapter has an estimated price of $149. For the entire kit with powered zoom you will have to pay $1948  USD .
What about the also announced G7X Mark II?
They also introduced the Canon G7X Mark II 1″ Sensor camera with fixed lens which has 60fps Full HD as it;s frame rate ceiling also. It is a mild refresh to a crowded category of cameras that Sony has more than well covered with the RX100 Mk IV which has impressive 4k and slow motion modes at some extra cost.  Canon is doing a lateral move here and there is nothing of interest for high frame rate shooters. MSRP $699
Both the EOS 80D and Powershot G7X MkII will not be features in our camera guide as they lack higher frame rates in HD resolution.
(Visited 11,022 times, 1 visits today)