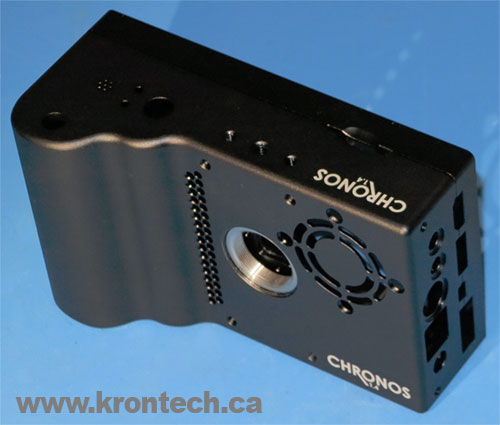 The Chronos 1.4 portable high speed camera from Krontech Canada and Kickstarter has been getting a make over in the case department with more mount screws and either black or silver aluminum finish as options. While the case is not finalized it is very close to the shipping version since there are a few non cosmetic revisions for the next and final iteration.
The inclusion of 1/4″ Tripod Screw mounting holes in the bottom "now stainless steel" and side and top aluminum threads make it very easy to adapt the camera to any imaginable position. There are also eight "8" M4  mount holes as well if you need them for a special attachment goal like a custom cage.
Chronos 1.4 Case Update by David Kronstein:
"We just got (nearly) final production cases in from the machine shop. A few minor fixes are required, mainly the backfocus ring threads which are incorrect, but very close to being ready. One more revision.

Earlybird backers requested more pictures of the two case color options (black and bare aluminum), which weren't available when the earlybird survey was sent out. A comparison is included below. The surveys for non-earlybird backers will be going out shortly. Earlybird backers who wish to change their selection with the new pictures available may do so by sending us a message.

Backers had requested more mounting holes, so we added 8 new M4 holes around the case, plus two new 1/4-20 (tripod) mount holes on the hand-hold side and top. These allow you to mount the camera sideways on a non-tilting tripod, or mount accessories to the camera such as lights, cold shoe adapters, etc. Pictures showing these new holes are included below.

The main tripod mount on the bottom also now uses a stainless steel Helicoil insert, so repeated use won't wear out aluminum threads."
Mounting a strap on the Chronos 1.4:
Since the Chronos 1.4 has no camera strap included in the kit we researched a few options that can be used for this and any camera with 1/4″ threads. All are very low cost and easy to install for a safe grip and protecting your investment from a fall.

More Chronos 1.4 Camera Footage from popular Youtube Channels:
One of the most successful aspects of the Chronos 1.4 Kickstarter campaign came from the astute use of social media as a way to spread knowledge about the camera. This continues as prototype cameras still in the hands of very talented Youtube Channel Personalities that had no daily access to a high speed camera can now use one for their footage needs. This in turn keeps feeding the interest loop in the Chronos name.
Here are a few really good samples of the Chronos 1.4 in action as a dependable video tool:
1000 degree Red Hot Rocket Knife by TheBackyardScientist:
Mezcladora Blendtec vs. Prensa hidráulica by cuchillos y prensa:
Red Hot Cannonball Vs Styrofoam Tower- TheBackyardScientist:
Table saw slow-mo at 21600fps – WASP 250 demo by tesla500:
CRUSH BATTERY WITH HYDRAULIC PRESS – THE SMASHER SHOW MR. Bashar:
Trituración HALLOWEEN con prensa hidráulica by cuchillos y prensa:
Crushing fireworks with hydraulic press by Hydraulic Press Channel:
Trituración de material de golf con prensa hidráulica by cuchillos y prensa:
We will continue to cover the Chronos 1.4 high speed camera and have a review when the final cameras ship in late March 2017.
For ordering and all info about the Chronos camera visit: http://www.krontech.ca/
For More information about the Chronos 1.4 Kickstarter Campaign visit: https://www.kickstarter.com/projects/1714585446/chronos-14-high-speed-camera/
(Visited 604 times, 1 visits today)