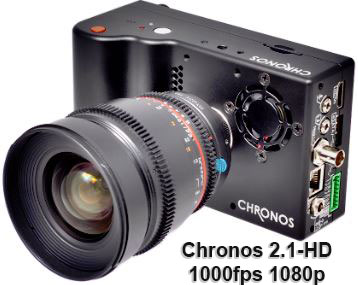 The Chronos 2.1 HD Slow Motion Camera which is the larger sensor and resolution version of the Chronos 1.4c is now being used in a lot of production situations. The material created with it gets better and better and while there is still a small backlog of camera orders due to COVID 19 disrupting part supply channels, most orders are now just a few weeks behind.
We have looked at a dozen videos that we would like to share with our readership showing the Chronos 2.1 HD in full force shooting in exquisite 1080p quality.  We are still waiting for a review unit which was delayed for a shortage of components to get to us but needless to say, the camera is gaining a very good reputation as the lowest price vs. quality option in the 1000fps 1080p camera world.
Chronos 2.1 HD Slow Motion Camera Video Samples:
We have seen a plethora of footage shot with the Chronos 2.1 HD lately which shows how Krontech has been able to ship a boatload of cameras across the globe.  You will find professionals and hobbyists alike shooting incredible material with the camera which is probably the best looking 1080p slow motion footage under $10,000 we have ever seen.  This little camera is making inroads into the market that is probably causing headaches to the higher end high-speed camera manufacturers. We can't wait for Krontech to use what they have learned here to go even higher and offer a possible 1080p 4000+fps camera or a 1000fps 4k camera in the future.  Congratulations to our Canadian friends! 
Slow motion product shoot behind the scenes – Chronos 2.1-HD by Chronos Cameras:
Macro Room shooting slowmo video on Kron Technologies Chronos 2.1-HD by Chronos Cameras:
Chronos 2.1 HD Unboxing & Demo Shots! by HarrisonTheEditor:
Popping water balloons in slow motion by GhostsRreal66:
Chronos 2.1 1st surf sessions by Scott Aichner:(Must Watch)
Cable cam with Chronos 2.1 by clk div:
Crushing Stuff with the Chronos 2.1 in ultra slow motion by Scott Aichner:
Spice Slow motion test chronos camera 2.1 HD by LaSt Studio:
SpaceX Falcon Heavy Launch – Chronos 2.1 HD | Krontech by Chronos Cameras:
Bees on the Chronos 2.1 at 1000fps 2000fps and 3000fps by Scott Aichner:
Chronos 2 1 Blue Skimmer landings 2000fps by Colin Page:
Hot Chocolate with Chronos 2.1 and Hive Lighting by Colin Page:
satisfying video Slow motion world Chronos 2.1 by slooow:
Wow, that was quite a blast!
We have to say it is impressive what the early users of the new Chronos 2.1 HD Slow Motion Camera have been able to achieve. As of this writing, there is probably no better value MSRP $5,000USD in the high-speed camera world of 1000fps in full HD than this camera.  While we could detect some banding in the shadows on some shots, it is clear that when properly warmed up and calibrated, the camera is able to achieve pristine and excellent image quality that can be used in broadcast and film productions.
For more information on the Chronos 2.1HD  and ordering: Krontech at Chronos store then use Code "HISPEEDCAMS5"  for a possible discount on your order if you are a new customer! 
Thanks for your visit and stay safe out there-HSC
(Visited 3,985 times, 1 visits today)