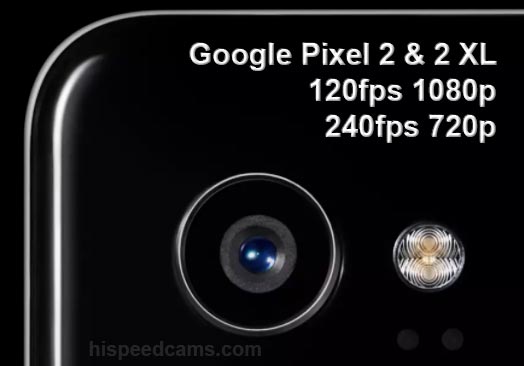 The Google Pixel 2 and 2 XL have been unveiled and to put it simply the slow motion component has received no change.  We are disappointed that the 120fps 1080p mode is the highest frame rate at that resolution when Apple's iPhone 8 and X max out at 240fps 1080p.  The 240fps spec on the Pixel 2 is the same also as the first Pixel phones at only 720p.
In 2016 we tied the iPhone 7 with the Google Pixel as equals in the slow motion game but it is clear that Google has dropped the ball with this release by not being particularly strong in the video side as Apple even has 4k 60fps added on their new phones when the Pixel 2 and 2 XL max out at 30fps.  This year the iPhone 8 and X seems to be the slow motion phones of the year with a #2 spot for the Sony Xperia XZ series.
Pixel 2 and Pixel 2 XL MainTech Specs:
Operating System: Android 8.0.0, Oreo
Display Always-on display
Cameras Rear: 12.2MP • Front: 8MP
Processor: Qualcomm® Snapdragon™ 835
Memory & Storage RAM: 4GB • Storage: 64GB & 128GB
Dimensions: Pixel 2: 5.7 x 2.7 in • Pixel 2 XL: 6.2 x 3.0 in
Colors: Just Black • Clearly White • Kinda Blue • Black & White
Media & Audio: Stereo front-firing speakers
Battery Pixel 2: 2700 mAh • Pixel 2 XL: 3520 mAh
Wireless & Location : Wi-Fi 2.4G • Bluetooth 5.0
Network: World-wide network/carrier compatibility
Ports: USB-C • 3.1 Gen 1
Materials Aluminum unibody • Water & dust resistant
Daydream ready • Hearing aid compatible
Pixel 2 Camera Specs Front and Back:
Rear Main Camera:
Rear Camera
12.2MP
1.4μm
Autofocus with laser + dual pixel phase detection
Optical + electronic image stabilization
f/1.8 aperture
Rear Camera Video
1080p @ 30fps, 60fps, 120fps-
720p @ 30fps, 60fps, 240fps-
4K @ 30fps
Front Camera:
8MP
1.4μm
f/2.4 aperture
Fixed focus
Front Camera Video
1080p @ 30fps
720p @ 30fps
480p @ 30fps
Meet Google Pixel 2 | More, more, more:
The new Pixel Phones are not bad representatives of current technology but they are not groundbreaking in capabilities or design. We would be hard pressed to recommend these phones above the iPhone this time when it came to video capabilities.
If you need a pure Android experience then the Pixel 2 and 2XL offer the best performance in an updated platform controlled by Google directly.  Also the Pixel 2 has the 120fps 1080p spec which compare d to Samsung with it's slow motion options only allowing for 240fps 720p on either the Note 8 or Galaxy S8 makes it a solid android choice.   Samsung seems to be working on a 1000fps slow motion sensor package for a future phone that could be the Galaxy S9, so that is something to consider if you can wait.
Google Pixel 2 Impressions! by Marques Brownlee:
If Slow motion is what you are after and need the Android OS then the Pixel 2 and 2 XL make sense. Last year's Pixel and Pixel XL will have the same slow motion spec however but in a slightly outdated spec when it comes to performance and processing. The older phones offer a pretty good value now that the Pixel 2s are out. It should be on your consideration list.
Should I get it?
We are disappointed by the lack of advancement on the slow motion front but the new Pixel 2 phones are extremely good phones in their own right. If you need the purest Android 8 experience with constant first in line updates then there is nothing better than getting a Google Pixel phone.
On the other hand the iPhone 8 and X are leaps and bounds better phones spec wise in the camera and internal performance. But that would require a switch to iOS from Android which is pretty hard if you rather have an Android interface.  The iPhone will get you 240fps at 1080p and 60fps at full 4k for the very first time on a handset.
Everything From the Google Pixel Event | WIRED:
But the older Pixel and Pixel XL offer the same slow motion performance as these new Pixel 2 handsets for much less money. If you can wait a few months we would recommend to see what Sony and Samsung have in store for a slow motion phone in early 2018 or Christmas 2017. If you already crave the new iPhone 8 or X and need an upgrade we fully recommend it looking at the impressive video performance. No question the iPhones are the ones to beat.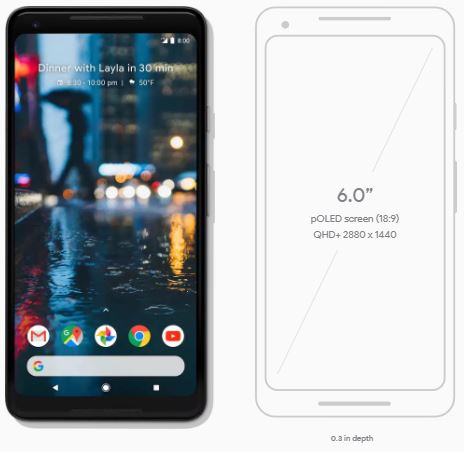 Pricing and Availability:
Pixel 2 – 5″ Screen

From $649.00 USD

Pixel 2 XL 6″ Screen From $849.00 USD
Both Handsets will Ship by the End Of October 2017!
More Info and ordering from Google Store: store.google.com
We will have samples of the video modes on the Pixel 2 and 2 XL when available, only then can we measure if the camera is heavily improved or just a mild refresh that is not worth the upgrade.
Google is playing it safe here on the camera front but as a handset, it is a very strong option for performance and everything else!-HSC
(Visited 11,448 times, 1 visits today)