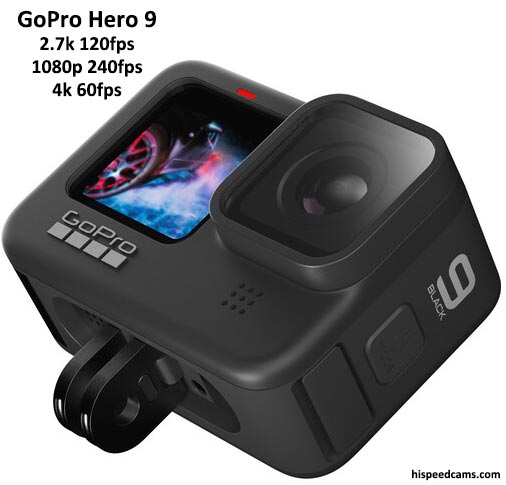 GoPro has released the Hero 9 Black and in many respects, it is the best camera they have ever made. It is a little larger to accommodate a slightly larger battery and screens and it offers a new 5k mode that is very filmic like with pretty good dynamic range.  It has Hypersmooth 3 technology which does away with most gimbal situations and it can serve as a minute and reliable blog camera.
However, the GoPro Hero 9 Black is in some ways the end of an era for GoPro and the action camera market. It now heralds a new subscription model that aims to hook their market with a  lower price for the camera if the subscription to GoPro.com is added at check out.  Gone are the days of class-leading technology and in are the days of survival at all costs. Can we really blame GoPro for trying to make it?
GoPro Hero 9 Black Main Features:
23.6MP Sensor, 5K30 Video & 20MP Photos
240fps 1080p Video* 8x Slo-Mo
Live View Front Display/Rear Touchscreen
Webcam Mode & 1080p Live Streaming
HyperSmooth 3.0 Image Stabilization
33′ Waterproof without External Housing
PowerTools & Protune Feature Suites
Time-Lapse & Night-Lapse
Built-In Flip-Out 2-Prong Mount
30% Longer 1720mAh Capacity Battery
1080p Frame rates:
Linear Lens 240, 120, 60, 30, 24 fps
Linear + Horizon Leveling 240, 120, 60, 30, 24 fps
Narrow Lens 240, 120, 60, 30, 24 fps
2.7K Frame Rates:
Wide Lens 120, 60 fps
Linear Lens 60, 30, 24 fps
Linear + Horizon Leveling 60, 30, 24 fps
Narrow Lens 60, 30, 24 fps
If you decide to get a Hero 9 which in our view is still the best action camera you can buy, you may be inclined to lower your cost by subscribing to GoPro.com and shaving $100USD from the camera price.
HERO9 Black
1-year subscription to GoPro1
or
without subscription Subscribing to GoPro gets you:
Unlimited cloud storage
Up to 50% off at GoPro.com2
Total camera replacement3
32GB SD card included
So what is wrong with this camera?
There are few things we don't like on this camera which is a good thing, it has outstanding 5k 30fps footage, it has larger screens and better Hypersmooth in 4k, it has a larger battery, and it is a very refined product with a  quality build. It is in fact the best GoPro we have ever seen but sadly there are things we need to mention.
GoPro Hero 9 Black Slow Motion Fail:
The biggest issue we have is the stagnation of 1080p frame rates. 120 and 240fps in full HD remain essentially the same quality as they were in the Hero 6 Black.  Sure you get better Hypersmooth stabilization in 240p but quality-wise, the pixelation, and overall soft look of the slow motion footage is here with no apologies.
There has not been a consolidated effort to offer 480fps or even 320fps footage in 1080p even as the camera has grown to accommodate 4k 60p and 5k 30p recording modes.  In other words, slow motion is mostly frozen in place except for one little glimmer of hope. GoPro needs to become a leader in frame rates again, it was and still is one of the most important considerations for its users.
That hope is in the form of 2.7k at 120fps which is detailed, offers excellent color and dynamic range for such a small camera and sensor. They did a really good job extracting those 120 frames and we feel that this should be your default slow motion option on this camera. 1080p is simply to soft to even consider it for full HD quality, it is still more like a 720p upscaled mess.
5k is essentially the star on this camera and it is probably the main reason to get this camera over the Hero 8 Black.
GoPro Hero 9 Black Video Test 5K by KabyNougat:
Other nitpicks: 
Another small problem is that Hypersmooth 3 works excellent in 4k but is not as good in 5k which is the main draw for this camera. It seems the cropping in 5k is more restricted to pixel frame limits and in turn, it can be less aggressive on stability.
The touch screen is hard to operate due to multiple presses needed on the back screen, if GoPro can fix this it will also be something to remove from the negative column.
GoPro's Future:
The subscription model being thrown in with a  much lower price means GoPro is transitioning to a subscription model which could one day turn into a perpetual rental model which may work for many by replacing the camera each year to the latest model and also storing all recorded footage as a backup and auto-edited in a plethora of ways.
If GoPro could transition to a mostly subscription-based model, it could survive the onslaught of copycat cameras that have destabilized their market share.  We are all for it as they invented the action camera segment and have always produced the class-leading product except for DJI Osmo Action which is as good and even better in some features.  If DJI improves on frame rates and technology ahead of GoPro it could become even harder for the erosion of the US company to be stopped.
Our Recommendation:
If you have the Hero 8 Black then we do not see a reason to upgrade at this time, what you gain is good but not earth-shattering.  If you own a Hero 6 or 7 then it becomes a better upgrade solution.  If you do not have a GoPro at all or are still using your Hero 5 or 4 and even below that, then a Hero 9 is a clear winner as a fantastic upgrade with solid performance and features that will revive your curiosity.
If you only want the Hero 9 for 5k then it is a great option for 30p but if Slow Motion is your interest, then you are better off getting a camera like the Sony RX100 series that can shoot 240fps at near real 1080p and up to 1000fps at lower resolutions with better quality and flexibility.
HyperSmooth 3.0 SLOW Motion HERO 9 Test | 240 fps 1080p by Seen By Yosh:
The footage above shows the Hero 9 Black at 240fps 1080p. Showing heavy aliasing, noise, and artifacts that look more like upscaled bad 720p vide. 
If you are ok with GoPro's slow motion at 1080p 240fps, then you can save a lot of cash by getting a Hero 7 or 8 with essentially the same slow motion feature. You will only gain 120fps at 2.7k which is excellent if you move to the Hero 9 but everything else is the same.
If you do decide to get a Hero 9 or another Hero camera, please use our links as it helps this site continue its mission. Thanks for helping out -HSC
(Visited 2,879 times, 1 visits today)