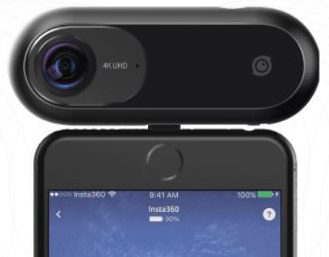 The Company Insta360, maker of the Insta 360 Pro which is a more high end multi camera solution has released a new 360 degree action camera that can be mounted almost anywhere and deliver pretty good quality for VR and 360 degree videos on the fly. The new Insta 360 One is a democratization of 360 degree cameras and probably a direct competitor to the upcoming GoPro 360 degree camera solution.
The camera includes two slow motion modes that allow it to shoot 360 degree video at higher frame rates but with some drawbacks. Resolution takes a big hit compared to the 4k native resolution which is great. However it is still usable enough to produce web results that allow for some degree of flexibility on smaller screens.
Insta360 One specifications:
Aperture: F2.2
Photo resolution: 24 MP (6912*3456)
Video resolution: 3840*[email protected], 2560*[email protected], 2048*[email protected]
Photo format: insp, jpeg, RAW
Video format: insv, mp4, LOG
Stabilization: Built-in 6-axis gyroscopic stabilization
Compatible devices: iPhone 7/7 plus, iPhone 6s/6s plus, iPhone 6/6 plus iPad Pro(10.5-inch), iPad Pro(9.7-inch), iPad Pro(12.9-inch), iPad Air 2;
Android version coming soon
Photo, video specifications:
Photo modes: Standard 360 photos, timed 360 photos
Video modes: Standard 360 video, time-lapse mode, bullet time
Live-streaming: 360 live-streaming, FreeCast (user controls visual perspective)
EV: -2EV~+2EV
Exposure modes: Auto, Manual, Shutter Priority, ISO Priority
WB: Auto, Cloudy, Sunny, Fluorescent, Incandescent
Design:
Color: Black
Weight: 82g
Dimensions: 96mmx36.5mmx25mm(DxWxH)
Storage & Connectivity:
Bluetooth: BLE4.0
Lightning: Lightning connector for Apple devices
USB: Micro-USB 2.0 For Android Devices
SD Card: Supports UHS-I, exFAT(FAT64) format; max storage capacity is 128 GB.
Battery:
Battery Capacity: 820mAh(5V1A)
Charging method: Micro-USB
Endurance: 70 min (continuous video shooting)
Introducing the Insta 360 One:
The video above shows the capabilities of the camera pretty well. You will also notice that camera promotion campaign people in many camera releases; seem to act unnaturally and ultra excited by what is happening. Funny thing to watch 😉 !
Slow Motion Modes:
The 2560 x 1280 pixel 60fps mode offers a 3,276,800 pixel 3.27Megapixel footage option which retains the most quality.
The 120fps mode which is a 1 megapixel 2048*512 lower resolution image also has a bullet time mode which when paired with the selfie stick (Which can be removed from footage automatically) Creates a "matrix style" bullet time effect that rotates around the user to generate freeze 360 degree motion.
Insta360 ONE – Bullet Time Tutorial by Insta360:
As you can see from the video above you get a cool effect from the Bullet Time effect. However all of the footage has the unfortunate side-effect of having the camera shooter having his or her arm raised in an unnatural way.   We can imagine creative shooters using a string tethered to a harness or bite with the camera at one end to get better results without arms raised.  However there is no substitute to a real bullet time setup when you want quality and shot control.  Still a fun feature.
The 240fps interpolation or 8x on the software will derive the footage from the original 1 mega-pixel 120fps source.
The slow motion quality will not win any prizes for resolution or detail but it is good to have a mode available. We imagine most of the users will stay at the 3MP 60fps mode or just leave it at 4k 30fps default to get the best quality possible.
Log Shooting:
The Insta360 One camera can shoot in a flat desaturated profile for easy grading later. The Log format will allow better retention of highlights and shadows with the ability to grade it in post to give the desired color profile later.  This is a pro feature that Go Pro and others have implemented as needs by editors for Log footage were met.
Pricing and Availability:
The Insta360 One Price is $299.99
You can get it at Amazon.com Pre Order Here: http://amzn.to/2wdhD6T
Or at the Insta360 Store here: https://mall.insta360.com/product/one?inspm=77c1c2.35e7ad.0.0
The Insta360 One Camera software app is available for the iPhone at launch but will be later released for the Android ecosystem from the Google Play Store. There is a standalone desktop application that comes bundled with the camera for PC editing of the footage, A Phone is only needed for custom control and monitoring. The camera is able to shoot on its own without an external device.
We will have more slow motion samples of the Insta360 Pro When available.  The footage above will give you a good idea of its capabilities in the mean time. -HSC
(Visited 2,055 times, 1 visits today)