2020 is already becoming a very busy year for camera releases. The CES Show this past week had a bunch of announcements in the professional, amateur and aerial drone markets that shoot high frame rates.  We will try to cover the most useful cameras in the coming weeks.  We want to start with the Insta360 ONE R Modular camera from Chinese company Shenzhen Arashi Vision Co., Ltd. which is a very interesting product that de-couples the sensor module from the body so you can interchange the actual imaging hardware on the fly for specific shots/jobs.
The real gem for slow motion fans is the 4K version instead of the 360 and or the 1″ version which both max out at 120fps 1080p instead of 200p.   Many people will cry foul at the 200fps spec when GoPro and DJI do 240fps as do most slow motion capable smartphones but 200fps, if done well with the 100Mbps codec, could be a real diamond in the rough for your arsenal in action cameras.
Insta360 ONE R 4k Camera main specs:
Aperture F2.8 16.4mm lens
Photo Resolution 4000 x 3000 (4:3)
4000 x 2250 (16:9)
Video Resolution
4000×[email protected],
3840×[email protected],
3840×[email protected],
2720×[email protected],
2720×[email protected],
2720×[email protected],
1920×[email protected],
1920×[email protected],
1920×[email protected],
1920×[email protected]
Video Coding H.264 / H.265
Video Modes: Standard video, HDR video, Timelapse mode, TimeShift mode
[email protected] – 70 minutes

Photo Modes: Standard photos, HDR photos, Burst, Interval photos, Night Shot

WB: Auto, 2700K, 4000K, 5000K, 6500K

USB: Type C – Charging and files

Price: $299.00
So we get 200fps & 120fps 1080p, plus 60fps 4k and 2.7k at 100fps which is very close to what other action cameras are doing.
The video above by Insta360 is the only slow motion sample of the One R we could find. It is still not ideal as the compression is not so good for the web.  Still, you can hardly see any jagged edges or moire which means the camera might be doing a great job capturing the full 1080p resolution at 120 and 200fps.
What about the 2 camera TWIN bundle?
So since the camera is modular, you can get the 360-degree camera module combined with the 4k camera for a reduced price…
So if you are getting the 360 One R camera it makes absolute sense to get the Twin bundle since that will only add $20 to your price tag. However, if you only need the 4k camera the Twin bundle adds $180 USD to your purchase which is significant.   You may not be able to go the Twin route if all you need is the action camera without 360-degree capability.
Leica 1″ What?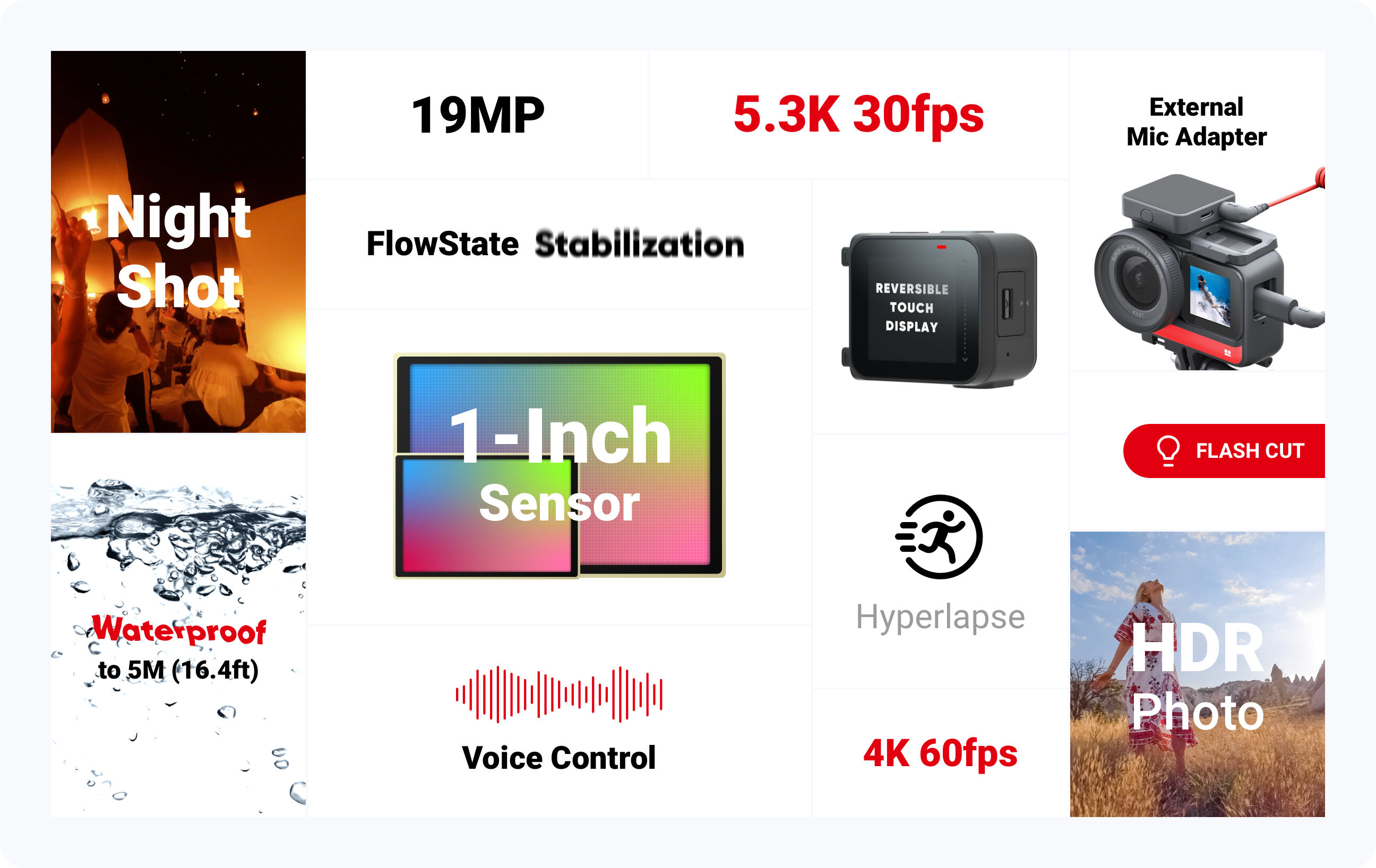 The 1 Inch edition of the Insta360 R has a Leica lens and a 1″ sensor which shoots at 5.3k at excellent quality.
Frame rates supported:
It can also shoot 60p at 4k and or 120fps at 1080p which is ok considering the quality should be very good.  Wondering if there is a crop for those modes or if it is supersampled.  We probably can expect a sensor crop at 1080p here which means a reduced field of view.
The 1-Inch edition probably delivers the best action camera video quality yet and at $ 549.99 it is not that expensive considering you may be able to use this footage commercially and or on film productions.  We would like to see video samples without compression for the web to see how good it is.
If you need the best video quality on an action camera the bar has been raised by the 1-inch version of the Insta360 R, wonder what DJI, GoPro and maybe Sony are thinking to counter this.
What to do?
These cameras will ship by the end of this month which means you have time to see more samples show up before pulling the trigger.  There is a limitation of 5m underwater for the modular design without a case which is actually very usable, if you need more you will need to get a rugged case.
It is refreshing to see so much innovation on a camera of this size and even when it does not break new ground in high frame rates, it may be doing better in the quality department. We will have to wait and see how good 1080p 200 and 120p look at full resolution.  If the images are clean, it may mean that these will be the recommended action cameras for high frame rates.
****You can get the Insta360 cameras for Pre-Order at Adorama Camera here and help HSC at no extra cost!  ****
The Insta360 One R cameras here can do so much automation like color grading, hyper-lapse, stabilization, shot editing and HDR that feels kind of daunting at first. This is the sign of things to come as the editing bay is only reserved for higher-end productions. Maybe you will be able to ditch that PC or Mac in the near future for a phone and a camera that does it all before you download the clips.  For highlights maybe but for a story, we have our high doubts.
We will try to get slow motion samples other than the one above as soon as possible.  We are working on other camera previews that were announced at CES so stay tuned and have a great 2020 ahead! Rock On -HSC
(Visited 1,354 times, 1 visits today)