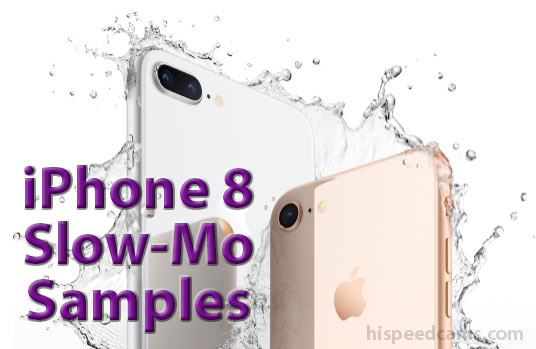 Apple has really improved the slow-motion quality of the iPhone with the release of the 8, 8 plus and X phones. The 1080p 240fps mode is not only detailed but has very few aliasing artifacts that were the most prominent flaw of the 7 and 6 variants of the handset when shooting at high frame rates.
While the samples are few and far between, the increase in quality is very noticeable with the added benefit of better dynamic range across the board in highlights and shadows. While more tests are needed it is safe to say that at first glance the iPhone 8 and for that matter the iPhone X cameras are probably the best video smartphones released to date when it comes to slow motion video quality.   Well done Apple!
iPhone 8  Slow Motion Video Samples 240fps: 
iPhone 8 Plus vs iPhone 7 Plus SLOW MOTION TEST! by MadMatt:
iPhone8 CATS 1080p 240fps slow motion by MAKO0MAKO0:
[iPhone 8 plus] Layup in 1080p/ 240fps slow motion by mobile01:
iPhone 8 Plus FHD 240 FPS demo Wide angle Lens by dcfever hk:
iPhone 8 Plus 1080p/240fps – Butterfly by TAROSITE.NET:
4k 60fps Samples:
iPhone 8 Plus 4K 60 FPS Test by MadMatt:
iPhone 8 plus 4K Camera Video Testing 60fps by Dear How to:
[iPhone 8 plus] 4K / 60fps video test-dribbling by mobile01:
It is of note to say that the web is plagued by fake Slow Mo Test videos of several phones including the X and 8 iPhones that are just posted for views. We have to the best of our ability weeded out the samples above to be credible and from sources not known to post fake videos.  Beware of fakers on Youtube and other places.
However the quality of the files above matches what we saw in the original Apple samples and on close inspection they look legitimate with expected compression of a phone in motion as opposed to a higher end camera.  The 4k 60fps quality is very good and we expect many iPhone Vloggers to switch to 60fps 4k recording in droves to get that lifelike motion and allow for slow motion if needed. We prefer 24p , 25p and 30p for production footage but Vloggers may like the smoother motion.  We will re-visit the iPhone 8 and X slow motion feature with more varied and credible samples when available.  Have a good weekend and keep slow-shooting! -HSC
(Visited 10,507 times, 1 visits today)