Apple has upgraded without a lot of fanfare the iPod Touch and it brings in a bunch of performance improvements that take it closer to what the iPhone can do without actually becoming a phone. One of these features is a 120fps HD 720p video capture mode akin to that one on the iPhone 5 and iPhone 6.  Sadly no 240fps video mode has been included in this device.
Many question the existence of such a device in this day of cheap smartphones with similar capabilities but the product still fills a niche market of people not wanting to pay for a wireless phone plan in order to be exposed to the Apple ecosystem of apps and features.
iPod Touch 2015 – 6th Gen Specs:
iOS 8.4 Installed
8 MP backside illuminated sensor – video (1080pHD 30 fps)
Back Camera -120fps HD 1280*720p Slow Motion Mode.
Front Camera- 

1.2 MP

photos and 720p video at up to 30 fps
4″ 71:40 aspect LED backlit I1,136 x 640 px at 326 ppi, Display!
Multi-touch touchscreen display built in speaker
Siri Support Over WiFi
1.4 GHz ARM Cortex-A9 dual-core Apple A8(SoC)
16, 32, 64 or 128 GB Configurations
Bluetooth 4.1
88 g (3.1 oz)
Battery audio: 40hrs video: 8hrs
Availability: July 15, 2015
Price: $199 to $399 Memory Capacity Based!

As you can see the anodized metal colors are back in style and will fill a niche market with younger apple device users.  Not everyone needs a phone connection for every device and this product is intended for that audience.
The camera is one of the biggest upgrades from the 5MP of the 5th gen to 8MP backside illuminated on the 6th Gen model today. Capable of 1080p video at up to 30fps and 120fps video at 720p. As to the quality we expect it to be close top what the iPhone 5s produces. The front camera at 1.2MP seems unchanged and will be used for selfies and face-time. This camera is a weak showing ion the overall product as the competition in smartphones in the price range deliver 5MP front shooters with better specs.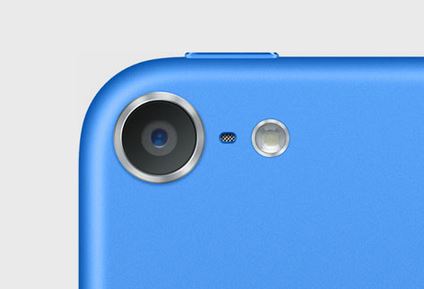 As to the validity as a slow motion portable device there are quite a few options in our Camera Guide that offer better price/performance for your money.  It seems like this is a refresh of a product that is on the decline and may one day disappear for good.  It looks as if the iPod line may extinguish in the coming years to a distant memory in loosing position over the iPhone and other smartphones.  It is still a capable and beautiful device that for no other reason can serve as a media player without having a phone attached to it. As a home music player it sure beats having a Tablet or iPhone dedicated to the task while they can be so much more.
iPhone 5s 120fps Slow Motion Video Examples by Wylsacom:
The example above will give you an idea of what the 120fps mode in the new iPod touch will provide when it comes to quality as it seems to be identical to what was offered in the iPhone 5s.
As a teen must-have it looks to be a decent product that can deliver the goods. The Memory in the lowest configuration at 16GB is so limited nowadays and at $199 it is a hard sell; Apple dropped 8GB models which were almost useless today because of the iOS install eating up most of that space, 16GB is not a lot either and we would rather see 32GB as the lowest end model.  If you are in the market for a music player that can access the Apple App Store and iTunes Apple Music then this is your device, for people looking for performance and higher end specs the iPhone 5, 6 and Android smartphones are the place to go.
These devices are available starting today July 15th in quantity.
For more details and info on the device visit:  http://www.apple.com/ipod-touch/ 
(Visited 1,402 times, 1 visits today)