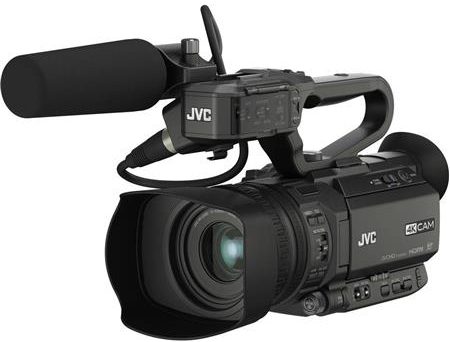 Our reader Andy Urtu alerted us to the firmware updates for the JVC prosumer camcorder line which add among other improvements the 120fps high speed video mode at full 1080p 1920*1080 resolution to the popular camera line. Thanks Andy!
The three cameras that get this capability are the GY-LS300, the GY-HM200 and finally the GY-HM170 Camcorder.  It is great to see JVC catering to their customers by adding such important features and free in this case if you purchased one of these cameras.
The Firmware updates for these cameras a re listed below:
GY-LS300 Camcorder
GY-HM200 Camcorder
---
---
GY-HM170 Camcorder
The quality of the 120fps is quite good, you can see the sample video by JVC of the GY-HM200 shooting at 120fps below.
JVC GY-HM200 120fps demonstration Video:
To make it more interesting, all three JVC Camcorders are on sale and are pretty great value considering they are all 4k Capable cameras and now the 120fps mode makes it that much more capable.  If you were looking for a pretty well rounded camcorder with decent features and audio input that does some higher frame rates; this is  a pretty good option.
Adorama Camera current deals for the JVC GY camcorders:
GY-LS300 Adorma deal $2995, down from $3995.

GY-HM200  Adorma deal $1,995, down from $2,495.

GY-HM170 Adorma deal $1,295, down from $1,795.

If you own these camcorders please share your 120fps footage in the comments below by just copying and pasting the link for others to see. Thank you!
JVC GY-LS300 SLOW MOTION by DELIMEX.BE by DELIMEXvideo:
Thanks to reader Werner for the link to the video sample above!
(Visited 1,730 times, 1 visits today)