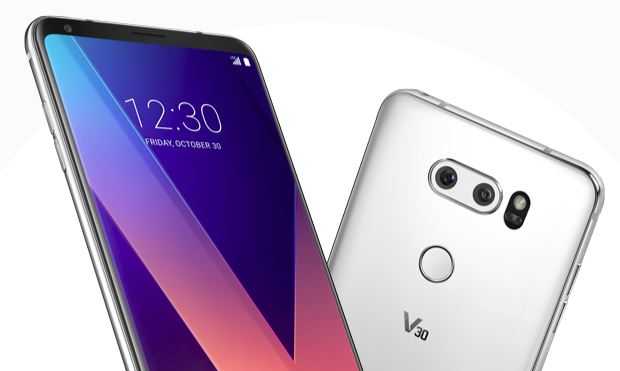 Move over Apple, the LG V30 recently released might be the best available video recording smart-phone ever.  In fact the LG V30 is not high on slow motion frame rates, topping at 240fps 720p and does not have 60fps 4k like the latest iPhones but has an ace up it's sleeve that might catapult the phone to be #1 among video recording professionals that want a phone they can use alongside their expensive dedicated video gear.
The LG V30 has 10 bit color for starters recorded to its flat profile called LG Cine-Log format which is very close to implementations from Sony, Canon & Panasonic Log formats.  The other big feature is that it has probably the best manual control video interface in a phone to date with peaking for easier focus, manual shutter, aperture, ISO and a variety of frame rates.
LG V30 Rear Camera Specs:
Dual Rear Cameras
16 MP Standard-Angle Lens f/1.6
Field of view: 71 ̊
Image sensor: 1/3.09″
Resolution: up to 4656 x 3492 pixels (default); 1.0 μm pixel size
Glass Camera Lens – minimizes light dispersion for superior sharpness and color
10-bit HDR Image Sensor – captures up to 211% more colors for improved accuracy
OIS+2.0 and EIS
4K Video Recording at 30 FPS
Resolution: up to 3840 x 2160 pixels (1920 x 1080 default)
Cine Effect – choose from 16 different color grading presets to add a cinematic look
Point Zoom – zoom in on any selected area within the frame for more stability and control
Manual Video Mode* – adjust audio focus, manual focus, white balance, frame rates, and more
LG-Cine Log – when in Manual Mode, capture 211% wider color gamut (Rec.2020) for enhanced video
Steady Record 2.0 – record smoother, clearer videos on the move
Slow-Motion Rec – 1280 x 720 resolution, 120, & 240 FPS
Time-Lapse Video – record a video that plays back faster than normal
Quick Video Editor* – merge up to 50 photos or videos; trim and add title/text, background music, and theme effect overlays
Snap Movie* – capture and combine a series of short video clips
Frame Rates/Resolutions Available:
4k UHD 26:9 3840×2160 / 1, 2, 24, 30fps
FHD 21:9 Cinema 2560×1080 / 1, 2, 24, 30, 60fps
FHD 18:9 2160×1080 / 1, 2, 24, 30, 60fps
1080p FHD 16:9 1920×1080 / 1, 2, 24, 30, 60fps
HD 21:9 1680×720 / 1, 2, 24, 30, 60fps
HD 18:9 1440×720 / 1, 2, 24, 30, 60fps
HD 16:9 1280×720 / 1, 2, 24, 30, 60, 120fps, 240fps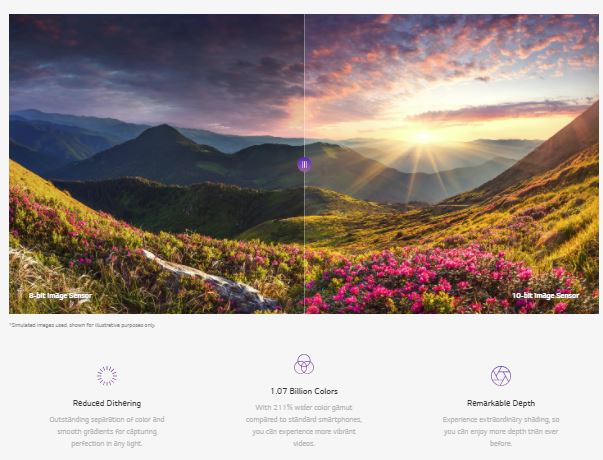 As you can see above the new 10 bit abilities of the LG V30 allow it to record HDR Video with up to 1.07 Billion colors instead of the 16.7 million restricted to 8 bits. This allows for more dynamic range values captured and color fidelity that rivals many professional cameras.  10 bit video is replacing 8 bit more and more these days with cameras like the Panasonic GH5 now being able to shoot it even in 4k.  The LG V30 can use this feature to exploit the features of HDR TVs which are in their own right taking over the entire mid-range TV market in 2017.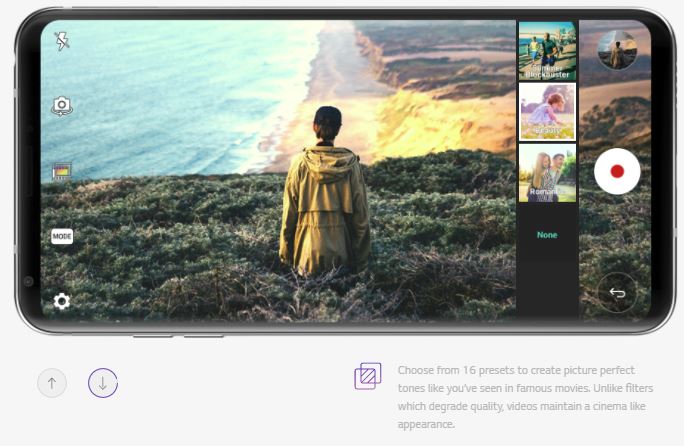 The LG V30 has a nearly unmatched interface that has a plethora of options to apply color profiles that are akin to LUTs to footage in real time. The LG V30 with 10 bit color and Cine Gamma can apply color profiles for a variety of situations on the fly giving the footage an extremely professional and cinematic look.  In theory, you could match the V30 to almost any professional camera out there today by shooting in Log and applying the correct LUT corrections in post.
Video Samples: 
In the excellent video below by Parker Walbeck you can see how well the LG V30 stands out to a $50k US Red Weapon camera using a similar focal length.   You can see some rolling shutter affecting the LG V30 in some scenes but it is astounding for the keen observer the sheer amount of quality able to be extracted from such a small device.  The Cinema Log does lend itself to post processing but as the video show it can be done quite easily for impressive results:
LG V30 vs. $50,000 RED Weapon – Replicating the Walter Mitty Longboard Scene by Parker Walbeck:
What about the Slow Motion?
Sadly the slow motion feature on the LG V30 is not comparable to the iPhone 8 and 8+, X in resolution, quality or artifact suppression. As you can see in the samples below there is a lack of bit rate on the files and detail is lost, creating a stair stepping effect. As a slow motion phone you are better off with Apple, Samsung, Sony and or Google.
Lg v30 slow motion video test, cine log, cinematic , 720p slow motion. by IamAce:
LG V30 – sev7en – SlowMotion: 1/8x speed – Morning Time. by Fabrizio Degni:
Testing LG v30 slow motion by magman687:
Should I buy it? 
As an $800 phone buying it without a plan, it is not cheap but it is price competitive with Samsung, Google and Apple flagships.  If you need a phone that can record impressive 4k 10 bit Cine Log at up to 30fps then this is what you want. However, Apple and Google both have phones with better still cameras by some measures and are still competitive in video. With Apple you gain 4k 60fps and 1080p 240fps full HD which is certainly class leading.
No question the LG V30 is a film makers portable dream but for people who want the phone to do more in the way of frame rates and record pretty amazing video at the same time, the competition even without 10 bit color is good enough for most users.  The LG V30 should be the best when it comes to HDR capture but LG really needs to up their game to match Apple in video frame rates or even exceed them to cater to a more varied crowd.
We hope many more brands go out of their way to offer 10 bit video and offer full manual controls that allow for impressive video capture in Log format that may be inter-cut with Hollywood caliber cameras and offer post flexibility that many standalone cameras still do not have.
The LG V30 is a very solid videographers option with its extensive included feature set with the likes of peaking, 24 bit hi-fi sound recording and controlled region zoom; it should be able to cater to demanding image quality pros when shooting in good light. The LG V40 for next year may close the frame rate gap in resolution so we are excited about the possibilities.  -HSC
(Visited 7,699 times, 1 visits today)