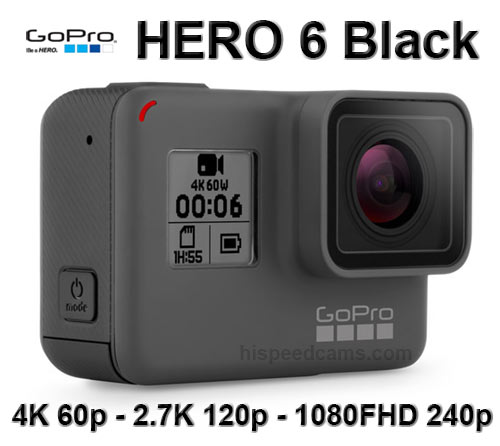 With a few weeks of use around the world, the GoPro Hero 6 Black is becoming one of the favorite slow motion affordable cameras for all sorts of activities.  While the quality is not the best out there compared to cameras like the Sony RX series, it is competitive within its price bracket.   Aliasing and moire at 240fps are apparent but mostly non-intrusive for action shots. If you need it as a broadcast quality recorder then the slow-motion mode is not at the required level.
The camera does not have a 480fps mode or higher which could have been a fantastic surprise for high-speed fans. After all, GoPro had been the go-to camera for higher frame rates in the affordable category for nearly a decade.  The Hero 6 Black is still an excellent option with the highly improved sensor, processing, codec, and frame rate varieties that should be able to produce anywhere from broadcast quality 4k 60p to pretty good 120 2.7k and 240fps web ready 1080p.
GoPro Hero 6 Black Slow Motion Samples:
GoPro HERO6 – Tom Wallisch Mammoth Top to Bottom in 2.7K-120 by Abe Kislevitz:
GoPro Hero 6 Black Edition 4K 50p/60p Slowmo Video Test by DSI Pictures:
GoPro hero 6 | Golf in super slow motion 240fps by Jan Drebes:
GoPro Hero 6 – 1080p 240FPS Slow Motion Video Test by Kevin Muldoon:
GoPro Hero 6 – Slow motion with zoom slider by John Tan JR:
SLOW MOTION Parkour and Freerunning Training – GoPro HERO6 by  Michi Leber:
GOPRO HERO 6 BLACK : Ultra slow motion Ford F-250 AT SUNSET by OTFVisuals:
Playing in Surf – GoPro Hero 6 Slow Motion Test – Lumpy Waters by Kayak Hipster:
GoPro Hero 6: Super Slow Motion test by Dombowerphoto:
GoPro Hero 6 240fps Slow Motion Testing 1080/240 by ContinueCrushingTech:
GoPro Hero 6 Black Slow Motion At 1080p x 240fps by DansTube.TV:
GoPro HERO6 – Slow Mo Footage [240fps] by Sun Valley:
GoPro HERO6 Slow Motion Test 1080p 240fps by Tomomi Nishikubo:
GoPro HERO 6 First Impressions: Pixel Peeping SLOW MOTION 4K/60, 2.7K/120, & 1080/240 Footage! by Steve's Digicams:
GoPro HERO6: Hawaii Shore-breaks in 240fps Slow-Motion by Sam Evans:
There you have it! There is no question that at 4k 50/60 & 2.7k 120fps the Hero 6 Black is delivering class-leading resolution and quality. You can use this camera for broadcast at those frame rate/resolution combinations without getting a drop in quality. However, the 240fps mode while more dramatic and much slower; does suffer from stair stepping aliasing which means the image is losing line information which translates to a reduced quality in lines & heavy detail.
Still, with all the package being offered for an affordable price, the GoPro Hero 6 Black is so far the best action camera for high frame rates released in 2017 so far.  That could change but rest assured you are getting quite a good set of features and capability for your money. This is the GoPro upgrade you were waiting for! -HSC
(Visited 5,137 times, 1 visits today)