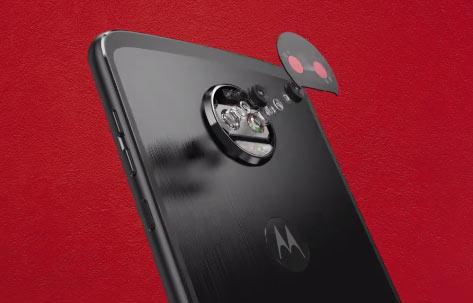 Motorola Mobility now an arm of the Lenovo Corporation has just announced the Moto Z2 Force Edition which is the next iteration of their Z Force original from 2016 which was a Verizon only product. The phone while somewhat popular never really gained enough market share to become important in the high-end smartphone space. The Z2 Force retains the unbreakable screen design which uses a protective plastic top layer before the glass.
The Z2 Force retains the unbreakable screen design which uses a protective plastic top layer before the glass. However, that layer is not scratch proof.  The Phone also retains the Moto Mods capability like the Hasselblad Mod which transforms the phone into a real zoom compact camera. The good news is that this time the Slow Motion has been beefed up to compete with the iPhone and Google Pixel handsets.
Motorola Moto Z2 force Camera Specs:
rear camera
Dual 12MP IMX 386 sensors – 1 Bayer, 1 Clear
ƒ/2.0
1.25um
Depth detection and depth effects
Zero Shutter Lag (ZSL)
Phase Detection Auto Focus (PDAF)
Laser Auto Focus
Closed loop actuator
Color Correlated Temperature (CCT) dual LED flash
Professional mode
video capture
4K (30fps)
1080p (30fps, 60fps,

slow motion 120fps)

720p (30fps, slow motion 240fps )
480p (30fps)
front camera
5 MP
ƒ/2.2 aperture
Wide-Angle 85° lens
Flash
Auto Night mode
Beautification software
Professional mode
Motorola Z2 Force Mods vs. Ludicrous Tesla P100D by T-Mobile:
There is a lot to like in the Moto Z2 Force Handset when it comes to image and video capture. It is very exciting to see the dual cameras being used in tandem (One in Color Bayer and One in B&W Monochrome) for detail and depth separation. The images coming out of this phone should be outstanding. The phone is not doing what Apple did on the iPhone 7 with dual lens focal lengths but it is using the dual camera module setup to create a better overall image with detail and noise under control.
The phone is up to high-end specs with ample power thanks to the Snapdragon 835 chipset which can be found on most modern Android flagship phones today.   The handset will have Android 7.1 and will be upgradeable to Android O when available which makes it somewhat future-proof.
Moto Z2 Force Hands-On and Tour by Droid Life:
Slow Motion Specs:
Finally, Motorola Mobility / Lenovo is bridging the gap with the Z2 Force getting 240fps in 720p and 1080p at 120fps for frame rates. This puts it in direct competition with the best out there and allows it to be in the running for this year's best slow motion phone. It will not have the 960fps 720p prowess of the Sony Xperia XZ Premium but it should be able to steal a lot of slow-mo fans that need better than average slow motion.
Moto Z2 Force Slow Motion Spec:
1280*720p 240fps
1920*1080p 120fps
So it will be the same spec when it comes to frame rates as the Google Pixel and Pixel XL, iPhone 7 and Samsung Galaxy S8 at 720p "Samsung has no 120fps 1080p Spec".
Some things we don't like:
There are few things we simply do not like about the Z2 Force handset.
The first is battery life. The phone in order to slim down and probably still be in a small footprint with the moto mod modules the battery size was sacrificed to 2730 mAh from 3000mAh in last years model. This is not class leading when some Snapdragon 835 phones are 3200mAh or more.  This will be a deal breaker for many and while there is a direct fix by purchasing one of the moto mod battery pack backs it really defeats the purpose of outright portability.  For those that do not mind the extra bulk or expense for the extra battery module, this point is mute.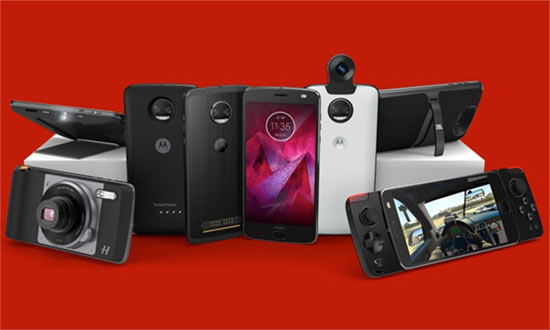 The other big one is no headphone jack.  As with the iPhone 7 the headphone jack is being phased out. There is no substitute if you really do not want any Bluetooth headset with your phone. For many that want no radio signals close to the skull the only alternative, for now, is to use the USB Type C to 3.5mm audio adapter. Now they even have some with a charging port so you do not lose it while the headphones are plugged in.
Gone are the android back and apps buttons on the handset. Sure you get the same functionality by swiping left and right on the fingerprint reader/home button but the space is still unoccupied where the regular Android buttons would have landed. In that case, they could have added extra sensors in that place or a larger print button.   This is not a deal breaker but something you will have to get accustomed to.
Pricing and availability:
The Phone is available for pre order now and should be available in all US Phone carriers by August 11th 2017 (AT&T, Verizon, T-Mobile, Sprint etc…) Some Moto Mods like the new 360 Camera will be available soon as well.
Pricing $799 USD  with free projector Mod Rebate
$33.33/mo in installments. 
Other carriers will probably have other subsidized plans.
The new Gamepad module is still not fully ready but will allow you to use the phone as a gaming device with full D pad and joysticks. Excellent for emulators and gaming that requires more than touch control.
It would also be nice to see better camera Mod modules that do shoot higher frame rates in higher resolutions. Maybe allow for 60 or 120fps in 4k for instance.  Moto Mods are opening the door for manufacturers to truly make a camera that rocks.
A Moto Mod for example with a Micro 4/3 sensor and mount or Sony A Mount would be really something to watch.  We need camera innovation in the portable handset space beside dual sensors and software. We need larger sensors and ability to use large lenses if needed.
We will have image samples from the Moto Z2 Force slow Motion as they become available. -HSC
(Visited 2,247 times, 1 visits today)