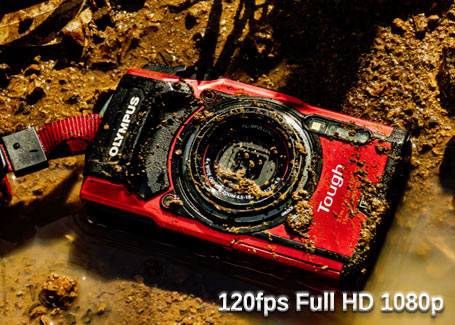 Olympus is announcing the TG-5 rugged camera which is the replacement for the popular TG-4. It has quite a number of new features and what may be a first for this type of cameras; a sensor pixel density reduction from 16MP to 12MP. A welcomed addition that will ensure better low light quality with a BSI CMOS sensor and speedier data acquisition which lets it output 4k and 120fps 1080p video.
It has also a 720p 240fps mode and a VGA 480fps mode which makes it stand out in the slow motion categories. This camera seems to be aiming at the GoPro Hero 5, Yi 4k+ and Sony Action Camera markets with more features, better usability and the features you expect from a portable camera. It can also be used in drones with some creative placement due to its low weight of 250g with battery!
Olympus Tough TG-5 Main Features:  
•New 12MP Hi-Speed Image Sensor for Improved Low Light Performance and Noise Reduction
•Bright F2.0 Hi-Speed Lens
•Dual Quad Core TruePic™ VIII Image Processor
•4x Optical Zoom (35mm equivalent: 25mm-100mm)
•RAW Capture
•New Field Sensor System w/ GPS, Manometer, Compass & Temperature Sensor
•On Screen Field Sensor Data Display
•Olympus Image Track app Plays and Exports Videos and Still Images with Field Sensor System Data
•Waterproof to depths of 50 feet / 15m
•Crushproof to 220 lbf/100 kgf
•Shockproof from 7 ft /2.1 m
•Freezeproof to  14⁰F / -10⁰C
•Dustproof
• New Anti-Fog Lens with Sealed, Dual Pane Glass to Prevent Condensation
•New 4K Video Capture at 25fps or 30fps with 102Mbps
•New Full HD 120fps High-Speed Video *   240fps 720p and Sub-VGA 480fps!             
•New PRO Capture Mode for Lag-Free Shooting
•4 Macro Modes: Microscope, Microscope Control, Focus Stacking, and Focus Bracketing
•4 Underwater Modes: Underwater, Wide, Underwater Macro, Underwater Snapshot, and Underwater HDR
•Ergonomic Body Design with Convenient Dial Control, Zoom Lever, and Accessory Lock Button
•Built-in Wi-Fi for Remote Shooting and Wireless Sharing
• LI-92B Li-ion battery, F-5AC Li-ion Battery Charger
TG 5 Feature Overview by Olympus:
1080p 120fps Slow Motion Quality: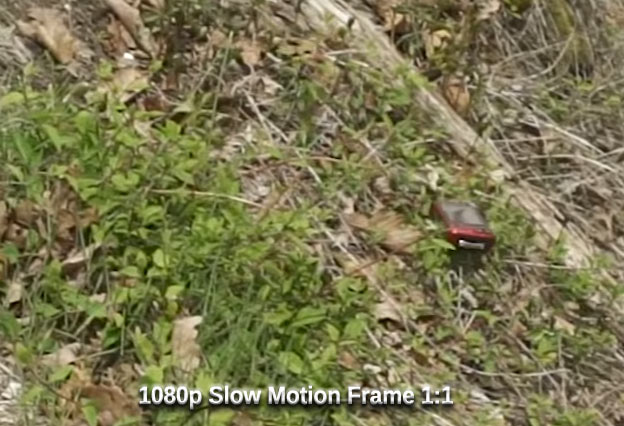 As you can see from the frame crop above the slow motion quality is acceptable but not class leading. The camera looks more like good 720p at 120fps than full HD. For example, the new Sony a9 which has a very impressive and clear slow motion mode in 120fps 1080p that is really class leading; mops the floor with the Olympus TG-5.  But they are not in the same class with a 10x price difference.
High Speed Movie
1920×1080 (FHD) / 120fps
1280×720 (HD) / 240fps
640×360 (SD) / 480fps
Since there are no samples yet of the 720p and sun VGA modes we cannot really make an assertion as to the quality of the images. However, the 1080p quality is not bad which bodes well for improved quality.  There are no samples of the slow motion released at this time besides the layered shots in the promo videos posted here.
BTW: You can read a comprehensive article on how to choose a diving camera here at: https://www.globosurfer.com/best-diving-cameras/
Quality:
The 20fps stills mode is pretty good and quality with RAW  shooting is better than the previous models. Olympus has been working to improve processing of images in this camera and it shows promise. Still, the small sensor and cramped pixels can only do so much in low light and reduced dynamic range even at 12MP which is very low for today's pocketable cameras. We are glad to see Olympus steering away from the megapixel race here and offering better image quality than the 16+MP compacts it competes with.  It will still not compete well with Micro 4/3 or APS-C cameras. Even the Sony RX100 and RX10 cameras have an edge in quality with their 1″ sensors which are much larger than the 1/2.3″ inside the Olympus TG-5.
It is an all around good camera with some toughness and good underwater ability. The quality might not be class leading in any of its imaging modes but it does try to offer a well-balanced image quality in both stills and video. The 4k footage is good but lacks the dynamic range of cameras like the Sony RX100 series which is still the preferred value in portable cameras with a slow-motion component that is class leading. Those, however, lack the toughness and element shielding of the Olympus TG-5 which is its main selling point.
Homeward Bound with the Olympus Stylus Tough TG-5 by Adorama:
The excellent first look below by London Camera Exchange, will show you the capabilities of the camera in a rugged setting!
Olympus TG-5 – First Look by London Camera Exchange:
For $449 the Olympus Tough TG-5 is not a bad proposition for a well-rounded travel camera that will stand sand, water, drops and crush up to a point. It is geared for those that are as careless with their cameras as where they left their keychain.  With a "Microscope" Mode it may give some fun output of the unseen worlds but rest assured it is far from the magnification needed to see protozoa and or cells.  It will, however, do better than many macro modes and should do well with small insects.
The slow motion is good quality but not as sharp as the best 1080p 120fps modes out there. We still feel it should be given some consideration if you need a no-nonsense camera that can do a bit more than a GoPro or Competitive action camera.  We feel the abilities of usability, battery life and performance offer good value. It would have been better, however, to have a bit more slow motion punch on the lower modes but 480fps is a good solid start even when it is below VGA resolution. 720p 240fps is always a good feature to have to compete with the latest and greatest.  Sony could step up at any moment with a stacked sensor in a rugged camera and become the de-facto element proof choice among consumers with 1000fps like what they are doing in their RX and Xperia Phone lines.
We will have some more slow motion samples aside from the ones shown in the video sequences above when available from the camera when Olympus or users release them. -HSC
More information about the Olympus TG-5 here: http://www.getolympus.com/us/en/tg-5.html
http://www.getolympus.com/us/en/digitalcameras/tough/tg-5.html
You Can pre-Order the Olympus TG-5 at Adorama camera for $449.99 here with free expedited shipping!  Should ship by June this year!
(Visited 1,822 times, 1 visits today)