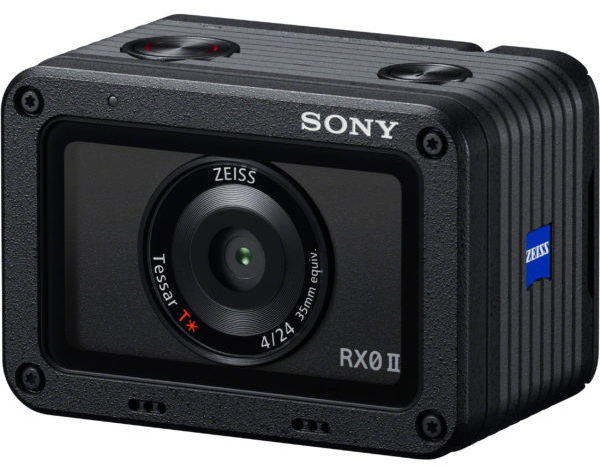 Sony has released the RX0 Mark II which now includes the ability to record 4k internally as opposed to using an external recorder. Other goodies include a new flippy screen which while tiny, it allows for easy framing and selfie vlogger styles. A new stabilizer is included for reducing shake and it is a definite improvement even when the rolling shutter is a real problem.
Most of the camera is the same as before when it comes to body shape and usability, the higher frame rates are identical as the 2017 RX0 Mark I with essentially the same resolution and time recording. The big improvement comes in the screen and internal 4k recording with stabilization which seems to be directly aimed at vloggers. The sensor is, however, a tad less crowded by pixels at  15.3MP on the Mark II vs 21MP on the Mark 1. That should help in the low light department.
Sony RX0 II Main Specs:
15.3MP 1″ Exmor RS Stacked CMOS Sensor
ZEISS Tessar T* 24mm Equivalent f/4 Lens
Internal UHD 4K30 Video & S-Log2 Gamma
HFR Mode for Slow Motion
1.5″ 230k-dot 180° Tilting LCD
Water, Dust, Shock, and Crushproof
Electronic SteadyShot; Clean HDMI Output
Interval Recording; Microphone Input
ISO 12800 and 16-fps Continuous Shooting
Wi-Fi & Bluetooth; Multi-Camera Control
Sony | Cyber-shot | RX0 II | Product Feature by Sony:
Sony RX0 II HFR Slow Motion Specs:
Quality Priority 2 Seconds Record Time:
240fps/250fps(1,676×942)
480fps/500fps(1,676×566)
960fps/1000fps(1,136×384)
Shoot Time Priority 4 seconds record Time:
240fps/250fps(1,676×566)
480fps/500fps(1,136×384)
960fps/1000fps(800×270)
Sony RX0 IISlow Motion Video Sample:
As you can tell from the sample at 500fps which is 1,676×566 resolution and then saved up-resed to 1080p we have the same quality as the RX0 Mark 1 of 2017 since they share the same exact slow motion specs.
We do have an improvement in color science with the Slog2 and the larger 15MP vs 21MP pixel pitch sensor does output better video quality with less noise and artifacts. The AF is also handling face recognition and eye AF now with much better hit rates which should work well for stills, however, the video review below shows a lot of misses because once focused video continuous AF is not available in the camera. That is right the camera does not AF in video mode probably due to battery saving. Too bad and a big miss!
There is also a shorter minimum focusing distance from 20cm to infinity from the Mark 1 50.8 cm to infinity which is a big difference if you want to do Vlogging.
Sony Product Video in Spain:
Should I get it instead of the RX0 Mark I?
It is a hard call to upgrade if you already have the mark I and are not interested in the flippy screen and the 4k internal recording. Both cameras shoot identical slow motion if that is your intent excluding the supposedly better low light quality from a 15.3MP sensor vs 21MP on the Mark I. The screen, however, is a game changer in order to use it without external monitors or portable devices for remote operation.
Pricing and Availability:
RX0 Mark 1 at launch $698.00 Now $598
RX0 Mark II New Product  $698.00 
RX0 Mark II should be available on April 9, 2019.
Considering it is only $100 more for the new model there is no question the RX0 Mark II is the winner of your money here. The lack of Video AF should worry Vloggers that want to use it as an all-rounder camera except if they set the focus at 20cm to infinity and do not hope to get closer shots. That should work well to keep things in perfect focus like what a GoPro is able to show.  We like this camera for its compactness but the 30min rec time on the small battery should be something to think about if you want to use it as a main travel camera. Expect to get an external battery solution or a handful of batteries for this little large sensor action cam.
Since we have no more samples of the RX0 Mark II slow motion besides the Sony official one, we will leave you with a few from the original RX0 which should prove to be very similar in quality besides being a tad worse in low light.   We will have RX0 Mark II slow motion samples when available. -HSC
SONY RX0 – 960 FPS SLOW MOTION by Timeless Factory:
Sony RX0 VideoTest (1000FPS, 500FPS, 250FPS) Slow Motion by Jacobo Tomé:
Slow motion Supercut Sony RX0 by Kai Fredriksen:
Sony RX0 VideoTest (250fps 500fps 1000fps) Night by Jacobo Tomé:
(Visited 4,312 times, 1 visits today)