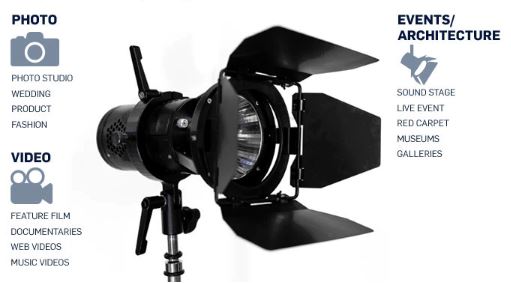 Hive lighting is just 8 days away from finishing their Kickstarter campaign for the WASP 100-C light. Their 35k USD goal was broken easily and now nearing $360k USD it seems they will have no trouble selling these lights like hotcakes.  However you can still get one of these lights which is ideal for slow motion recording because of their flicker free nature. High quality LED lights have no flicker due to their continuous power nature. Even at extreme frame rates of 20000+fps these lights should be able to stay flicker free for recording.
Hive does professional event and cinema lights and the WASP 100-C is no compromise on their quality. For $849 you can still get an early bird WASP 100-C single light kit which is effectively $200 USD off from the final retail price. That is if you back it before the campaign is due to close in 8 days.
WASP 100-C Kickstarter Light FEATURES:
100-240 VAC input via power supply
12 – 28 VDC  input via 4-Pin XLR
98 CRI / 97 TLCI
Omni-Color LED (1650K – 8000K)
360 degree Hue controls, 0-100% Saturation
0 – 100% Dimming Control
Manual, DMX, Smartphone Control
5 Lbs
6″ Length x 4″ Diameter body
5″ Reflector face
WASP 100-C™ KIT INCLUDES:
Wasp 100-C™ Head Unit with 22° Reflector
Wasp 100-C™ Power Supply 100-240 VAC
HDP Lenses: Spot, Medium, Wide, and Super Wide
5 inch 4-Leaf Barn Doors
WASP 100-C Campaign Video:
Here is a list of the WASP 100-C options:
The lights can work with most systems of diffusers and attachments thanks to their modular and adaptable nature. So if you have a Bowens compatible diffuser you can still use it no problem.  Therefore you can attach virtually any Softbox, snoot, umbrella, Octobox, dish, reflector or grill.
The WASP 100-C is also battery friendly with a designed battery attachment for on the go functionality.
Where and how to get it:
You can go and back the campaign at their Kickstarter page here to still get an early bird unit. 8 days remaining!
Kits start at $849 for early bird units. Delivery should start in March 2017 for most units.
Thanks to David Kronstein at the Chronos 1.4 Camera Project for alerting us to this professional light project!
(Visited 524 times, 1 visits today)