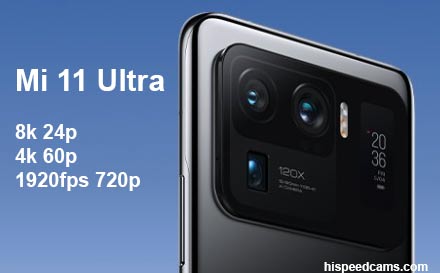 Xiaomi has surprised this year with now the Mi 11 Ultra phone which is a big step up from the Mi 11 released earlier this year. The huge difference lies in the size of the sensor which is close to a 1″ camera sensor like those found on the Sony RX camera series for example. The phone has two 48MP sensors and a main 50MP sensor for the main camera with a highly protruding camera bump that really screams for a case to be able to balance well on a flat surface.
The slow motion modes on the phone are rumored to be the garden variety with 120fps/240fps 1080p, 60fps 4k, and also a selfie camera that does 720p 120fps which is becoming commonplace. What is really peaking our interest is the 1920fps slow motion mode that is touted by some reviews. It is unclear what the phone is capable time-wise as the specs are still not all there. The samples we have seen show detail loss and the clear signs of interpolation.
Xiaomi Mi 11 Ultra Slow Motion Specs:
Rumored: 120fps / 240fps 1080p
Rumored: 960fps HD HD 720p
Rumored: 480fps HD 720p
Confirmed: 1920fps at HD 720p
Confirmed: Selfie Front camera 720p 120fps
While information is lacking regarding the slow motion specs on this phone, we are able to make some inferences based on the sensor used for the main camera which is the new 8,160×6,144 (50MP) Samsung Isocell GN2 which has a high frame rate of 480fps 720p HD, 30fps at 12.5MP. That means the sensor is actually shooting 480fps in cropped HD 720p mode and interpolating 4x to get the final 1920fps video. Hardly what we would call a good spec. Interpolation while miraculous nowadays, is a far cry from the real capture of events. Anything with heavy detail or busy backgrounds will suffer and cause artifacts.
The video below shows the 1920fps mode on the Mi 11 Ultra shooting a gaslighter. It is clear from the footage that it uses interpolation to get to the final result (We estimate 480p at 4x interpolation) and that at most you are getting sub 720p quality with some pixelation. This is very close to what Huawei is doing on its phones and it is also mostly based on machine learning video interpolation.
Mi 11 Ultra Camera specs:
Standard Lens Main Camera:
Resolution: 50 Mpx
Sensor: Samsung GN2 Type ISOCELL
Aperture ƒ/1.95
Pixel size1.40 µm
Sensor size1/1.12
Wide Angle Camera:
Resolution: 48 Mpx
Sensor: Sony IMX586 Exmor RS Type CMOS
Aperture: ƒ/ 2.2
Pixel size: 0.80 µm
Sensor size: 1/2.25
Telephoto Camera:
Resolution: 48 Mpx
Sensor: Sony IMX586 Exmor RS Type CMOS
Aperture: ƒ/ 2.2
Pixel size: 0.80 µm
Sensor size: 1/2.25
Imaging Features:
4K Video
8K Video
Digital zoom
Optical zoom
Triple camera
Ultra stable video
Optical Stabilization (OIS)
Digital image stabilization
Laser autofocus (LAF)
Phase detection autofocus (PDAF)
Laser AF
Manual focus
Continuous autofocus
Autofocus
Touch focus
Continuous shooting
Scene mode
AF assist Beam
ISO settings
RAW
White balance settings
Face detection
Night Mode
HDR
Panorama
Geotagging
Self-timer
It is clear that the Mi 11 Ultra is a beast of a phone but we simply cannot recommend it for a super slow motion enthusiast. 1920fps would be great if they were real but they are based on 480p interpolation. That spec is deceiving and clearly not in the same league as other phones out there.
We do however can easily recommend it as an all-around good to great phone (If you can find it in the US, Asia, and India Availability Confirmed) with beyond good low light and detail thanks to the very large 1/1.2″ Isocell GN2 Samsung sensor which is probably the largest sensor on a phone yet. Nothing else compares to the detail this chip can extract from a scene. We expect more phones to use this sensor in the future as it is clearly a behemoth.
We hope to have more information on this handset as well as fully detailed specs and video samples soon. -HSC
(Visited 3,681 times, 1 visits today)