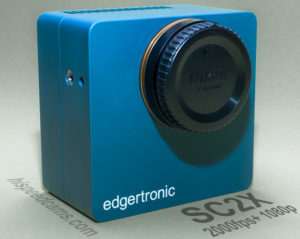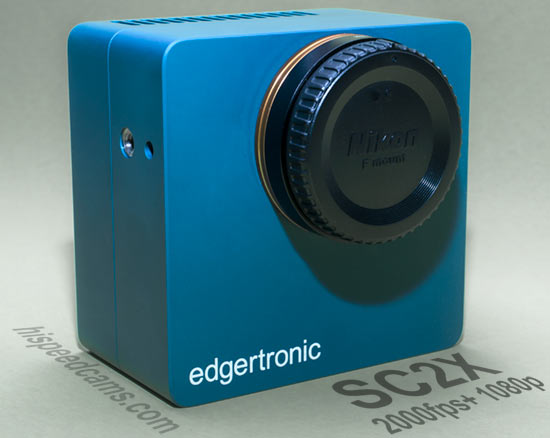 One of our favorite high speed camera companies has shared a lot of information regarding it's COVID pandemic operations as well as unit shipments for their cameras. It looks like Sanstreak corp the parent of edgertronic is considered an essential business to the government which is probably because of the support and software development they do with clients for important government agencies. They have sold thousands of cameras to date and the company seems to be on firm footing to continue solidly into the future.
Their product line has the SC1, which is the 700fps 720p camera that started it all, as well as the SC2/SC2+ 720p at over 4000fps and SC2X over 2000fps at full HD 1080p. Check our page here for full in-depth reviews on these three cameras. Our favorite the SC2X is capable of a beautifully detailed and artifact-free image that can be used for cinema and broadcast. The SC2+ has the edge in frame rates with speed as a primary focus being able to record 6x the frame rate of the original edgertronic. The cameras have Color and Monochrome options if needed.
edgertronic newsletter with full info below:
For more information about the purchase of these cameras, please visit their website at : https://edgertronic.com/
Welcome to the edgertronic™ April 2021 Newsletter – Announcing Software Release 2.5.1
You are receiving this Newsletter because you signed up at edgertronic.com and asked to be informed about edgertronic news and developments.
COVID and Its Impact
The COVID-19 pandemic has taken a toll on every aspect of our society. Our hearts go out to those who lost loved ones or have seen their lives change before their eyes.
COVID-19 has had an impact on businesses as well. Many companies have been forced to close or radically restructure their operations. More so than before, when you buy a product, you need to know if the company will be around for support, repair and future sales. We (Sanstreak Corp) and our suppliers are considered essential businesses and continue to operate much the same as we did before the pandemic hit. We are secure financially and you can count on us to be there before and after the sale.
It's Opening Day!
Today is MLB Opening day and our little blue cameras have been a big hit with Major League, as well as Minor League, College, and High School baseball. Initially, teams were using our cameras for pitch design, coaching and training. Any fan of the game has noticed the pitching improvements in the last few years and we're proud to be part of that. Now we're seeing hitters getting into the swing of things and use our cameras as well. In addition, we've added a lot of features that help with the baseball workflow. Edgertronic cameras are now integrated with BATS, Pocket Radar, Trackman, and more to come.

Software Version 2.4.1 – Our Previous Release
Software Version 2.4.1 has been shipping for over a year and is the most heavily tested and utilized release to date. It's available for download and adds a number of useful new features:
User specified File naming
Added gamma correction configuration support
Added warnings when camera settings may compromise video quality
Control of various video parameters in review mode, including ISO, overlay, filename and gamma correction
Added background save mode so you can continue to capture new videos, while captured videos are being saved, as long as you have room in the DDR3 memory
Baseball features – You can erase video and metadata files after downloading them
Professional videography features – added ability to set the playback frame rate to match your work flow requirements
Updated web user interface so you can track the foreground capture and background save activity
Better network support for fixed IP addresses other than 10.11.12.13
Added faster way to get a list of videos and metadata files on the active storage device by browsing to 10.11.12.13/storage
Various bug fixes
Software Version 2.5.1 – Our Latest Release
We've been busy working on Software Release 2.5.1, and it's finally ready. We've made a beta version available for several months and anyone using a beta version (2.5.1rc6 through 2.5.1rc13) should update to the official release. Here are some of the new features in 2.5.1:
To update, go to http://wiki.edgertronic.com/index.php/Software_releases
and follow the instructions carefully. As always, our software updates are FREE!
Who's Using the edgertronic?
We could tell you the names of all the Fortune 500 Companies, Government Labs, Universities and Researchers that are using the edgertronic, but then we'd have to kill you. Seriously, we respect our customers' privacy and understand the proprietary or even classified work that our customers engage in. While we can't give out any names, we can share some interesting facts:
More than 60 customers have purchased 2, 3 or 4 cameras
1 customer has purchased 52 cameras
1 customer has purchased 64 cameras
1 customer has purchased 75 cameras
1 customer has purchased 102 cameras
1 customer has purchased 175 cameras
Repeat customers are an important part of our business and account for a majority of our sales. One well known industrial customer bought one of the very first edgertronics in December 2013 and we just shipped their 64th camera last month. We can't ask for a better endorsement.
Customer Requested Features
The majority of our new software features start as customer requests. If you are using our camera and know of a feature you'd like us to consider adding, please email us.
Production and Delivery Time
Sales are increasing, but we're still holding delivery time to one week on standard configurations.
User Videos
We know our users are doing amazing things with the edgertronic, and we'd love to see them. If you have a video you'd like to share, please let us know and we'll include it on our wiki page: Websites featuring edgertronic videos
Google Chrome
We do all of our testing with Google Chrome. It's free and it works. Just use it.
Color vs Monochrome
Need help deciding between color or monochrome? Please see the following:
Color vs Monochrome and how to decide what's best
Thanks from all of us at edgertronic. -END
(Visited 911 times, 1 visits today)