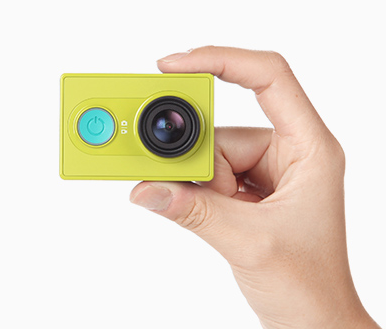 The Xiaomi Yi Action Camera formerly only marketed in China is now reaching the US via Amazon with Prime delivery. The camera is an ultra cheap clone of what the GoPro Hero is with funky colors for the body and subdued in features compared to the Hero Black.  It is more of a Hero Standard for under $100 USD for a basic camera and kits for not much more with waterproof  casings, selfie sticks and a blue tooth remote.
The camera has a slow motion feature set and while it is not earth shattering it is pretty respectable for what an under $100 USD device can deliver.
Slow Motion Features Xiaomi Yi Action Camera:
1080p 60fps
720p 120fps
480p 240fps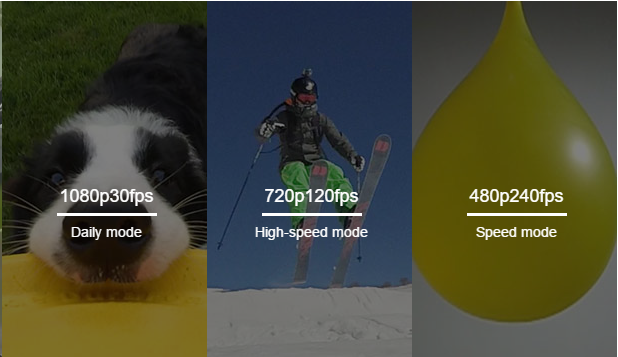 Key Features of the Hardware:
Full HD 1080p videos with adjustable resolutions (Ambarella A7LS processor)

Sony Exmor R BSI CMOS 16 Million Pixel Sensor inside

Clear and crisp 16MP photos
155° ultra wide-angle lens
Image stabilization and 3D noise reduction
Motion compensation and blur reduction
11 video modes and 4 photo modes
Real-time streaming and remote control on the app or Bluetooth remote
Built-in Wi-Fi, Bluetooth, and microphone
90 minutes of battery life with a rechargeable 1100 mAh battery
Additional storage on a micro SD card (not included)
Video Slow Motion Sample of 240fps Mode at 480p:
So all in all it is a very low cost package that should continue to erode GoPro's sales in this market segment.  Some call it a clone that should have no business in the USA and it also uses the Ambarella A7LS chip infrastructure so that company will continue to benefit from the sales of SoC in the segment even with declining sales. As for reliability for the price, users seem to review it positively which is a surprise considering the competition charges 3x more for a similar product or 2x for the Hero session.
Xiaomi Yi Test Slow Motion Compilation by murat enes özen:
The camera has a lot of accessories and compatibility adapters of the GoPro Mount infrastructure, another big plus.  There is no telling if the release of the camera will cause lawsuits by GoPro to limit it's marketability, however it does show that GoPro are marking up their products much higher as a luxury brand. How much different and improved are they from these clones?  Time will tell but if you need a cheap sports camera that delivers pretty respectable quality the Xiaomi Yi is there to fill the gap between a thoughtful purchase and throw away pocket cash.
Amazon.com is marketing the Xiaomi Yi in the USA:
(Visited 12,123 times, 1 visits today)