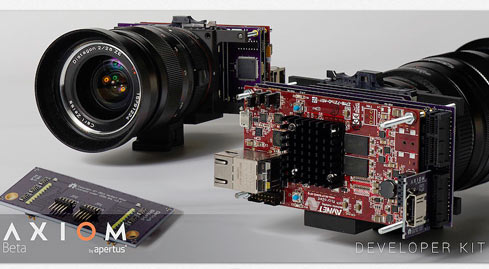 The Axiom Apertus camera project is progressing forward with the completion of 25 developer Beta kits to backers of the camera. It is a working model without a final case and with ongoing software development. The camera is functional and has a Sony E-Mount at the moment but with the ability to change the mount if needed. The camera color science is being coded by A1ex of magic lantern fame. It will be a possibility to use digital "Film Stocks" at the push of a button to be able to match certain looks.
The footage from the beta camera is quite good with excellent film like characteristics in a 10-13 stop range.  There is a cinema camera feel that is absent from other cheaper camera options in the ILC and DSLR Camps.  The closest look is that from Blackmagic Design's Cinema camera options.  When it comes to frame rates the Beta camera does 60fps full HD out of the HDMI but not much else.
AXIOM Beta Specs:
| | |
| --- | --- |
| Image Sensor | 3 different (swappable) sensor modules planned Details |
| Modules & Shields | Single HDMI Full HD (4:4:4) output at up to 60 FPS |
| | 3x HDMI Full HD (4:4:4) output at up to 60 FPS each (in development) Details |
| | 3x PMOD debug module |
| | LED matrix debug module |
| | Genlock, Trigger, Timecode, LANC shields (in development) |
| | 4K Displayport/HDMI (in development) |
| Features | 4K RAW experimental HDMI/Displayport outputs over 1080p60 Details |
| Remote Control | Change/access all camera functions from smartphone, tablet, laptop (Web GUI, Serial console, SSH) and AXIOM Remote |
| Power Management | Voltage, current, temperatures |
| | Wide input voltage range (5-40V) |
| Motion Tracking | 3D Accelerometer, 3D magnetometer and 3D gyroscope e.g. for image stabilization |
| Swappable Lens Mounts | passive E-mount plus adapters for: Passive Nikon F-Mount; passive Canon EF Mount; passive M4/3 Mount (future addition) |
| Operating System | Embedded Linux (Arch Linux) |
| Hardware Architecture | Xilinx Zynq 7020 based MicroZed |
| Image Processing | Look-Up-Tables (LUTs), matrix color conversion, Fixed Pattern Noise (FPN) compensation, false color display, overlays, dead pixel compensation Details |
Slow Motion Sensor Aspects:
The AXIOM Beta uses the CMOSIS CMV12000  with the following specs:
| | |
| --- | --- |
| Resolution | 12MP – 4096(H) x 3072(V) |
| Pixel size | 5.5 x 5.5 μm2 |
| Optical format | APS-like |
| Shutter type | Global shutter |
Frame rate
300 fps (10 bit)
132 fps (12 bit)
So, in theory, the camera at some point could be able to shoot 300fps in 10bit color space. As to that spec being fulfilled, it is up in the air as the camera is not prioritizing slow motion as it's main interest. The camera is first and foremost a cinema camera that is completely open source and tweakable.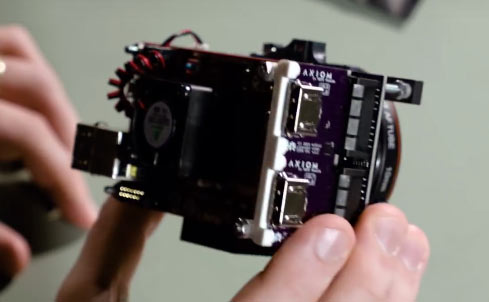 If the camera can be tweaked in software enough and an implementation of recording to very fast media, in theory, a 300fps full frame 4k image could be extracted in RAW format for a short span of time.  The Camera, however, will probably stay more conservative in the 60-120fps range.
The long term game, however, is for the AXIOM team to make a universal software that could be ported and refined to an upgradeable modular camera that could remain relevant by sensor changes and IO module swaps to remain current.  It is clear the camera has reached a milestone and full production should not be far off. Pricing should remain under €2500  euros of thereabouts.
The video production centric site Cinema5D has made a post and video about the AXIOM Beta here which goes deep into the current estimated development status of the camera software and future changes. Highly recommended to read/watch it!
Visit the article here: https://www.cinema5d.com/apertus-axiom-beta-your-open-source-camera-an-update-and-recent-footage/
Apertus AXIOM Beta Video by cinema5D:
We will continue to cover the AXIOM camera and will post news about it accordingly. Hopefully, it will shoot some high-speed video at some point.  Imagery so far has excellent quality and worthy of making it an option for your production needs once it is out of Beta and a fully shipping product. -HSC
All information about the AXIOM camera project here at the official site: https://www.apertus.org/
(Visited 795 times, 1 visits today)