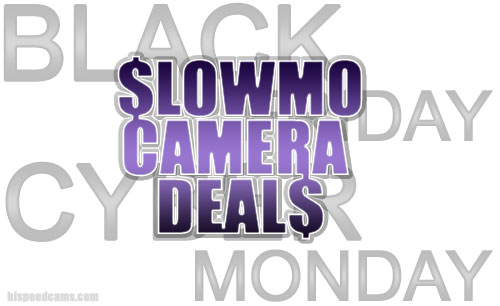 It is that time of the year again where we search the web for great camera deals and pass our research along. There have been dozens of price drops across the camera world and it is very encouraging to see gear being democratized for the holdout consumer that wanted to wait for better value for money. We focus on high-speed imaging cameras and accessories which weeds out the rest of the deals out there unrelated for this endeavor.
It is also a way to help this website survive by clicking on our links so we get a small commission at no cost to you.  Be it any product listed below or by clicking and buying your favorite products we are thankful for your support.  This way we can continue to bring you our best slow motion gear advice and reviews. Be sure to also visit our HSC Camera Guide which has recently been updated with dozens of new cameras ranked by performance over price.  Continue reading for our gear deal picks!
Black Friday Cyber Monday Slow Motion Camera Deals 2018:
1) Sony a9 Full Frame Mirrorless Interchangeable-Lens Camera (Body Only) (ILCE9/B) (-$1000 off):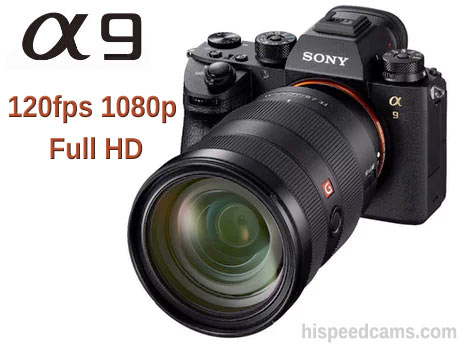 The Sony a9 has a beautiful image full of detail and sharpness at 1080p 120fps slow motion that is probably one of the best we have seen. It also has full-time AutoFocus tracking at 120p mode which yields spectacular results for any subject. We consider the -$1000 discount for Black Friday good enough to recommend if you are on the fence about this camera.  This is the cheapest we have ever seen it and a really good deal for a hyper performance full frame sports mirrorless camera. Follow this link at Amazon for the reduced price for $1,000 off the MSRP!
2) PANASONIC LUMIX GH5 Body 4K Mirrorless Camera 180fps Full HD 60fps 4k: -$500 off MSRP: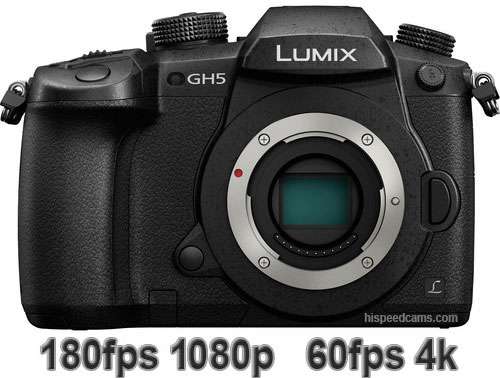 The Lumix GH5 with its 180fps continuous slow motion feature at full HD may not be the best slow motion camera out there but what it does is solid and creates wonderful images with its built-in sensor stabilizer at 5 f-stops which also works in the 1080fps mode.
It is also a 10-bit color camera with a plethora of file formats to save to and allows for 4k 60p recording in exquisite detail with its advanced h.264 codec.   With an extra -$100 off this black Friday, this is the best deal we have seen yet for this camera at $1,497 and one which you may want to use.
3) Slow Motion Phone Deals Black Friday/Cyber Monday:
Phones have become one of the best slow motion devices available for the consumer. We have the best deals on some of our favorite phones that shoot super slow motion which means 480fps and above which is really a new realm of performance for these devices.
The Sony a7 II is not a new camera but it does shoot 120fps full HD at a reduced crop mode on the S35 portion of the full frame sensor. At -$500 off the initial price and under $900 USD it is the best deal in full frame mirrorless cameras this year. You literally cannot justify not getting full-frame with these prices. Follow the Amazon link here to get the deal! Did we mention it also includes 3 months of Adobe CC software in the deal… What is not to like?
5) Camera Memory Deals Black Friday/Cyber Monday:
What good is a camera without memory? we have found 4 great memory deals for your camera with ample storage and excellent savings. Wanted that 128GB fast SD card but was too pricey? Not any more, see our found deals below:
6) Tripod deals Black Friday/Cyber Monday:
You need support for your camera and we found some steal deals on legs at Amazon. Some of these are less than half their introductory prices. Be sure to check them out:
7) Canon Lens Deals Black Friday/Cyber Monday:
Here are four canon lens deals that are running for black Friday, we searched for the full bundle ones instead of the lens only:
8) Nikon Lens Deals Black Friday/Cyber Monday:
Here are four Nikon lens deals that are running at Amazon and represent great deals and value for money:
9) Camera Bag / Case Deals Black Friday/Cyber Monday:
These four camera bags and cases will get you a good price/performance metric for your time and money. Temporary deals.
10) GoPro Hero and Accessory Deals for Friday/Cyber Monday:
The GoPro action camera has always had good frame rates. The deals we found are the lowest prices we have seen for these waterproof and element resistant cameras. Sure they are not the $399 Hero 7 but the Hero 6 is just as good in slow motion for much less money if you can live without the added stabilizer.
11) Led Lights for Slow Motion Video Deals for Friday/Cyber Monday:
You can never have enough light in slow motion video shooting. We are really happy with the RPS studio and Godox lights below for theirflicker-free performance and affordable price for shooting high speed video.   Here are our picks for adding some candles to your studio setup!

Thank you for visiting HSC and look at our selected deals. Make sure that you are sure about purchasing any of those products and that you understand the deals and shipping information along with the warranty.  By clicking on those links, you help HSC continue to exist with a small contribution at no cost to you. We sincerely thank you for your support! – HSC
(Visited 674 times, 1 visits today)