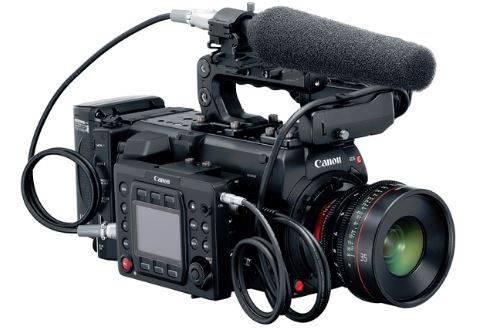 Canon has been in the news lately considering its 5D Mark IV refresh that gathered a lot of attention from it's improvements in photo quality but shortcomings when it comes to video mode. Today they released a new Camera the Canon EOS C700 which is now at the top of their cinema line in both cost and features; the other is a refresh named the XC15 of last year's XC10 which was a strange camera by any measure.
Both of these two new products by Canon have higher frame rates as options for recording which we monitor closely. There is a huge hurdle to get in on the C700with a $28,000 USD price tag without modules. The XC15 is much lower at the $2,399 USD MSRP mark. We dig in in what it means for slow motion shooters when it comes to this gear below
Canon EOS C700 Video Specs:
Sensor: CMOS Sensor with DAF Technology- Global Shutter $38k Version
Total Pixels:  Approx. 11.54 megapixels (4622 x 2496)
EF mount: (cinema lock type) or PL mount.
ND Filter: 5 density settings (2, 4, 6, 8*, 10* stops) *when expansion is selected
59.94 Hz, 50.00 Hz, 24.00 Hz
59.94 Hz mode: 59.94i/59.94P/29.97P/23.98P
50.00 Hz mode: 50.00i/50.00P/25.00P
24.00 Hz mode: 24.00P
Frame rate support/ codec table below: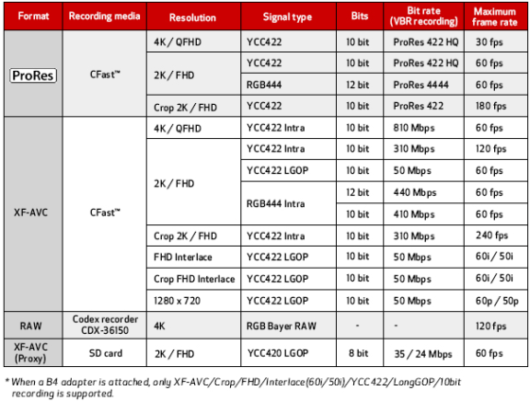 What about the C700 Slow Motion? 
The EOS C700 allows for up to 240fps at a 2k Sensor crop or 120fps 4.5k or 120fps UHD recording in a variety of formats.  Most of these frame rates will become available with a  March 2017 firmware patch that will finalize features. Seems the camera is still a work in progress and while this is a paper launch; the features are finalized and will be released early next year.

240fps at 2k is a good high speed format but hardly what you would call super slow motion for the starting cost of $28k. This camera is only for large rental houses, high budget productions and the very successful media producer who can afford such a beast. To get 240fps it is much easier to go get a Sony FS700 or FS5 for a tiny amount compared; even with an external Pro Res or RAW recorder added to the price tag. The 4.5k 120fps capture is available only in RAW Recording which creates mammoth sized files.
Canon EOS C700 Video by Canon USA:
We consider the EOS C700 with its gargantuan cost to be a non option for HSC readers. We will not add it to the affordable camera list as we have a cut off camera cost of $14,000 USD today.  Just the camera body without recording modules costs more than twice our limit and a full RAW recording package with cinema lens would go upwards of 50k USD.
Good option for cinema productions and high end TV but not recommended for slow motion budget seekers.


Canon XC15 4k Compact Camera
Last year's XC10 was a very strange camera received with a lot of skepticism. It delivered on image quality but had some problems with the adopting crowd due to the fixed lens and lack of support for XLR audio.  These have been solved in the XC15.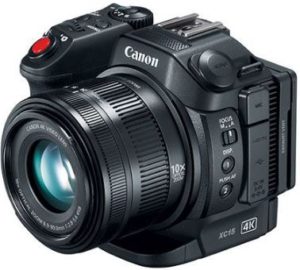 Specs of the XC15 Improved over the XC10.
Lens Specs: f2.8 to f5.6 with a 10x optical zoom and focal length range of 8.9 to 89mm (35mm equivalent: 27.3 to 273 mm).
4K and Full HD recording
12 stop dynamic range
C300 Mk II Movie looks have been incorporated to match that camera as a B Camera.
Rolling shutter reduction mode
Much Improved Audio Quality compared to XC10 with dual XLR inputs with level control wheels on Hot-shoe mounted adapter.
New 24p mode for both 4K and 1080p (in addition to 23.98p) and at up to 305 Mbps in 4K.
Waveform Monitor display.
Added flicker reduction
Highlight Priority, Protects highlights in a similar way to HDR.
A new touch panel with operation lock.
Shutter speed display can be switched to a shutter angle display
Price MSRP $2,399.00

EOS XC15 Kit
What about Slow Motion Frame Rates on the XC15?
Unfortunately for higher frame rate aficionados the XC15 has exactly the same high frame rate performance as last year's XC10.  Maxing out at 120fps 720p with a very low 14mbps bit rate which produces all kinds of motion artifacts. It is there but at what cost?
The other higher frame rate is 1080p 60fps which is almost bolted on in most camera releases as standard. No extra credit for that.
What to make of the XC15?
Last year's XC10 was $2,499 USD at it's introduction. Today it is easy to find it at $1999 or with some luck below that price. The XC15 debuts with a -$100 price reduction or $2,399 MSRP.  However to take advantage of the dual XLR inputs you need the $499 Canon MA-400 Microphone adapter which was built for the EOS C line of cameras.  With that the camera comes at a price just shy of $3,000 for an XLR audio starter kit. You still have to factor in the CFast Cards for 4k recording and or SD cards for Full HD 1080p recording.
It is still cheaper than the EOS 5D Mark IV announced last month by a few hundred and makes much better video as an end product with more modern codecs and a fantastic audio recording component.
This camera is a perfect P&S alternative to reporters and on the field producers as a B camera to a Canon C100 or C300 Mark II.  You get the same color profiles for easy incorporation; much of the same imaging pipeline and what looks to be the same sensor with follow focus tracking due to it's dual pixel AF heritage.
Should I buy it?
We can easily recommend the XC15 over the EOS camera line for video if you are not looking for the flexibility of a lens mount like the Canon EF. Your lens will be fixed but you get better video recording with waveform monitor, audio inputs and a focus system that is best geared for run and shoot production.  This could be a perfect documentary camera considering the quality files produced at up to 305Mbps.
However as a slow motion camera with 1080p 60fps and 120fps at 720p aliased and at a low 14Mbps bit rate we will have to pass on this one as a high frame rate option. There are many more cameras that can do this job much better and at 1080p.
Conclusion:
Good on Canon to improve on the XC10 by making it more useful but in the end this refresh is the camera that the XC10 should have been last year.  Consider this a patch to a rare camera that now works as intended for a much wider audience.  The XC15 is a solid option for run and gun but not if you need interchangeable lenses.


(Visited 1,497 times, 1 visits today)