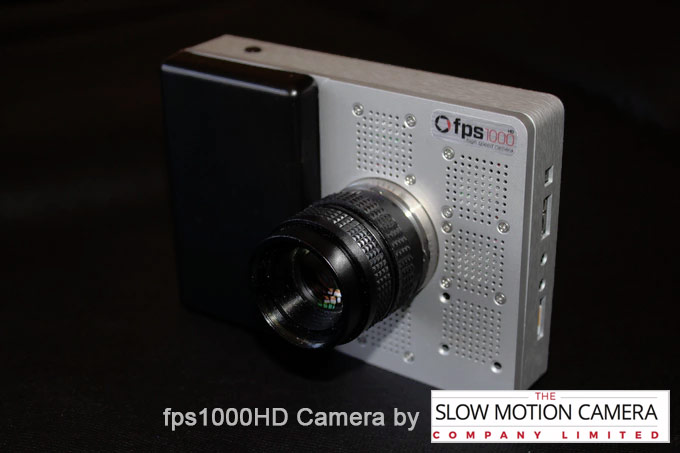 Warning: The parent company of FPS cameras "The Slow Motion Camera Company Ltd." went out of business and entered liquidation proceedings. No further development of cameras is expected. More information here on Google Search! 
The fps1000 camera has gone through many iterations while being perfected and now it has made what seems like the last big change.  Now sporting a metallic front plate with five cooling fans and an improved sensor; the fps1000 HD is a re-birth of the fps1000 Double Platinum with a perfected design and tested operation.
The new campaign is requesting funding for the fps1000 HD as a way to expand component purchasing and manufacturing for the company.  Graham Rowan the creator has stated that all previous orders from Campaign #1 and the ones made online since then will be fulfilled soon regardless of the campaign outcome and the time frame shortened by the new funds if the campaign is successful.
Meet the fps1000 HD (Previously the fps1000 Double Platinum):
The new fps1000HD sensor compared to the original fps1000 sensor:
Twice the frame rate: 1280 x 720 @1,000 fps (originally 500fps)
12 bit pixel depth for 4x dynamic range (originally 10 bits)
Much more sensitive for better low light performance.
Spec Table for the fps1000 HD from the new Campaign: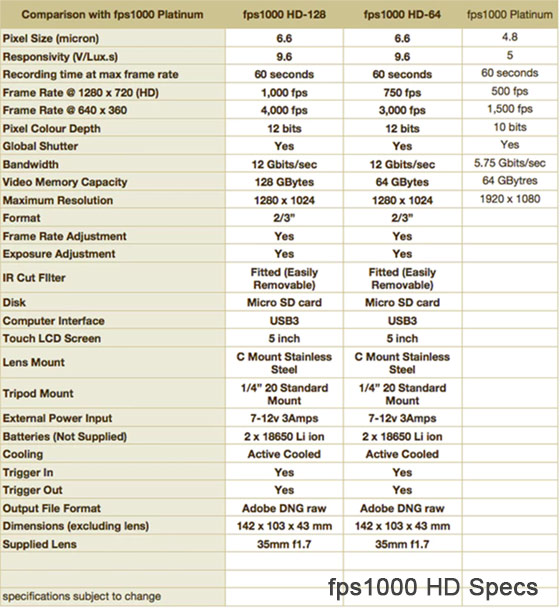 As you can see from the specs above the camera has two iterations. One with 64GB of flash memory and the other with 128GB. The extra memory and the bandwidth it allows does create a big performance increase in the camera which serves to separate both models by capability which is based on real maximum performance and not artificially limited.  This means that if you buy a 64GB model it is already operating at maximum spec even when they share the same sensor and components except for twice the memory at 128GB for the higher priced model.
It is hard not to look at these specs and see that this camera is probably the most affordable 1000fps slow motion camera out there today and one that shoots 12bit RAW DNG files to boot.
Thee camera has a 5″ Touch screen with the possibility to set in and out points in camera "See the campaign video below" as well as histogram display all from the touch interface.  in this way it is a fully portable internal battery powered design. See here!
fps1000 HD  Kickstarter Campaign Video:
Pricing for the fps1000 HD Campaign models:
fps1000 HD 64GB Model : £1,599 Pounds or about $2,128 USD
fps1000 HD 128GB Model : £1,699 Pounds or about $2,261 USD
It is of note that there are no limited numbers for the 64GB model in the campaign but the 128GB model at that price is 25 cameras.  Then there 25 more cameras at £1,799 and 25 more at £1,899.  These are kind of early bird cameras. For the rest of the 128GB models which are not set number the price is £1,999 Pounds.  So if you are interested in one of these cameras; getting the 128GB camera at £1,699 is the better deal today as the 64GB models is just slightly below.  However at 24 left time is limited.
Since both models share essentially the same components except for double the memory; it is to be expected for pricing to be close between them. Flash memory is expensive but not as much as the one used in other high speed cameras which use volatile continuous DDR3 or DDR4 memory with ECC that is soldered in the camera boards. You cannot use commoditized DDR PC memory in these standard high speed cameras as the speed required is not there due to latency. That is why they are so expensive.
The Flash memory use of the fps1000 cameras:
The fps1000 HD uses the flash memory array method that uses relatively inexpensive and very fast flash memory to record up to 1 full minute of high speed video at 1000fps 720p HD.  This allows for much more recording time and lowering price.  One caveat is that flash memory cycles deplete in the flash memory technology. This causes degradation from read/write cycles after several hundred thousand operations. This is no different from SSD computer hard drives which cannot be used in 24/7 complete read and write cycles and are best used for read out of data with occasional writes. The endurance rating has been getting better in these drives but is still far from the longevity of read and write of traditional spinning HDs.
If you use the fps1000 HD for shooting video in a 24/7 environment there is no degradation of the memory as it only happens when you press record.  Monitoring and preview bypass the flash memory  chips so you can wait for a shot for hours or as much as your power source allows and just using the memory for when a recording has been executed.   This does not create any degradation of the camera memory which cannot be understated!   
Since there has not been a camera tested for that long or for full endurance we have no way of knowing the longevity of the device when it comes to read and write cycles, however the camera should work for many years without issue in any shooting situation including monitoring since there is no preview degradation. SSD Drives today have a typical endurance rating of up to 1TB host writes per day and an estimated longevity at that rate for 5 years.  That equates to nearly 2084 Terabytes of data read and written to the drive.   If the fps1000 HD and other models are even close to this, the camera will survive far longer than a decade of heavy use possibly working until the life of the components themselves reach their estimated MTBF numbers. Which could be several decades.
Bee fps1000HD 640×360 4,000fps 50% exposure – upscaled to 1280×720 by fps1000:
It is not unrealistic to think that this method of high speed recording might become the standard way of capturing slow motion for minutes not seconds. In that case Graham Rowan is heading the forefront of this technology.
What about the first campaign and or my web camera order?
This is the direct message by Graham Rowan the creator for all outstanding backer orders:
"Current Backers

Although production has been ongoing for sometime now and many of you have cameras, the rate of production is slower than I'd like. I am putting as much resource into this as I can. Current backers that are still waiting to receive cameras may ask why I am launching a new campaign at this time. I am looking at the fps1000 and The Slow Motion Camera Company as a long term concern and providing a new income stream for the company will help the production of existing cameras, which share many of the same components, as well as generate awareness of the new products which will provide a future for the company. The original investment from the first kickstarter campaign has been used to buy the initial components for the cameras – mainly memories and sensors. However, the development of the final product and the numerous iterations of the boards to get them to production status has also required a lot of investment. I am still building cameras in relatively low volumes as this is all I can do with the limited resources of the company. I will satisfy all outstanding orders but it will take time.

In the event of a successful campaign for the fps1000HD I hope to be able to increase batch sizes which should enable me to satisfy all outstanding backer orders within the next 8 weeks. I know this has been a long wait for many of you and I appreciate your support. I want you to know that I am committed to satisfying all existing orders and to invest in the fps1000 family for the long term."
HSC: So all in all your camera order will be fulfilled sooner or later depending on the new campaign outcome. We have also been assured directly by Graham Rowan that he is very committed for the long term with the new company and all orders will be fulfilled as soon as possible.  This is good news for those that were getting angsty.   Also is of note that several cameras are already in the hands of backers who are shooting video with them today.
4k Version of the fps1000 Update!
By Graham Rowan: Fps1000 4K 

There have been some significant changes with the 4K version which will explain much of the delay. A few months ago I decided to switch to a different sensor. This was because I have been frankly disappointed with the performance of the original one I chose. The manufacturer decided to drastically reduce the performance of the chip at 1080p making it really difficult for me to achieve my target performance of 1,000fps at this resolution. Fortunately a new sensor came to the rescue. It is leagues ahead in performance and sensitivity. I am on my third iteration of this new sensor board – it has been a steep learning curve as the philosophy behind the new sensor is quite different from the original one. So while I know there hasn't been much news I have been very busy getting it to fruition. In the meantime I have put the new experience learned from the fps1000HD into it such as power saving and cooling. I'm really excited about this product. It is all basically working. I will update soon in more detail on this."

Alfie, fps1000HD 1280×720 1,000fps 50% exposure by fps1000:

https://ksr-video.imgix.net/assets/013/577/944/d35d95fc43a0ecb05af5237979b62165_h264_high.mp4
The new Company Re-Branding:

By Graham Rowan: "Rebranding

There are going to be some significant changes to the fps1000 family.

I'm spinning off the camera business into a new entity. Most of you are probably unaware of my company, Imagetec, at the moment, as I've concentrated on the fps1000 brand. Existing backers and pre-orderer customers will still be dealing with Imagetec as that was the entity under which I launched the original Kickstarter campaign. However, this company was originally my consulting company and I wanted to separate out the camera operation into a separate entity.

I wanted the new company name to reflect its purpose and I finally came up with the name The Slow Motion Camera Company Limited. Comments are welcome though I have to warn you that it's too late to change!"
Final words:
So there you have it, new Campaign, new Company name or re-branding with also a new update on the 4k fps1000 & finally expected fulfillment of past orders.
Lots of new info that sure took a bit to digest.  However it is clear that the fps1000 camera is no longer a hobbyist project but a maturing platform with a long term perspective when it comes to establishing itself as a big name in the low cost high speed camera space which is dominated by the edgertronic today.   If the Slow Motion Camera Company Ltd. can fulfill all of the laid out plans, we expect to see even more refined concepts and products in the years to come.
We will review the fps1000 4k camera once it ships. In the mean time go check the Kickstarter Campaign for the fps1000 HD here!
Butterfly fps1000HD 1280×720 1,000fps 50% exposure by fps1000:
For more information about the fps1000 HD Kickstarter campaign and ordering info follow this link:
All images, video and information courtesy of Graham Rowan and the Slow motion Camera Company Limited. 2016!
(Visited 1,430 times, 1 visits today)