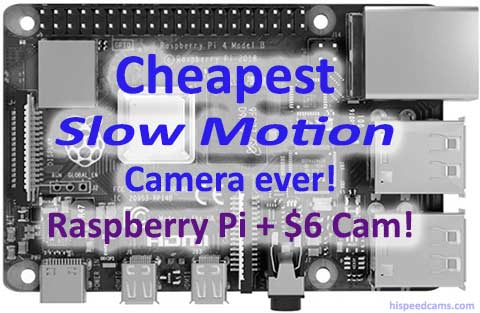 We just received a video link for a Raspberry Pi imaging platform that allows for 660fps slow motion video capture using the computing unit along with it's memory and a $6 USD camera to record slow motion video with better than expected results. The video from 2019 by RobertElderSoftware explains the way the camera and R-Pi were able to capture the footage using some scripting and writing a windowed wide but not tall imaging rectangle directly to memory to create the cheapest slow motion camera.
Of note is the apparent low resolution of less than VGA at 640 x 64px and the somewhat appraisal of rolling shutter artifacts on some of the coins. However, RobertElderSoftware also has a step by step instruction video set on how to get a $40 Raspberry Pi computer and a  $6 USD camera module to build your own homebrew slow motion camera with some scripting.  After a lot of scripting and patience, you should be able to mimic his results.
Cheapest slow motion camera using a Pi Unit:
It is literally amazing what a dedicated engineer with an extremely limited set of tools and cameras is able to do on a project like this. Now imagine RobertElderSoftware using something like a more powerful ARM-based Mac M1 or similar with way more RAM disk for capture along with a better camera and sensor combination.
You can visit and subscribe to Robert Elder's Channel here and learn many more from his cool projects and coding guides!
Maybe in the future, we could see some homebrew project kit that could be able to shoot 500fps or even 1000fps in 4k for a limited investment. In any case, we feel that you should take a look at the project below and get inspired.  We thank our reader Nacho Simon for the heads up on this awesome project and Mr. Elder for his creativity and drive! -HSC
Video Sample and Step by Step Guides Below:
World's Cheapest High-speed Camera For $6 With 660FPS!? by RobertElderSoftware:
Part 1) How To Record Video At 660 FPS On A $6 Raspberry Pi Camera – Part 1 by RobertElderSoftware:
Part 2) How To Record Video At 660 FPS On A $6 Raspberry Pi Camera – Part 2 by RobertElderSoftware:
(Visited 1,713 times, 1 visits today)