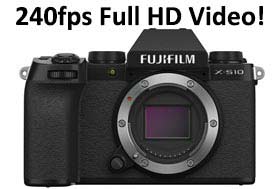 Now that the surprise camera of 2020 has been out for a while, it is time to revisit the 240fps mode included in the video features. At first glance, it delivered 720p quality or less in an upscaled 1080p wrapper.  However many Fuji fans asked us to revisit the slow motion quality of this camera as early samples supposedly did not do justice to what this mode was able to deliver.
We have to agree to some extent that the quality of this camera in 240fps Full HD slow motion is better than other even more expensive options but we still feel that Fuji cut corners when it comes to image quality here by dropping lines and having a pretty noisy output unless there is an ample amount of light.  We have some samples that will let you see what this camera is capable of and make you decide if it is a good enough option for your camera collection.
Fuji X-S10 Slow Motion 240fps Samples:
The camera can shoot up to 6 minutes in high frame rate mode and saves the file in a 60fps Full HD file for playback according to the official manual here. You can always lower the frame rate further to conform for 24p, 25p, and 30p if needed.
Fuji X-S10 Video Samples Below:
Fujifilm X-S10 Slo Mo 240fps test by Abu Habeeb:
Fujifilm X S10 240 FPS slow motion ,IBIS.Handheld Shooting without colour grade (ETERNA) by Aju Eapen:
#Fujifilm X S10 Handheld shooting with IBIS #240fps 60fps #ETERNA #ETERNA BLEACH BYPASS by Aju Eapen:
Fujifilm X-S10 Slo Mo B-Roll test [Food] by Abu Habeeb:
BEE SLOW MOTION 240p – satisfying video – FUJIFILM X-S10 + XF 16-80 F4 by XFuji Film:
Fujifilm X-S10 Test – Hair cut and super slow motion by Abu Habeeb
Fujifilm – Slow Motion Experimental with Fujifilm X-S10 Color Powder – 2020 by MMG Visual:
Fujifilm – Slow Motion Experimental with Fujifilm X-S10 Cracked Egg – 2020 by MMG Visual:
Fujifilm – Slow Motion Experimental with Fujifilm X-S10 Balloon Splash – 2020 by MMG Visual:
Fujifilm – Slow Motion Experimental with Fujifilm X-S10 Drop Fruits – 2020 by MMG Visual:
There you have it, it seems the Fuji X-S10 which is $999 body only or $1399 with the kit lens 18-55mm is able to produce better 240fps slow motion video than the Apple iPhone 11 and 12 or the GoPro Hero 8 or 9 cameras.  You will still have a sub Full HD resolution image with aliasing and missing lines of information but for some B roll or sports analysis, it is quite a capable solution.
You will have to feed it with a lot of light which is common for high-speed video, however, this camera requires for 240p as much light as regular high speed cameras use for 480fps to yield similar noise results.  Seems the X-Trans CMOS 4 sensor inside the camera is a little noisy when it comes to high frame rates so plan accordingly.
You get Fuji X-T4 quality for $699 less money. It is a worthy camera that is not only portable and intuitive but actually delivers professional results in still images and video modes.  We recommend it for non-broadcast quality slow motion video capture which includes uses like sports analysis, laboratory experiments, hobbyists, youtube videos, and as a limited B Roll option to get some high frame rate on your edit. Just remember to get it enough light to make it shine. We still believe the Sony RX series of cameras, as well as Sony's Professional video camera line, delivers much better 240fps full HD results.
The FS700  from Sony is still a better Full HD slow motion option than this camera for 240p and $2499 but you will not have 4k capture unless you use an external recorder.
We also think the Panasonic GH5s with 240fps capture is a comparable option to the Fuji X-S10 when it comes to 240p Full HD as they share similar image quality.  Thanks for reading -HSC
(Visited 2,821 times, 2 visits today)