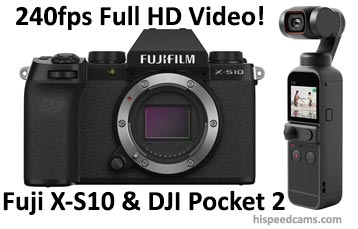 Two very different new cameras were released this week that are able to shoot in 240fps Full HD 1080p. One is the Fujifilm X-S10 which is an all-rounder mirrorless camera with 6 stop IBIS and cinema video profiles for $999 body only, the other is the sequel to the very well received DJI Osmo Pocket now named DJI Pocket 2 dropping the OSMO part of the name & starting at $349 in its most basic form. Slow Motion on DJI Pocket 2 & Fuji X-S10 is close on both.
Both cameras are able to do 120fps as well but the interest peaks at 240p where the speed makes things moving slower more detailed, especially people as at that speed lifeforms moving relatively slow are excellent subjects. For faster animals like birds or flying insects, you need many more frames per second, usually in the 700+ range to create a good enough effect.
Slow Motion on DJI Pocket 2 & Fuji X-S10 – Two cameras that are very different but can shoot the same fps!
Fuji X-S10 Video Modes:
Video Recording Modes
H.264/MOV 4:2:0 8-Bit
DCI 4K (4096 x 2160) at 23.976p/24.00p/25p/29.97p [100 to 200 Mb/s]
UHD 4K (3840 x 2160) at 23.976p/24.00p/25p/29.97p [100 to 200 Mb/s]
DCI 2K (2048 x 1080) at 23.976p/24.00p/25p/29.97p/50p/59.94p [50 to 200 Mb/s]
Full HD (1920 x 1080) at 23.976p/24.00p/25p/29.97p/50p/59.94p/100p/119.88p/200p/239.76p [50 to 200 Mb/s]
So starting with the Fuji X-S10 we cans ee that it has a plethora of video recording modes with the absence of the now much coveted 4k 60p which is not here in any form. We do have a 2k cinema mode with 60p which is an ok consolation prize but in a world of 4k it seems they could have added that 4k 60p just to be competitive.
We get 100fps and 200fps at 1080p in PAL format and 120fps and 240fps in NTSC mode. As far as we know every camera can be switched with a single menu to be able to use either of the two systems.
The great news here is that the slow motion modes at 1080p offer up to 200Mb/s in the codec which is pretty remarkable considering not many cameras pass 50Mb/sec in these modes.
The bad news is that the slow motion seems a bit mushy and pixelated which is an unwelcome sight. We found a short video showing this mode at the video below at 8:16:
Fujifilm X-S10 Hands-on Review by DPReview TV:
While we need more samples for full confirmation it does look more like a 720p up-rez than true 1080p, which is common in cameras that shoot these kinds of frame rates and are not dedicated slow motion cameras.  Even Jordan the reviewer above states that the quality of the footage at 240p is nothing to brag about and it is pretty low quality. Kind of sad considering the maximum bitrate of 200Mbps at 1080p.
The Fuji X-S10 is an interesting camera that can do a lot of things right, it is great that it offers very good frame rates as options and we will re-visit this camera in the future when more samples are available. If you are a Fuji system enthusiast, we actually think the new X-S10 is probably the best bargain for a powerful camera in Fuji Land and you really cannot go wrong if you want to shoot video with its great stabilization and flip out Vari-Angle screen.
---
DJI Pocket 2 Video Modes:
Slow Motion:
240 fps Recorded at 1920 x 1080p
120 fps Recorded at 1920 x 1080p
Video Rec Formats
3840 x 2160p at 24/25/30/48/50/60 fps (100 Mb/s MP4 via H.264/AVC, MPEG-4)
2720 x 1530p at 24/25/30/48/50/60 fps (100 Mb/s H.264/AVC, MPEG-4)
1920 x 1080p at 24/25/30/48/60 fps (100 Mb/s MP4 via H.264/AVC, MPEG-4)
The DJI Pocket 2 is a very impressive device. On the one hand, it has a larger sensor than its predecessor, one rivaling the old P&S prosumer cameras like the Canon G series back in the last decade.  The sensor is  1/1.7″ 64 Megapixels which allows for 8x true zoom crop on the image if needed.
On the other hand, it has a gimbal that is the main selling point that this camera has going for it. A true stabilized system akin to those on DJI drones but on your pocket/hand.  The performance of stabilization is remarkable and the addition of an optional lavalier mic. option with a clip-on module makes it ideal for Vloggers to shoot on a minute and cheap all in one package.
The slow motion modes at 120fps and 240fps are there and easily accessible which is great news since the original Pocket maxed out at 120fps with a 200fps hack that was not really usable.
We found a couple of great samples of slow motion 120p and 240p in the video review below at 9min 45seconds run time:
DJI Pocket 2 | Wider FOV, Bigger Sensor, 240fps by Potato Jet:
Potato Jet did a pretty fantastic review job here with the Pocket 2. He goes over the whole device and microphone too. That he included slow motion is also highly appreciated. We believe you should watch his review in its entirety and find out about the fly eating incident in the process. 
The good news is that the 120p and 240p video modes are real and look pretty much identical in quality which is ideal since in most cameras the 240p modes are usually much worse than the 120p ones.
The bad news is that the video quality at 120p and 240p is hardly real 1080p, there is a watercolor mush-like quality to the footage as it seems to be very low res and scaled up to 1080p.  There is aliasing and moire present which makes us think line information is lost in the process not just upsampling a lower resolution.
Not all is wrong here, both modes are plenty usable for nonprofessional uses and can easily be used for personal videos and vlogging. Also, the 240p mode here is good enough to use for sports slow motion analysis which will let you see your golf swing for example in a very cheap and diminutive package that can interface with your phone. But doesn't your phone probably shoot 240p and 120p already?  The iPhone 11 or 12 phones, for example, show better 240p quality than the Pocket 2 in our view which makes it harder to justify the device as a slow motion option.
The Pocket 2 is a remarkable device at a reasonable cost that could be all you need to take with you on vacation with ease of use and very stable results. We may be a little harsh with its slow motion mode but in 2020 we should have real 1080p quality in 120 and 240fps modes with the possibility of 320p and 480p options at reduced quality. Slow motion stagnation has been going on for a few years already and the technology while improving in most any other way is remaining stagnant and distant from offering more fps.  DJI is a company that can innovate on any imaging turf, it is about time they went ahead and allowed higher frame rates and better quality ones at that!
What to do?
We feel both of these cameras are good enough to be purchased for their targeted markets. For Fuji enthusiasts that need a cheaper body with almost everything the X-T4 can do for much less money, then the X-S10 is an ideal camera with the build quality and features that feel premium at a significantly lower price range.
The Pocket 2 is a worthy successor to the Pocket 1 especially in the image quality department which has improved due to the larger sensor and better processing. The addition of a wireless microphone lav module is actually an unexpected high point for this device, it will however cost extra. If you need a travel camera or vlogging studio on the go you can't go wrong with the Pocket 2 and its ultra-stable and great audio solution.
We will have more video samples for the slow motion modes in a  future update, thank you for helping HSC by visiting our links if you indeed want to purchase any camera, it helps us continue our mission. Stay safe -HSC
(Visited 1,230 times, 1 visits today)