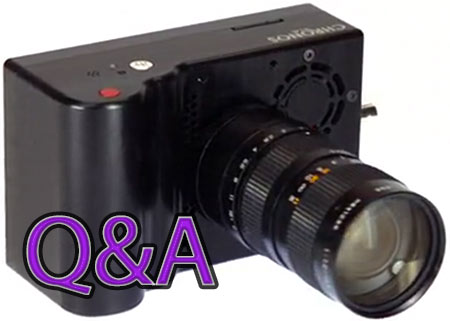 The Chronos 1.4 Kickstarter project has already surpassed $400k Canadian Dollars or close to $320K USD in funding with 150 backers. The passing of the $400k Canadian hits the Second Stretch goal post for the camera. The Android Control app is now going to be developed to interface with the camera allowing live view shooting and other features.
The Camera prototypes have also been used on a  variety of YouTube channels which help spread the word about the campaign. Credit goes to the social media message distribution that David along with his connections was able to muster.  It is very likely that the campaign would not have been as successful this early without the powerful push by Youtube channels. This should be a lesson to other projects on Kickstarter.
This is David Kronstein's update on the funding goal reached:
"We've blown by the $400k CAD barrier, unlocking the Android app stretch goal!
We'll develop and release an Android app on Google Play that will be able to remotely control one or many Chronos cameras, view live video, and view/save recorded video to your phone or other storage devices."
David Kronstein the Chronos 1.4 creator also answered a few questions regarding the camera and the future development below.
Q&A with David Kronstein:
1) Were you surprised with the reaction to the project on Kickstarter?
David: Yes, I was optimistically hoping to get funded after maybe a week, not under 6 hours. The response has been incredible! Seeing the numbers keep going up, I simply couldn't get to sleep until after 6AM.
2) Some early prototype reviews already mention some ergonomic changes needed for handheld operation not to put so much pressure in the jog wheel and or battery; are you thinking about any changes before shipment?
David: If we get more money, perhaps $600k, we'll hire an industrial designer to improve the ergonomics. I also think some of the users weren't holding it right, with the current design, it's best to place your thumb under the jog wheel, sort of how you hold a small point and shoot camera.
3) Are you planning to offer the Chronos camera outside Kickstarter as an option for buyers to get one after the campaign ends?
David: Yes, it will be offered for sale afterwards on krontech.ca, but back the Kickstarter for the best price!
4) We have had many questions about 1080p resolution for other Kickstarter backed camera platforms. Do you believe a Chronos camera at 1080p or other resolutions are in the drawing board for this market after the campaign cameras are fulfilled?
David: There's a story of a computer company that announced a new product 6 months before release. Sales of the current model dried up, and they went bankrupt before they ever got the new product out the door. Let's leave this one out for now.
5) You are an example of what can be done with hard work, smarts and dedication; what advice could you give to young people today that want to build something great but don't know where to start?
David: Have a great idea, and have passion for it, this will help you keep motivated which is the most important thing. Watch and learn from what others do. There are many Youtube channels that tear down products and explain how they work, this is a very good way to learn.


The Kit Lens:
The Chronos 1.4 Kit lens "Computar 12.5-75mm F/1.2″ for 16mm or 2/3" Sensors like the one in the Chronos is actually a very good C Mount lens with a  few problems; like Bokeh artifacts as an example that is quite sharp above f2.8. See this excellent review below by 
Daniel Norris
 of the lens.
Also here are two more examples of the Chronos 1.4 being used in Youtube Channels.  A good way to see the quality and performance. Note: These are still prototype cameras.
Pop Champagne with SCIENCE With Chronos 1.4!
Crushing rocks and minerals with hydraulic press VOL. 1 With Chronos 1.4!
Below you can see some links to C Mount adapters for EOS to C mount and Nikon to C Mount which can come in handy while adapting your current lenses to the C mount of the Chronos Camera.
We will continue to revisit the Chronos 1.4 Campaign and camera in the near future. Hopefully by March next year we may have a final shipping unit for review on our hands to finally have it ranked in our HSC Slow Motion Camera Guide! – HSC
Disclaimer: We do not promote the purchase or backing of any Kickstarter or similar campaign directly. We at HSC only analyze and present the information available on diverse high speed cameras. The decision to back a project or purchase a camera is entirely your own and not the responsibility of HSC!
(Visited 678 times, 1 visits today)