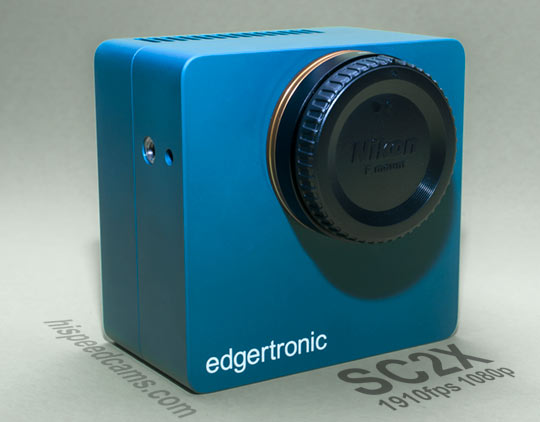 Just a few weeks ago we were surprised by a camera release that not only met the demanding 1080p 1000fps spec but actually nearly doubled it at 1910fps. The edgertronic SC2X is the result of the continued evolution of the popular camera line that aims to bridge the gap without compromising features, dependability or image quality.
The edgertronic SC1 and SC2, SC2+ have already proven themselves to be rock solid cameras in the fields of industrial production line monitoring, scientific labs in physics, biology and material testing. The cameras have also been used in broadcast TV, internet delivery and sporting events with amazing results. Naturally, we are expecting a lot from the SC2X and the 1080p resolution. This preview aims to answer a lot of questions and see if it's a worthy addition to the edgertronic line.
edgertronic SC2X Main Specs:
Color only APS-C Sensor 19.20 x 10.88 mm
Global Shutter Sensor (No Rolling Shutter)
16 GB Memory (4.34 seconds at full resolution 1910fps)
Full HD Resolution 1920 x 1088 
1/30 to 1/800,000 sec Shutter
ISO – 1,200 to 19,200 Intermediate ISOs Freely Selectable!
1920 x 96 to 1920 x 1088 Resolution Range
Full Resolution Maximum Frame rate:

 1,910 fps @ 1920 x 1088*

Maximum Frame Rate: 20,132 @ 1920 x 96
1920*720p @ 2,940 fps HD Equivalent, VGA 640*480 4,290 fps
Nikon F Mount
50mm 1.8 Nikkor lens Included
Fixed IR Blocking Filter
11-12 Stops Dynamic Range
H.264 High Bit Rate Codec
Built in Auto-Calibration Shutter (No Need to do Dark Calibration)
Auto Daylight White Balance.
Chrome Browser interface usable on PC, Mac, Linux, iOS & Android!
Weight 862 gr
2.5A Power Supply Provided
12 volt Compatible power source portable batteries.
 10/100 Ethernet, 2 USB ports, external trigger, multi-camera genlock.
Field upgradeable software/firmware
Video Trimming in Camera Interface!
Video overlay support for frame number, text, and graphic logo
Removable SD card
edgertronic camera spec comparison:
As you can see the edgertronic SC2X has the exact same body shape and color as the past edgertronic cameras with the distinctive difference of the mount flange distance ring being anodized gold color.  This allows for previous edgertronic camera owners to easily replace the camera on a rig or casing with no modifications. Last year's SC2+ had a red ring as the only visual differentiating factor.
The SC2X camera however is a very different beast when it comes to the components and capabilities. It has for the first time in the edgertronic line a sensor capable of Full HD 1080p resolution at 1920*1088 which has 8 lines to spare in the vertical. This does not pose a problem for editors as you actually get 4 lines above and 4 below of wiggle room for some slight cropping.  This actually takes care of sensor limit lines which usually exhibit an incomplete pixel line in some edge.  We are happy that the line falls within this range and saves an extra step for editors.
Edgertronic SC2X Hands On Preview:
Finally Professional 1080p Resolution in an Affordable High Speed Package!
At 1,910fps 1920*1088 this camera finally caters to TV and film producers that needed that extra detail above 720p to be in compliance with editorial and production requirements. Many TV markets require at least a 1080p signal to be able to broadcast those clips. This left the edgertronic SC1 and SC2, SC2+ cameras out of the running even when they were excellent cameras in their own right.
Since we are preparing a full detailed review of the edgertronic SC2X, we will only touch the surface of the image characteristics in this preview. Needless to say the verdict after a few days of active shooting is a resoundingly positive one. The resolution is true 1080p, no line skipping, very limited moire artifacts in heavy detail scenes (Caused by the Bayer Pattern Sensor Which is present in all Bayer Color Sensors) and excellent noise characteristics.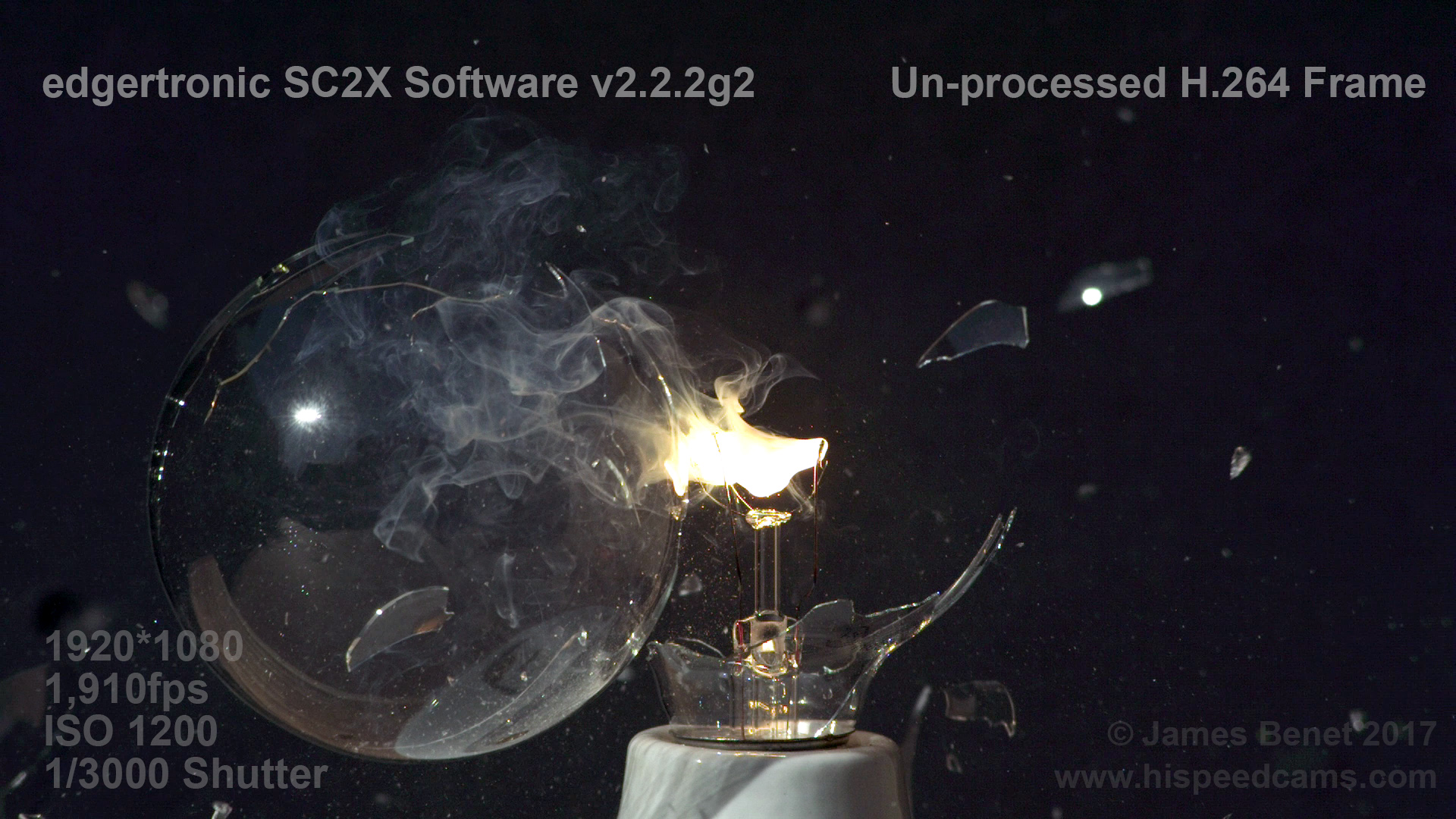 The frame above is un-porocessed and straight out of the camera.  It is designed to give you a fair assessment of the image quality without any post processing applied.   Of note is the escellent detail, subdued aliasing and low noise levels at ISO 1200 base on a completely dark background.  The quality the edgertronic SC2X is able to deliver is crisp, clear and will not disappoint camera gear enthusiasts looking for a real 1080p image that can deliver close to 2000fps.  We are in Phantom territory here and the quality to go along with it.  Give this camera plenty of light and you will be amazed at the results.
Big Improvements:
The SC2X besides pixel resolution also has big improvements in image quality and software.
-NO  Black Sun / Highlight Dark Spots: While not a big problem if you are shooting within normal dynamic range,  specular highlights in many high speed camera sensors tend to show dark pixels in extremely over exposed areas. The edgertronic SC2+ suffered from this but we are glad to see that the SC2X is free of the artifact. You can shoot any highlight range and the specular roll off will be clean and beautiful.  This is a big deal especially if you want to use this camera for broadcast or cinema.  Excellent improvement and makes it a dependable camera for the discerning image quality connoisseur!
-No Heavy Aliasing on sharp edges: It may not be apparent at first but on 720p slow motion cameras, aliasing is a problem especially if you want to show some detail.  The 1080p sensor in the SC2X is very clean when it comes to aliasing on sharp edges to the point of not being a problem.  The image is much improved from a 720p sensor.
–Software 2.2.1 and above now allows for "Review before Saving" which makes it possible to save an unlimited number of clips from memory withe easy to set up in and out points. This was a request we made with the edgertronic SC1 and SC2+ and it is probably the best addition to the software yet.  Gone are the days of saving unnecessary frames for several minutes and allows for only saving the needed action fames. This cuts down saving time, memory space and can also work in multi shot mode.   In our testing we have used it for several days without a single glitch. It makes every edgertronic camera from the SC1, SC2, SC2+ and SC2X improved in usability with a simple software update.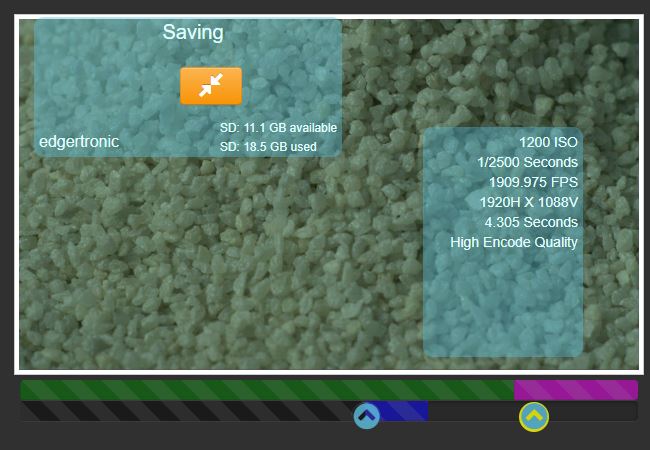 Shooting time:
At 1920*1088 resolution which is the maximum the sensor will read; it will record in the 16GB of RAM about 4.34 Seconds worth of footage at 1,910fps.  This equates to 8,289 frames recorded at 30p to 276 seconds or 4.6 minutes playback time. This is a lot of recording power even when it sounds short.  At 1,000fps you can double that making it at nearly 9 minutes playback at 30p.   You will grow bored way before you review the entire clip. That is when you will use the Review Before Saving feature and learn to love it.  The camera will record about 40 to 60 frames per second to the SD card depending on the scene complexion; So a long detailed clip will take above 5 minutes to save.   Rest assured you will very rarely need to record the entire frame buffer.
Recording Quality:
At high quality the edgertronic SC2X is recording about 35 Mbits/sec to 60 Mbits / sec of data depending on scene complexity. The codec is H.264 and the ability to push and pull in post is quite good with very little break up.  The edgertronic cameras do not shoot RAW by design and instead opt for a high quality H.264 implementation which is smaller in file size and compatible with most editing systems and online video services. While RAW has it's merits, the edgertronic SC2X quality is extremely good with no visible artifacts from compression due to the very high bit rate. At 60 Mbits/sec it is approaching what some 4k cameras store their footage but with the difference here being it's 1080p only.  You will not have much problems color correcting or applying filters to the footage.
edgertronic SC2X Footage Samples Part 1 @ 1910fps 1080p:
Our Initial Take:
Considering the image quality we have sampled and the dependability of the camera in almost any shooting condition; we can easily recommend the edgertronic SC2X for any TV and film production that requires a high speed camera. Be aware that you may need to use plug-ins like Neat Video to reduce noise in the shadows before broadcast which is no big problem and something inherent at high frame rates and ultra high shutter speeds. We will supply Neat Video profiles for you to download when we publish our full review.
At a price of $15,990.00 for the ready to shoot Kit with Case, Cables and Lens it may be out of reach for some small studios and producers but it is certainly much more affordable than comparable options in the market that can balloon the cost upwards of $70k USD for a ready to shoot kit for 1080p.
This is a camera that is ready to capture shots that could make it pay for itself in a commercial setting many times over quickly.  Also you can use it as a business deduction when filing your taxes.  The price while steep at first glance will probably be an afterthought just a few months into ownership, and you will be able to shoot things that were just out of the realm of possibility before, improving your product.
The edgertronic SC2X is a very fast, dependable and production ready camera that will deliver mind blowing shots for many years to come.  Stay tuned for our detailed full review of the camera in the coming weeks. We can safely recommend it for any production in TV, web or film today. It is that good!
For more information on the edgertronic SC2X and ordering one visit: https://edgertronic.com/our-cameras/sc2x
Disclaimer: We do not receive payment of any kind by edgertronic for the promotion or sale of their cameras. This is our full and honest opinion. All questions and orders should be directed at edgertronic.com directly, HSC holds no responsibility or claim for the information stated in this article!
(Visited 643 times, 1 visits today)