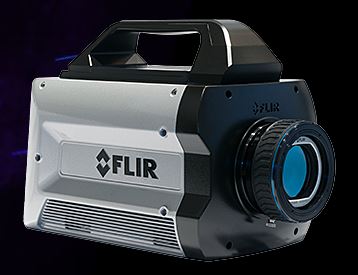 Very little attention is placed on high speed thermal imaging because frankly it's a field so new that only a handful of cameras can even approach that performance. The FLIR X6900sc is breaking records by now recording 1000fps at 640 x 512 resolution which is pretty high by thermal pixel standards and a memory buffer recorded on-camera RAM for 26 seconds.
Thermal imaging uses unit area sensors which correspond to arrays of pixels to form the full image. These have to be sensitive to  radiation in the long-infrared range of the electromagnetic spectrum (roughly 9,000–14,000 nanometers or 9–14 µm) and produce images of that radiation, called thermograms.
These thermal cameras operate very differently from night vision IR cameras as the temperature scale and wavelengths vary greatly. You can read more about it here.
FLIR X6900sc MWIR Camera Features
Captures 640 x 512 data at 1000 fps
On-camera full-frame recording to RAM for up to 26 sec.
On-camera recording to removable SSD (slower rates)
Four-position motorized filter wheel
Multiple digital data outputs of GigE simultaneously with CL or CXP
Advanced timing and triggering options
Thermal sensitivity of < 20 mk, for detecting the most subtle temperature changes
Works seamlessly with FLIR ResearchIR Max or third-party software
Introducing the FLIR X6900SC at Photonics West by FLIR Systems:
1000 FPS Thermal Video from the new FLIR X6900SC! byFLIR Systems:
FLIR X6900sc MWIR Camera Specifications
Model Number
X6900sc MWIR
System Overview
Detector Type
FLIR Indium Antimonide (InSb)
Spectral Range
3.0 – 5.0 µm or 1.5 – 5.0 µm
Resolution
640 x 512
Detector Pitch
25 µm
Electronics
Synchronization Modes
Genlock, IRIG-B, Sync-in, Sync-out
Image Time Stamp
Internal IRIG-B decoder clock TSPI accurate time stamp
Integration Time
480 ns to 687 sec
Frame Rate (Full Window)
Programmable; 0.0015 Hz to 1004 Hz
Subwindow Mode
Flexible windowing (steps of 32 columns, 4 rows)
Dynamic Range
14-bit
Radiometric Data Streaming
Simultaneous Gigabit Ethernet (GigE Vision), Camera Link, CoaXPress (CXP)
Standard Video
HDMI, SDI, NTSC, PAL
Command and Control
GigE, USB, RS-232, Camera Link, CXP (Gen<i>Cam protocol supported over GigE or CXP)
Temperature Measurement
Standard Temperature Range
-20°C to 350°C (-4°F to 662°F)
Optional Temperature Range
Up to 1,500°C (2,732°F)
Up to 2,000°C (3,632°F)
Accuracy
± 2°C or ± 2% of reading
General  
Operating Temperature Range
-20°C to 50°C (-4°F to 122°F)
Other footage from high speed FLIR imaging cameras:
Red Bull Racing's RB8 Tearing it Up in Infrared by FLIR Systems:
While no pricing details are available you can visit FLIR's  X6900sc page and ask for a personalized quote if you are so inclined.   Thermal cameras are not cheap and this one being state of the art will probably be out of the reach of many. Still the technology steps in high speed thermal imaging are encouraging enough that a slow motion capable thermal solution will probably be introduced at an affordable price bracket.
While the high speed thermal field is pretty new, you can already see very useful applications like air bag deployment, aircraft stress testing and car performance heat dissipation.   High speed thermal imaging will only get better from here.
Visit the page for the FLIR Camera Here for more info!
(Visited 1,293 times, 1 visits today)