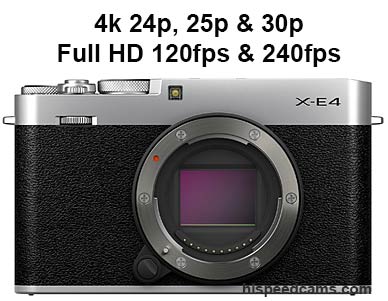 The recently released camera called the Fujifilm X-E4 shares many of the traits of their lower brethren but also from the higher-end models in a compact package. It ditches the better viewfinder for a small 2.36 million dot EVF that makes it a bit hard to see your composition but that also allows the camera to be smaller and more stylish than the beefy SLR style Fujis out there.
The Fujifilm X-E4 Slow Motion feature is the same as found on cameras like the excellent Fujifilm XS-10 which is a 120fps or 240fps full HD component that records in camera. Why are we not excited? well, the quality is lower than expected with some aliasing and moire characteristics that are so last decade. When are manufacturers going to offer the same 1080p quality at all frame rates instead of relegating the 120fps and 240fps modes to the lower bitrate and detail bin?
Fujifilm X-E4 Main Specs:
26.1MP APS-C X-Trans BSI CMOS 4 Sensor
DCI/UHD 4K at 24p, 25p & 30 fps
2.36m-Dot 0.62x OLED EVF
X-Processor 4 Image Processor
Compact classic body
3.0″ 1.62m-Dot 180° Tilting Touchscreen
425-Point Hybrid AF System
Film Simulation Modes
Bluetooth and Wi-Fi Connectivity
Lens Kit includes: XF 27mm f/2.8 R WR Lens
Release date March 11th, 2021
Fujifilm X-E4 Slow Motion Specs:
Full HD (1920 x 1080)
50p/59.94p
100p/119.88p
200p/239.76p
[100 to 200 Mb/s]
While we get the same frame rates as the best value/performance on Fuji's arsenal the XS-10, you get the aliased version of the footage. While the final quality is passable for your Youtube Vlog, it will not be ready for more professional uses, the pixelation and stair-stepping looks like badly captured 720p video in a 1080p wrapper.
The video below by the amusing and great Kai W, has a sample of 200p video on the camera at the 4-minute mark.  You can clearly see the aliasing in the footage when you load it at full resolution.  We expect the 120fps mode to be much better but we already get pretty good 120p footage from most cameras nowadays. The 240fps mode is the standout here and it disappointed us fully.
Fujifilm X-E4 Hands-on Impressions WIN THIS CAMERA! by: Kai W
But what about?
Can you still make a remarkable slow motion shot with this camera?  In a word, Yes take a look at the Fujifilm's XS-10 240fps mode which is probably the same as the one in the X-E4 as they share a lot in common feature-wise. Look closely at the very well shot video below:
Fujifilm X-S10 – 240fps slow motion test by Coastal Bay 4K:
If you are honest with your eyes, you can clearly see the stair-stepping aliasing in most shots, especially easy to see in the flag shot.  You can make compelling footage as the camera processing of color and dynamic range is very good but it will not stand up to close scrutiny by any professional shooter.  We rather see more soft video in slow motion rather than aliasing as the softness can be improved in post but not the jaggies. We expect close to identical performance in the X-E4 as found in the XS-10.
So if performance is going to be nearly identical it makes much more sense to go and get an XS-10 instead as it is close to the same pricing for the body as the X-E4 with the lens kit.  You get a better screen, viewfinder, body, and overall features for a very similar price.
In conclusion (Look for better):
If you are into Fuji cameras, then we recommend you go directly to the XS-10 and bypass the X-E4 unless you absolutely love this camera's form factor. Otherwise, there is no comparison for the ergonomics, extra features, weather protection, and much better screen and viewfinder.
Then again if you want 240fps slow motion and want better quality than what this camera can offer, take a look at the Sony RX camera line which has a much more detailed image at 240fps along with extra modes up to 1000fps at reduced resolutions for a more affordable price.  See our HSC Camera Guide before picking any slow motion capable camera. Thanks for reading -HSC
(Visited 1,354 times, 1 visits today)