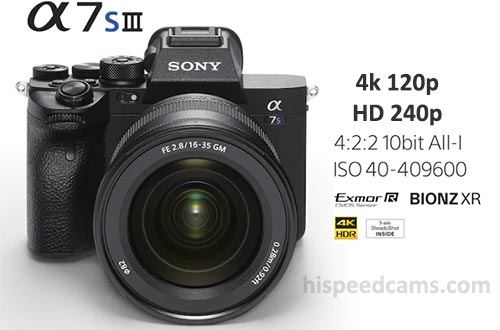 Now that the excellent a7s Mark III video recording mirrorless camera has been out for over six months, it is time to revisit the slow motion component and see what quality we can expect from the Sony a7s III Slow Motion Samples. Many have praised the 4k 120fps mode which is heavily detailed, low noise and suffers from only a very small crop factor that is hardly a problem.
We looked at the Full HD 1080p 240fps mode on the camera and it was clear it did not match the 120fps 4k mode as it was not only less detailed but full of aliasing and moire if you looked for it. It was clear the camera was not up to professional standards when in this mode which is to be expected from a full-frame sensor cropping to 1080p. That said, this camera is a powerhouse that easily takes the mantle as Sony's best mirrorless compact video camera.
Sony a7s III Slow Motion Samples:
Be aware that 120fps in 4k is not only highly detailed and full of dynamic range but it is the best high frame rate this camera has to offer. You can easily use this mode for professional broadcast or film work is shot in good conditions.  The a7s Mark III is the best Sony Alpha line camera for low light performance and it is evident by the samples this translates directly into higher frame rates.
CHAINSAW VS SONY A7SIII | SLOW-MOTION by Moment:
Sony A7S iii Slow Motion footage 120fps 4k by Josiah Mendoza:
SONY A7SIII in 10-bit 120fps! Surf in slow-motion. by Stan Moniz:
Testing Out 240 FPS Sony A7S III – Indonesia | INSANE SLOW MOTION? by Calvin Kho:
SONY a7SIII 4K120fps Slow Motion cinematic Video TEST by Yuu / Photo Journal PRESS:
Sony a7s III 240 fps slow motion test by Stefan Bendik:
Sony A7S III Photoshoot & 120fps Slow Motion Footage by TheTechVault:
Sony a7S III • SLOW & QUICK • feat. Eckhart Tolle by Elise & Aaron:
Melting Faces😂 | Sony A7Siii Slow Motion 200FPS😂 by Ofentse Mwase Films:
https://www.youtube.com/watch?v=A2CbYCc816k
Como Falls – A7SIII, 240fps by Alan Stankevitz:
Conclusion:
There is no question that this camera in capable hands can do wonders. Even 240fps slow motion mode in full HD with aliasing is usable for several shots when cleverly edited.  You get beautiful 120fps 4k footage with very low noise and plenty of dynamic range. It is really an incredible sight to see such quality 120p UHD in a camera like this with no problems shooting in even extremely low light conditions. The a7s III sensor is so good in low light that it is an ideal benchmark for any other mirrorless to beat it in low lux and low noise.
Sure you could use the Full HD 1080p 200fps PAL and 240fps NTSC mode for a variety of situations but we do not recommend its use for broadcast paid productions, only for limited circumstances as there are aliasing artifacts and softness.
That said we fully recommend the Sony a7s III as an impressive video and photo camera that is unrivaled for low light and creates movie-like 120fps 4k video that is rich in detail and cleaner than other camera's 60p.
If you decide to buy this camera or accessories we thank you for choosing our links as it helps us continue our mission. Thank you for your visit! -HSC
(Visited 2,274 times, 1 visits today)