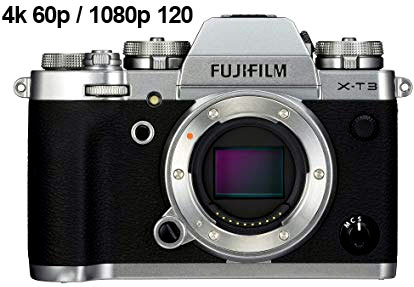 Fujifilm continues to further evolve their high-end mirrorless offerings by releasing the X-T3 which is a souped-up X-T2 with much of what was missing like 4k 60p and a new  X-Trans Sensor now with 2 more megapixels and lower base ISO of 160. The new camera also has a touchscreen with the ability to use up to 425 Phase and Contrast hybrid Autofocus points which is their most advanced AF yet.
Others will point out to the new blackout-free burst shooting much like that in the Sony high end a9 for example. What is really remarkable here is that the 4k 60p mode is 10 bit 4:2:0 vs 8 bit on competitors, as to what big advantage that will be remains to be seen considering 4:2:0 is not exactly ideal. For slow motion fans, the camera now records 120fps 1080p at 200Mbps bs 100Mbps on the X-T2
Fujifilm X-T3 Main Specs:
26.1MP APS-C X-Trans BSI CMOS 4 Sensor
X-Processor 4 with Quad CPU
UHD 4K60 Video 10 bit; F-Log Gamma & 10-Bit Out
No 4k Crop up to 30fps but 60p  1.15x crop
120fps Full HD at 200Mbps 1.2x Crop
2.16m-Point Phase-Detection Autofocus
0.75x 3.69m-Dot OLED Viewfinder
3.0″ 1.04m-Dot Tilting LCD Touchscreen
Extended ISO 80-51200, 30 fps Shooting
Bluetooth and Wi-Fi; Sports Finder Mode
Weather-Sealed Magnesium-Alloy Body
XF 18-55mm f/2.8-4 R LM OIS Lens
Same  NP-126S battery as X-T2 with better life at 390 shots vs 340 on X-T2!
MSRP: $1500 / £1350 / €1530
Fujifilm X-T3 Slow Motion Samples:
With a new sensor and new processing plus the advent of better bitrates and codecs the X-T3 should do much better at retaining detail in slow motion footage and 4k.  The crop factor being lower than the X-T2 is also a good update. In our view, the X-T2 was a good camera but suffered from recycling sensor technology and rolling shutter. The X-T3 aims at fixing all of this by bringing a new sensor with better low light and speedier capture which were expected for Fuji to remain competitive. The Panasonic GH5 and GH5s are the direct competitors to this camera and Fuji for many will be the easier choice because of their much improved AF and the Eterna color simulation which for video looks extremely cinematic right out of the box.   The larger sensor also makes a difference. That, however, doesn't mean it matches the GH series yet for the variety of video formats and features which is still unmatched.
We have gathered the few slow-motion samples we could find for the X-T3. We consider it to be directly competitive with Panasonic and Sony at 120fps with excellent color and detail retention.  Fuji did a great 120fps full HD camera on the X-T3.
Fuji XT3 120FPS 1080P by Focused on Eternity:
Fujifilm Xt-3 Video Test 120fps | FLog | 1080p by William Pavli:
Fujifilm X-T3 FullHD 120fps Slow Motion Playback at 24fps 40mbps by e PHOTOzine:
XT3 4K 60 FPS Slow Motion by Matt Brandon:
Fujifilm X-T3 Slow Motion and Eterna Test #2 by John Michael Jordan:
Fujifilm X-T3 Slowmotion Test by Histogram Production:
FUJIFILM X-T3 CINEMATIC TEST FOOTAGE | 10BIT 4K 60FPS by Jacob Martin:
Fuji X-T3 demo 1080P 120FPS By CocoStudio 华文涛:
There you have it the 120fps quality is very good and consistent, we believe Fuji did a great camera with the X-T3 and if they continue their video oriented upgrades we may see higher frame rates in the future like 240p 1080 in a future camera. Their color and video quality are class leading with this release and the competition has noticed. We now have a new option for uncompromising video quality and the Fuji X-T3 makes Fujifilm a mirrorless video option with little drawbacks. -HSC
(Visited 7,815 times, 1 visits today)