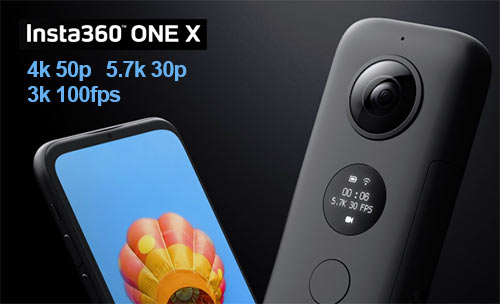 The Insta360 seems to be on a roll by delivering several products this year in quick succession. They want to own the 360-degree video market and they have no plans of letting go of that goal by making some very cool new features available to the masses.  The new Insta360 One X camera is able to stabilize the footage on the fly with incredible accuracy and steady-cam like feel without gimbals with its high-resolution capture and by using cropping along with telemetry data and a proprietary algorithm they are able to deliver rock-solid imagery in heavy motion environments.
The small camera is also able to shoot 100fps at 3k which is a first in the segment will let you crop if needed to get a better frame of the action.  There is also a very clever rubber housing that is designed to be thrown aerodynamically  "Drift Shot" while leaving the camera well protected on impact. This revolutionary technique is really something out of the box and what this camera will probably be known for. Expect to see an explosion of these shots in TV and film pretty soon as others copy the technique.
 Insta360 One X Main Features:
Aperture: F2.0
Photo resolution: 18 MP (6080*3040)
Video resolution: 5760*[email protected], 3840*[email protected], 3840*[email protected], 3008*[email protected]
Photo format: insp, jpeg(can be exported via App), RAW(dng)
Video format: insv, mp4(can be exported via App), LOG
Video coding: H264
Stabilization: Built-in 6-axis gyroscopic stabilization
Compatible devices iOS :Phone Xs, iPhone Xs Max, iPhone X, iPhone8/8 plus, iPhone 7/7 plus, iPhone 6s/6s plus, iPhone SE iPad Pro(10.5-inch), iPad (2018)
Insta360 ONE X Android minimum configuration requirements:
1. OTG: Supports OTG
2. System on Chip(SOC): Qualcomm 653/Qualcomm 820/Kirin 950/Exynos 8890 or above
3. System Version: Android 5.1 or above
4. RAM: RAM 2G or above
Insta360 ONE X Android compatible devices (Phones not included in the list do not necessarily mean they are incompatible. Please refer to the minimum requirement of phone configuration.)
HUAWEI: P20 Pro/P10/P9/Mate 9/Mate 10/Honor 9
Samsung: S9/Note 8/S8/S7/S7 Edge
XIAOMI: Mix/Mix2/Note3/6/8
OnePlus: 5t
Google:Pixel/Pixel 2
Vivo: X9Plus L
OPPO: R11
Waterproof 5m and 30m with optional enclosures!
The camera does a lot of things right like really great stitching, color accuracy and by reducing the mega-pixel count to 18MP from 24MP in their previous consumer camera they have improved per-pixel quality while gaining better low light and detail remains very close.
The slow motion at 3k 100fps is a great feature that can be accessed in real time and you can switch on the fly while recording from 30, 50 and 100fps modes with the expected resolution loss all recorded in the same clip without interruption which is pretty amazing.
FlowState Stabilization:
The 100fps 3k quality looks like a good 720p but not close to a good 1080p when you are looking at a specific portion of the 360 frame. That is to be expected as all-around video tends to be intended for VR displays which need full coverage. Your 100fps 3k frame will look extremely distorted if you want to do  a planar projection but can look good as a special effect with spherical deformation. Do not confuse this camera as a 100fps 3k rectangular camera because the resolution un-wrapped will be just regular HD in your vision. It is a good image overall but we could spot some aliasing and moire in the 3k 100fps mode which is still in its infancy when it comes to cameras targeted to consumers.
INSTA360 ONE X: Best 360 Camera of 2018? by Ben Claremont:
The initial preview by Ben Claremont above seems to sum up the best parts about the camera, we encourage you to see it and get familiarized with its functions and quality. He expects to do a second look in due time which may be able to fully show what the resolution is like on all video modes. Well done Ben!
Insta360 One X – Drift Shot:
Drift shot above uses a rocket shaped rubber enclosure to securely allow the camera to be thrown about and survive while generating impossible shots in slow motion.  This is quite a cool idea done well.
Should I get one?
In short, not for slow motion enthusiasts but if you are looking to get your feet wet in 360 video, the Insta360 One X is really the best product at this price that has ever been released. 5.7k video at 30p is a great feature and the ability to throw it about with the rubber Drift Shot enclosure will make your videos stand out.
We are encouraged by the 100fps 3k spec since it heralds the way forward for truly affordable 4k video in the affordable consumer space. With a little more engineering we wouldn't be surprised to see 4k 120fps in regular cameras in 2019 and up to 240fps 4k in 2020 which in turn may mean real 1000fps 1080p with great quality in mirrorless offerings.  We will keep our eyes open for Insta360 One X slow motion footage from production models and share it as it arrives. Thanks for reading -HSC
(Visited 1,478 times, 1 visits today)