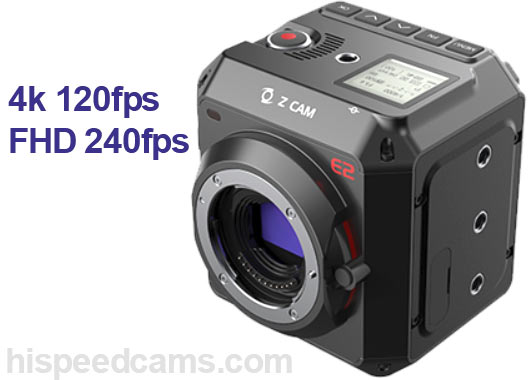 The Z Cam E2 has finally started shipping and is now available for direct order at their site. The camera caught our attention for its low price of just $1999 and the high frame rate features of 240fps 1080p and 120fps 4k.  It seems to be using the same 4/3 sensor as the great Panasonic GH5s but with extended features.
The camera company ZCam has also released some samples in a variety of scenarios so you can see what the camera is capable of. At first inspection, it is clear this camera is a clear step up from the Z Cam E1 which had some image quality issues. The E2 seems to go out of the box ready to produce class-leading imagery and offer some very nice high frame rate action. There are also some rumored comments that suggest the team is testing 300fps at 720p as an added bonus for future software.
Z Cam E2 Main Features:
4K @120fps, 10-bit color
4/3″ Dual Native ISO sensor
13 stops dynamic range
16 Stops in Extended DR Mode
Gigabit Ethernet for data, control & live streaming*
iOS app for control setting & live preview
Multi-cam synchronization**
HDMI Clean Signal Out!
Monitoring Required*
Z Ca, E2 Sample footage at 120fps:
Max Variable Frame Rate
120 fps for 4096 x 2160
120 fps for 3840 x 2160
59.94 fps for 3696 x 2772
240 fps for 1920 x 1080300fps 720p (Rumored Testing)
16 Stop Dynamic Range Test:
More footage from the Z Cam E2 Here at their official company Vimeo Page!
Z-Cam E2 Testing at Afton by EatsTooMuchJam:
It is clear the Z Cam E2 camera is capable of some very high-quality video output and could be easily used for cinema productions as a crash camera with remote access built in.  However, the camera's lack of screen and irregular cuboid shape may put off some buyers and it may not be for everyone.  Add the fact that it shoots 4k 120fps and 240fps at 1080p makes it a desirable higher frame rate solution.  For under 2k this is one camera you may be able to afford as a production assist with also the quality needed for drone imagery without being too bulky.  –HSC
More info on the Z Cam E2 at their official website here!
and Facebook here:
https://www.facebook.com/zcamera/
(Visited 2,225 times, 1 visits today)