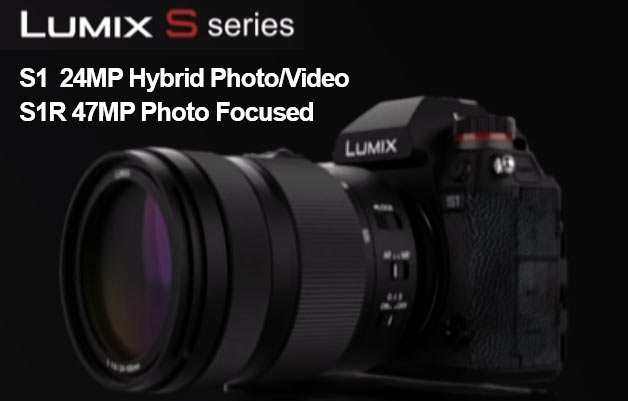 The announcement of the Panasonic S series is a complete acceptance that smaller m4/3 sensors are not the future but the past. As now Canon, Nikon, Fuji, Sony, Leica and now Panasonic have shifted priorities to Full Frame Sensors as mirrorless has allowed the smaller form factor without compromising low light performance and absolute stills image quality.  Fuji is also going strong on Medium Format stills oriented cameras like the new portable GFX 50R which meshes a rangefinder camera with a huge MF sensor.
The move by Panasonic, which had been leading in mirrorless frame rates in continued recording with their Lumix GH5 and GH5s Series up to 240fps 1080p,  will now focus on larger sensors that produce more heat and may be much slower to read at high speeds.  Sony has so far been able to only have 120fps 1080p recording in their a7 series for example.  If the Panasonic S1 at 24MP can only do 120fps 1080p which is still unknown, it will not bode well for slow motion frame rates for some time.
Panasonic S Series Main Features Shared So Far:
LUMIX S1R  47MP Full Frame sensor. Still Shooter Oriented!
LUMIX S1 24MP Full Frame sensor. Hybrid Shooter Oriented!
Same Body Will be used on both cameras, only sensor changes.
4K in 50p/60p is confirmed for video.
Newly announced L-Mount which will use current Leica lenses and upcoming Panasonic and Sigma lenses.
First full-frame mirrorless cameras to offer dual I.S.  IBIS included!
XQD cards and SD card dual slots.
3-axis tiltable LCD screen  (No Vari-Angle Video Friendly LCD).
Micro 4/3ds will still be a supported format with new cameras!
From the information shared above, it is clear this technology announcement is to stave off the take over of mirrorless full frame and the only way Panasonic can offset the migration from m4/3ds to other camera manufacturers like Sony before and now pretty much every other large manufacturer.
LUMIX S Series Press Conference Video by PanasonicLumixVideo:
While we may not see more than 120fps in video mode as a starting point for the Panasonic S Series, there will still be development for Micro 4/3rds cameras for some time. This may mean that a GH6 camera is already being built with the possibility of higher than 4k video and with a smaller sensor, the higher frame rates that can be bundled in such a package.  We, however, do not estimate more than 240fps in any Lumix camera for some time as their implementation on the GH5s low light camera is still not that good with moire and aliasing problems in the smaller resolution sensor.  We rather see a perfected 240fps mode with excellent quality before they jump into 320 or 480fps modes.
Sony continues to be the major consumer camera manufacturer with the best slow motion specs with the RX series at 960fps with in-between 480p and 240p modes which are better than most of the competition.    Phones, as we have seen, are able to jump faster into the slow-motion train with faster reading sensors and cheaper manufacturing with on sensor memory buffers: i.e Sony Motion Eye Technology.
Panasonic LUMIX S1 and S1R Full Frame Cameras Explained  by cinema5D:
In that excellent preview video by Nino Leitner of Cinema5D it is clear Panasonic is still a long ways off from releasing full specs on these cameras. What is very clear is that the S1R version will be still-shooters oriented and that any video features that will be class leading will be only in the S1 version at 24MP.  We expect 10bit codecs to be on par with the GH5 series and maybe the launch of a better V-Log codec that may match the higher-end Panasonic Pro video cameras like the Vari Cam series.
If Micro 4/3 will still be developed in video features it may mean at this point that the GH6 will be the end of the line for video pros in that format.  For many, the small sensor has big benefits like less shallow depth of field for easier focus, much smaller lenses and significantly less weight for the kit.  For many others, the low light performance in photo and video when you go above 10MP makes it a format that will be obsolete in the near future.   We still recommend the GH5 and GH5s series as excellent cameras to be used professionally in video and photo for many years but you have to admit the low light ability and still image look of full-frame sensors are the way to go for the future.
There is still no mention of any way to use m4/3 Lumix lenses on the new L-Mount which may be possible due to the very small flange distance on the new S Cameras.  A converter with glass elements will, of course, have to be used but could be a way to easily transition to the new format for Panasonic users.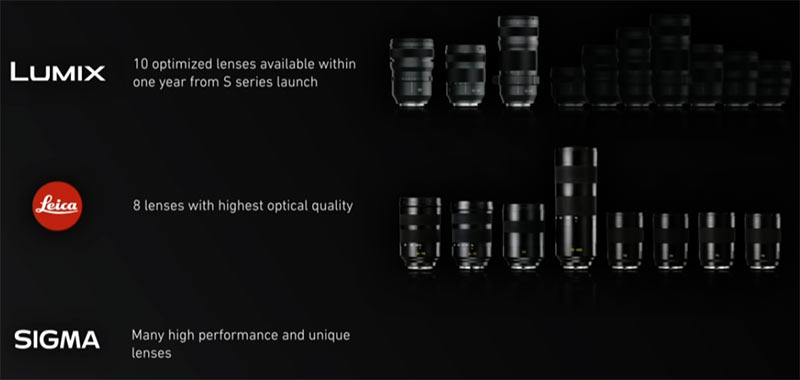 It is unclear at this time if Olympus will join the L-Mount consortium and play along with Leica, Sigma and Panasonic for future cameras. The lack of inclusion means that most probably Olympus will have their own separate Full Frame Mount to show for future products which will lock sales of lenses to only their brand with any of the cannibalization issues that happen on the m4/3rds format between Panasonic and Olympus.
There was also an announcement at the event of a Panasonic 8k video capable camera for 2020 but no details were given. We believe the GH series maybe even the GH6 will be announced in mid-2019 for an early 2020 release to be 8k capable and a way to still have some m4/3 cutting-edge technology before full frame migration erodes that system fully.
We will continue to cover the development of the Panasonic S and other cameras in the future and will share more information when available. Thanks for reading – HSC 
(Visited 891 times, 1 visits today)