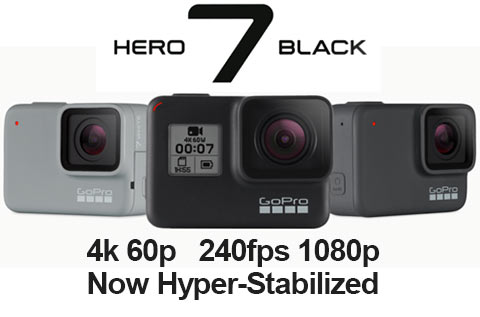 GoPro has released 3 new cameras including the Hero 7 Black which is now the flagship product for the company.  The key feature is HyperSmooth which is a predictive stabilization technology based on scene analysis and sensor telemetry to accurately anticipate motion and correct the image to generate a gimbal-like smooth appearance to the video.  When you see the footage it is clear it is a huge improvement compared to even the Hero 6 Black which had a pretty good stabilizer.
The Stabilization, however, is limited to  4k 30/60p and other resolutions below 120p but anything above 120fps will use the previous stabilization feature which is not predictive and have no stabilization support at all at 1080p 240fps which is the highest slow motion mode.  No 480fps or other higher fps settings are available as the camera uses both the same Hero 6 Black sensor and the same GP1 system chip for this new camera.
GoPro Hero 7 Black Frame Rate support:
4k Recording:
Wide FOV: 60,30,24 with HyperSmooth!
Super View: 30, 24fps
4:3 4k  30,24
2.7k Recording:
Wide FOV: 120, 60, 30, 24 fps
SuperView FOV: 60, 30, 24 fps
Linear FOV: 60, 30, 24 fps
1440p Recording:
Wide FOV: 120, 60, 30, 24 fps
Linear FOV: 60, 30, 24 fps
1080p Recording:
Wide FOV: 240, 120, 60, 30, 24 fps
SuperView FOV: 120, 60, 30, 24 fps
Linear FOV: 120, 60, 30, 24 fps
960p Recording:
720p Recording:
Formats:
File Format: MP4 (H.264/AVC), MP4 (H.265/HVEC)
78 Mb/s (4K)
Introducing HERO7 Black – Shaky Video is Dead by GoPro:
There is no question that the Hero 7 Black is the best GoPro ever introduced. The quality and features are top-notch considering it remains an affordable $399.99(Available At Amazon Now) which is in line with other competitors.
The lack of above 240fps frame rates is disheartening as the spec has remained pegged to the camera since the Hero 5 black with only improvements in aliasing reduction and codec bit-rate. The footage does look better in the Hero 7 Black compared to the Hero 6 mostly due to increased bit-rate but not because the imaging system has changed because it remains exactly the same. The changes are mainly in the addition of a 1GB of extra RAM memory to help with Timelapse/Hyperlapse modes and the new HyperSmooth stabilizer. The extra GB helps the camera buffer enough information for real-time stabilization that is in a word unique.
This new stabilizer is so good that it really kills off gimbals for the Hero series like GoPro's own Karma stabilizer which may still offer an edge but much less so now.  The Stabilization will, of course, reduce image quality with cropping but it does so intelligently by sampling a larger sensor area and then trimming as little as possible to maintain resolution across the board.
As mentioned earlier, the stabilizer will not work in 240fps slow-motion modes but many will point out that at that speed it will be overkill and redundant since stabilization in slow motion happens as a side effect of the high fps capture and regular speed playback.
GoPro Hero 7 Black Review: 16 THINGS TO KNOW by DC Rainmaker:
The quality of the Hero 6 Black vs the Hero 7 Black in video modes will be very slim to nonexistent besides the higher bit-rate. The video below will show even a slow-motion sample at 240p which seems a tad sharper but we still have moire and aliasing all over the place which shows lines are skipped and not fully sampled.  We will need however more tests to fully evaluate the camera's strengths and weaknesses as a slow-motion option.
GoPro Hero 7 vs Hero 6 comparison by Andy Kong:
At this early stage, it is easy to recommend the Hero 7 Black from all other action cameras including the Hero 6 Black just because of the improved stabilizer, interface, audio, and timelapse features. It is a full package and a refined technology that may be just enough to keep GoPro in business just a little longer.  We would have liked to see higher slo9w motion settings at this stage but with Phones already pushing 960p and 480p, GoPro will have to compete at some point.  More video samples as they become available. -HSC
(Visited 11,898 times, 1 visits today)