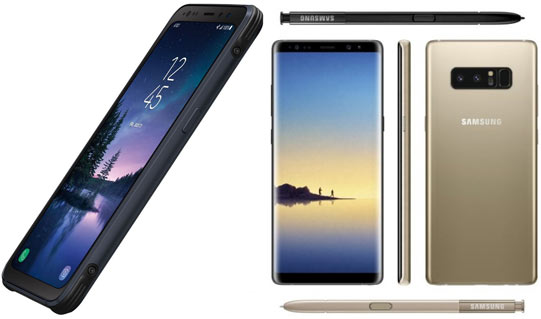 Two new handsets from Samsung should be released pretty soon. One is the overly leaked Galaxy S8 Active which will be an AT&T exclusive in the USA and the other is the long awaited Galaxy Note 8 which should be a clean slate for the company after the battery fire debacle last year which had the Note 7 removed from production.
The Galaxy S8 was kind of a let down in slow-motion specs with just the 720p 240fps as the really important metric. Absent was the 120fps 1080p mode of other competitive phones which is now becoming a must have for the video format.  The Note phones have always pushed the specs forward in Samsung phones and we were waiting for the Note 8 to increase frame rate specs.
Galaxy S8 Active – Rumored Specs:
5.8-inch 2,960×1,440 18.5:9
Super AMOLED non-curved touchscreen with Gorilla Glass 5
Snapdragon 835 chipset
4GB of RAM
64GB of expandable storage
Large 4,000 mAh battery
Ruggedized MIL-STD-810G compliant body
Same Cameras as the  S8 and S8+: 12 MP rear unit and an 8 MP selfie shooter  f/1.7 aperture. The Active will be 9.9mm thick and weigh 208g.
Should support the same video & Frame rates of the Galaxy S8 and S8+.  720p 240fps 60fps at 1080p and 30fps 4k.
9.9mm thick & weight of 208g.
Galaxy Note 8 – Rumored Specs:
6.3-inch display  2,960×1,440 resolution aspect 18.5:9
162.5 x 74.6 x 8.5 mm.
IP68 certification for water and dust resistance.
Midnight Black and Maple Gold   Body Colors.
September 2017 Launch Date
Exynos 8895 SoC Global Version
Snapdragon 835 for the US6GB of RAM and 64GB of expandable storage.
6GB of RAM
64GB of expandable storage.
Dual rear cameras with 12 MP sensors.
Cam 1 wide-angle  f/1.7 aperture and dual-pixel autofocus
Cam 2 f/2.4 telephoto with 2x fixed zoom.
Both cameras will have Optical Image Stabilization.
S Pen Included
Video Capture Formats: 2160p 30fps, 1080p 60fps, 720p 240fps, HDR, dual-video recording mode with Selfie and Back Camera.
Our Take:
There you have it, if the rumors which are quite detailed are to be believed we can expect the same specs camera wise as the Galaxy S8 and S8+ from both handsets when it comes to video recording. The Note will only have an edge by applying a dual camera setup like the iPhone 7 Plus which does Wide and Telephoto.
While 720p 240fps is not a bad spec on its own it is resolution limited and is not class leading.  There is still a chance that the rumors are wrong and the specs are not restricted in the slow-mo aspect but probabilities are low that this will happen.
We will continue to watch closely and report on the final specs of both phones as they are officially announced.
Disclaimer: All Rumors are not solid information and buying decisions should not be made based on these suppositions. We will update the specs on this devices after they have shipped officially. 
Some Samples from the Galaxy S8 at 240fps 720p below:
Samsung Galaxy S8 Slow Motion (Fun Testing) by PMC PRODUCTIONS:
Samsung Galaxy S8 Slow Motion Video Test With Colors by Tech Hub BD:
Galaxy S8 – Slowmotion test by Mauriceje:
Samsung Galaxy S8 Slow Motion Test: Fireworks by Drew Ayrit:
Slow Motion Golf Swing on the Galaxy S8 by Binh Nguyen:
(Visited 497 times, 1 visits today)