This week has brought a flurry of new rumors when it comes to smartphones that do slow motion. Now is the turn for Apple and the rumored iPhone 8 that will now according to a supposed software leak will be able to shoot 4k at 60fps on both the front and back cameras in order to allow for new features that need more resolution and frame rates in order to function as intended.
There is also a slight delay on the Chronos camera production second round due to PCBs being bumped at the factory for a different order. This should push the delivery to end of August but not much more as the camera is not only proven but with all of round 1 out there in client's hands it is a near certainty that the camera is not only on solid footing but will be a contender for camera of the year at HSC!
Apple iPhone 8 To have 4k 60fps: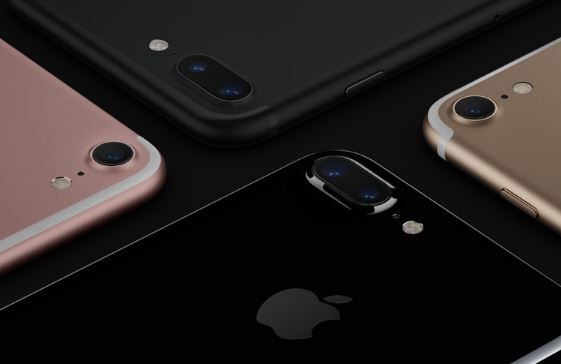 The Brazilian site iHelpBR.com in a recent exploration of leaked firmware found that the iPhone 8 will probably support both front and back cameras with 60fps 4k UHD support. The leak site can be found here!
While this is far from a certainty, 4k 60fps is becoming a real spec on many video cameras like the Panasonic GH5 & EVA1. If the phone does ship with these specs then the phone, in theory, will be capable of full HD 240fps 1080p video and up to 480fps 720p video. Phone data bus thruput is not the only metric needed as the sensor also has to be fast enough to capture these frame rates. Needless to say, this rumor brings us a lot of excitement about the new iPhone and how it will push technology forward in high-quality frame rates.
Panasonic EVA1 Full Specs Released Along With Pre Orders: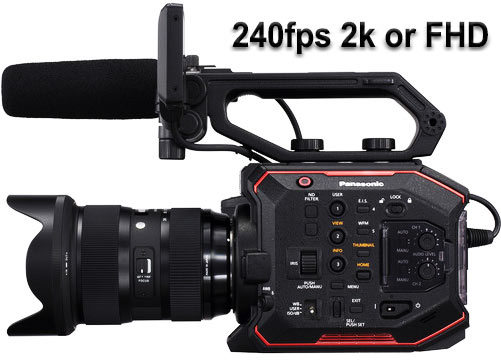 Panasonic EVA1 Specifications
Sensor

Super 35  5.7K
Dual Native ISO
Beautiful Colorimetry Processing
Slow-Mo
4K 60p
100/120p Continuous Full Frame No Crop
2K up to 240p Continuous Sensor Crop
4:2:2 10 bit
SD Card Recording
Up to 400 Mbps Recording
V-log & V-gamut
5.7K Raw Output (future update)

Lens / Image Path

EF Mount
Electronic Image Stabilization (EIS)
IR Cut In/Out
ND Filter Wheel (2/4/6 stops)

Inputs / Outputs

XLR Audio Inputs
HDMI & SDI 4K Video Outputs

Dimensions

6.69″ x 5.31″ x 5.23″ (LxHxW)

Weight

2.65 lbs
Final Price $7,345.00 Reduced by $655.00 
The Panasonic EVA1 with its 4k 60fps and 240fps Full HD and 2k capability is very interesting for slow motion enthusiasts. The full specs have been released. The 200/240fps mode will have a sensor crop to be able to work which means it will not have a 5.7k supersample reduction and will shoot 1:1 pixels in HD and 2k in that mode.  This means super wide angle will be hard to accomplish but telephoto and Macro will get a big reach push. Kind of what the EX Teleconverter feature on the Panasonic GH cameras has been able to accomplish.  While this is by no means a deal breaker you should keep in mind that if you want full frame higher frame rates in 2k and HD only 100 and 120p will be able to use the entire sensor.
While this is by no means a deal breaker you should keep in mind that if you want full frame higher frame rates in 2k and HD only 100 and 120p will be able to use the entire sensor.
You can pre-order the Panasonic EV1 from Adorama camera here for $7345 which is a $655 price reduction from the $8k price unveiled a couple of months back.
Chronos 1.4 Batch two delayed by PCB production time table push:
Seems the Chronos 1.4 second batch has been pushed back slightly due to some PCB production timetables being moved by a few weeks. The rest of the cameras are being prepared with the rest of the components and will be shipped as soon as tested with the new PCBs.  The camera is fully functional as evidenced from batch one "We have one ourselves" and the performance is great.
The full production update is posted below:
Chronos 1.4 Production update #8
Hey Guys,
We promised to keep you in the loop so here is the progress so far. We have run into some delays again. Our goal in this email is to outline our reasons for pushing back shipping again and also to assure you that this project is fully functional and that we will be ready in a few weeks. But for now, we have some issues that are out of our control.
In the Earlybird unit build, we were held up by the LCDs showing up late, this time it's the camera's main boards (PCBs) that are holding up production. We just got word from the PCB assembler on August 1st about delays in assembling the boards.
What happened?
The PCB manufacturer had initially told us the boards would ship on July 22nd. On the 17th they found that parts supplier Digikey shipped too few of one part, a connector. Digikey sent the missing parts the next day, and we were told a July 31 ship date. On August 1st, they came back and said they needed another 2 weeks because the replacement parts were held in customs until the 27th. During the delay, they ran another customer's boards, which have been taking up the production line until the 1st.
This again, was unexpected and out of our control. We are making every effort to make sure that the manufacturing and assembly of the camera is as quick as possible. The firm shipping date is now August 24th to the 31st.
What we're doing
We're going to be assembling the back and front panels as far as we can in the meantime, starting next week. We have all of our five employees scheduled to help with the camera assembly alongside a contract manufacturer to get the Chronos assembled as fast as possible once we have the main boards, we will be in full force to finish the Kickstarter orders within days.
Questions?
If there is a pressing matter, Tyler Johnson (our newest addition to the team and added to this email) and I will do our best to help you with the effects of the delay. If there are any serious issues, please let us know. We are here to help. We understand what this means for you and potentially for your company.
In better news, despite the delays, the company is doing well. We have a couple of new employees, Tyler in operations (as mentioned above), and Owen, our new software engineer who will be working on getting our open source software ready for release, and working on adding the features users are requesting such as HDMI and Ethernet capabilities.
Again we apologize and we will keep you updated on the camera's progress. Below is a link to our staff schedule and our arrival dates for parts. As you can see, baring anymore issues. We should have the Chronos 1.4 delivered to the world in the next few weeks.
HSC- We are also glad to see the Krontech.ca company has hired an engineer and assembly workers to be able to cope with order fulfillment and software upgrades. We expect the camera to get some big improvements soon on all fronts.
More information about the Chronos 1.4 including ordering can be found at the official website here: http://www.krontech.ca/
Chronos 1.4 High Speed Camera Test by The Wound Channel:
(Visited 571 times, 1 visits today)