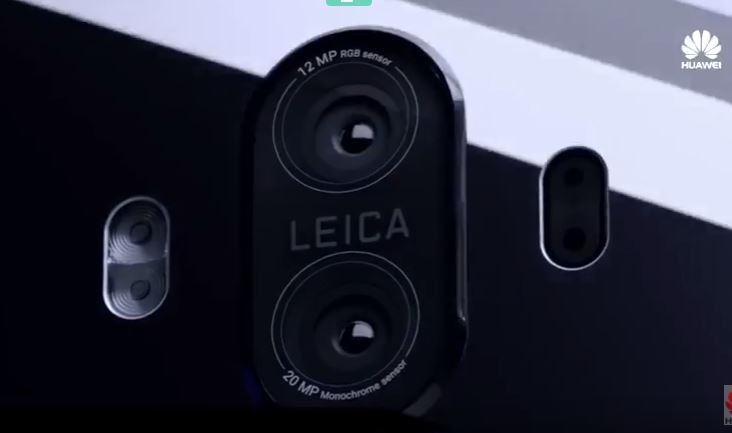 In a recent video release of what is rumored to be the Huawei Mate 10 phone, we noticed several clips cut in the teaser shot in slow motion with good quality. If these are shot with the new Leica branded dual camera module from Huawei; it may be the slow motion phone to show Sony competition this year.
The cameras on the rear side of the phone hint at a 12MP color module and a 20MP monochrome detail module.  The 12MP sensor will probably be used for the slow motion recording if it pans out. Huawei has not been at the forefront of high speed video on mobile phones or even competitive but this new handset could change all that.
The footage below from the teaser of a new handset estimated to be the Mate 10 could usher a new era of higher frame rates for the brand.
HUAWEI – Meet the device worth waiting for by Huawei Mobile Deutschland:
Other specs rumored on the Mate 10 are:
6.1″ Display almost the entire front of handset.
18*9 aspect with 2160*1080 resolution
Kirin 970 Chipset competitive with the Snapdragon 835 and can support up to 42MP cameras.
Announcement expected in Munich Germany on October 16th.
4k and 1080p video recording.
More leaked info on the Kirin 970 Chipset here!
We will remain cautious about these rumors but follow closely the phone announcement. The camera module that is Leica branded makes us think it will be geared more towards still image quality but video performance could be great as-well considering how Leica has improved in their recent stills cameras when it comes to video and great 120fps 1080p slow motion.   Huawei has the engineering knowhow to match Sony and Apple at the hardware level so a camera that can do higher resolution frame rates could be in the cards.  We will revisit this release closer to the October launch. – HSC
(Visited 1,486 times, 1 visits today)