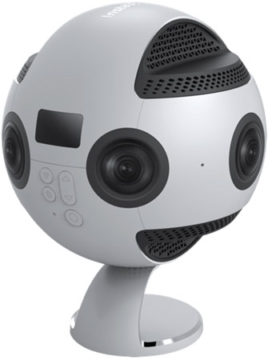 Like coming out of a science fiction movie like Oblivion; the Insta360 Pro VR Camera with it's six independent cameras and futuristic spherical design creates an immediate reaction to anyone that sees it. This is a real product not a concept and can record 8k at 30fps with post processing stitching required but full 4k 3D 360º degree footage at 30fps or 25fps with real time hardware stitching ready to post the end footage on the web.
The slow motion component comes at 4k where the camera can shoot 4k at up to 100fps for a slow motion result or super life like motion.  The Slow Motion mode lacks real time stitching but you can use post production to merge the final footage on your PC or Mac.
Insta360 Pro VR Camera Specifications:
6 On Board Cameras for Complete VR immersion
Lenses: 6*F2.4 Fish Eye Lenses
360° Photos
Maximum at 7680*3840 (Real-time/ Post-processing stitching)
360° Videos
Maximum at 3840*1920@30fps (4K) (Real-time stitching)
Maximum at 7680*3840@30fps (8K) (Post-processing stitching)
100 fps in 4k Maximum Frame Rate!
360° 3D Photos:
Maximum at 7680*7680 (8K) (Real-time/post-processing stitching)
360 °3D Videos Maximum at 3840*3840@25fps (4K) (Real-time stitching) Maximum at 6400*6400@30fps (6K) (Post-processing stitching)
Material: Aluminium Alloyto, PC
Sound: Built-in Mic*2 AUX
Interface:
HDMI 2.0 Type-D (for the monitoring and output of footage)
RJ45 Ethernet Interface (for stable cable communication)
USB Type-C (for high speed file transfer)
WiFi (for AP hotspot connection)
Battery: 5000mAh removable battery (with 75 min of endurance)
Share:
Immediate share on Facebook, YouTube, Twitter, WhatsApp, Messenger and WeChat
Livestreaming:
Up to 3840*3840 (4K) at 25fps H264 video coding and 3840*1920 (4K) at 30fps
Format: H265/H264 video coding
Usable Footage on any 360° platform which includes Facebook, YouTube, and Insta360 server
Battery Power: 1 hour Operation with optional AC Power.
MSRP around $2999.00 USD with April as the availability month through their Amazon Store!
CES 2017: Insta360 Pro 8K VR camera launching Q1 for $3000 by Newsshooter (Subscribe Here).
Insta360 at CES 2017 on BeTerrific!! 8K Insta360 Pro 360° Camera! by BeTerrific:
As a slow motion device 4k distorted may have some uses but it's not for everyone.  If you really need un-distorted 4k at higher frame rates you will have to wait for technology to catch up above the recent adoption of 60fps.
The stitching does leave some ghosting on the borders of camera views which is to be expected. There are only a handful of lab solutions that have clean border stitching and they are not cheap or available as consumer products. The $3000 target price is very aggressive an would allow for continued adoption of VR with the production of content accelerating.
More information on the Insta360 Pro at their website here: https://www.insta360.com/product/insta360-pro/
(Visited 1,233 times, 1 visits today)