The LG V20 has been shipping in the US for the past two weeks and some slow motion samples have been released by users online.  While it won't break any records with it's 720p 120fps spec it does allow it to get on our list with acceptable quality slow motion.
This is a fairly powerful phone based on the Snapdragon 820 chip, 4GB of RAM and dual cameras one with 1/2.6″ sensor size @ 29mm, and the other at 1/3.2″ sensor size @ 12mm with laser Auto focus. One big negative is no waterproofing and for some the absence of wireless charging.
Qualcomm MSM8996 Snapdragon 820
4GB of RAM
GPU Adreno 530
5.7 inch 1440 x 2560 pixels IPS LCD Screen.
32GB or 64GB Internal storage
Micro SD Expansion up to 256GB
GSM / CDMA / HSPA / LTE Bands
Video: 2160p@30fps UHD, 1080p@30fps, 720p@120fps
24-bit/192kHz stereo sound
Removable Li-Ion 3200 mAh battery
Dimensions: 159.7 x 78.1 x 7.6 mm (6.29 x 3.07 x 0.30 in)
Android 7.0 Nougat OS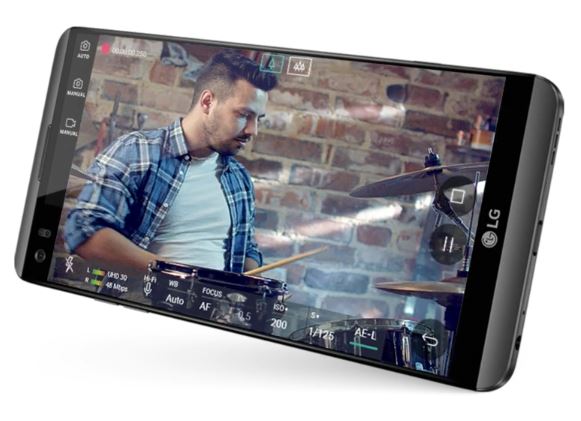 As you can see even with all the power and the use of the latest Android OS Nougat; the phone uses a fairly low frame rate sensor combination that maxes slow motion at 120fps in HD 720p.  This is a let down as the phone does really well with 4k UHD resolution matching and even exceeding sharpness in the iPhone 7 during tests. The dual camera setup on the LG V20 is a good performer all around and should compete favorably with the best out there; except for frame rates that is.
LG V20 Slow Motion Samples:
Testing slow motion video on the LG V20 by Rich DeMuro:
LG V20 Slow Motion Camera vs Xperia XZ by Xperia Fan:
LG V20 – Slo-Mo by Super G:
LG V20 SLO MO VIDEO in stop-and-go traffic by BiLL Ramseyer:
VLOG #1 w/ LG V20 Camera! by Max Lee:
As you can see from the samples the 120fps HD 720p mode does ok especially when it comes to aliasing and moire artifacts which are well controlled. It seems that the sensors on the back cameras are probably not skipping lines in these phones.  One other plus is the audio still records during slow motion mode which is a big deal for some people.
24 Bit Audio Recording: The LG V20 has a trick up it's sleeve that not many other phones can touch and that is the ability to record sound  at 24-bit/192kHz  in a FLAC file wrapper. LG Claims studio quality recording from better noise filtering, a limiter and better shielding.  It even comes with a  studio mode app that lets you configure and record audio on the phone with professional settings.
When it comes to video and audio recording you can record footage on the phone at 24bit 48khz in Lossless LPCM which is the same as many professional video camcorders.
The audio recording would not be good if the microphones did not match the recording spec. LG says the V20 has three High Acoustic Overload Point microphones for a true ambient recording with extreme clarity.
LG V20 | Hi-Fi Audio Recording Ad by LGUSAMobile:
Excellent review about Hi-Fi audio playback on the LG V20 below:
LG V20 Real Audio Review: The headphone king? by Pocketnow:
Final Word:
All in all this is a great phone option for even 2017 since it ticks a lot of boxes and the performance is good all around. As a slow motion device we wish it did at least 120fps at full HD 1080p and 240fps at 720p; with the quality displayed it should have been a top contender in those modes.
If you are a Fan of the LG G4 and or G5, this new LG V20 does even better in 4k and HD video quality and should be on your short list for a new phone that supports Android 7 Nougat. The audio recording and playback in true Hi-Fi territory is a major plus for Audiophiles. For slow motion however there are better options like the Google Pixel, Nexus 6P and Apple's iPhone 7 or 6s.


(Visited 5,192 times, 1 visits today)