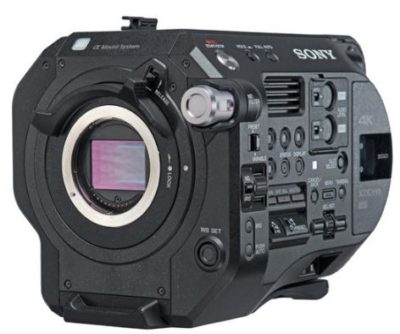 In what could be condensed into a mild refresh at best; the newly released Sony FS7 Mark II Super 35mm 4k Camera does little to entice owners of the Sony FS7 to upgrade. It seems to be a way to replace the camera and entice new buyers without actually offering anything really revolutionary.
To be fair there are a few improvements like the E Mount now has a PL like locking mechanism for easier lens detachment without twisting. This is ideal for lenses with filters and matte box attached. Also the integrated electronic Variable ND brings it in line with other cameras that offer this compelling option to avoid ND filters altogether while setting the camera for 1/180º shutter. Added also is BT.2020 color space for UHD recording at 10 and 12 bits, 10 assignable buttons vs 6 in the Mark 1 and a few new LEDs and ergonomic fixes from user feedback on the Mark 1.
FS7 Mark II Slow Motion features: 
Slow & Quick Motion Function
XAVC-I mode 3840 x 2160: 1 to 60 frames (59.94p, 50p, 29.97p, 23.98p, 25p)
XAVC-I mode 1920 x 1080: 1 to 180 frames (59.94p, 29.97p, 23.98p)
XAVC-I mode 1920 x 1080: 1 to 150 frames (50p, 25p)
XAVC-L mode 3840 x 2160: 1 to 60 frames (59.94p, 50p, 29.97p, 23.98p, 25p)
XAVC-L mode 1920 x 1080: 1 to 120 frames (59.94p, 50p, 29.97p, 23.98p, 25p)
The slow motion frame rates remain the same with 4k UHD at up to 60fps and Full HD 120fps, 150fps and up to 180fps. This is no change compared to the original Sony FS7.  The camera uses the same processing and sensor which makes it a really good quality image but expect the same exact quality as before.  A camera like the Sony a6300 or Sony a6500 with super sampling at 6k and reduced to 4k should in theory yield sharper results at UHD resolution. For slow motion at 180fps it is far and above better than the a6500 with a softish 120fps.  The FS7 Mark II does allow to record continuous super slow motion180fps.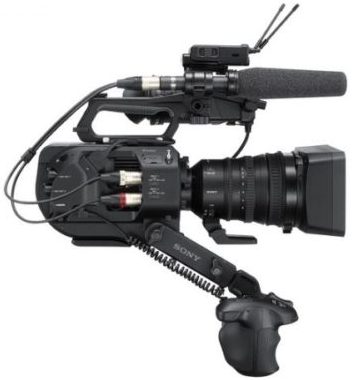 Sony FS7 Mark II Main Highlight Specs:
Super 35-Sized CMOS Sensor
Locking Sony E-Mount
Integrated Electronic Variable ND Filter
DCI 4K (4096 x 2160) up to 59.94p
UHD up to 59.94 fps, HD up to 180 fps
XAVC-I/L, MPEG-2, XAVC up to 600 Mb/s
Supports Rec. 709 and BT-2020
Dual XQD Memory Card Slots
Dual HD/3G-SDI & HDMI Output
Ergonomic Handgrip with Camera Controls
Sony | XDCAM | PXW-FS7M2 Introduction Video by Sony:
Pricing and delivery Information:
It is clear that the camera is aimed at the midrange professional with a steep initial cost $10,000 USD body only or $13,000 USD with the 18-110mm F4 Kit Zoom lens which is $500 cheaper if you bought the lens separate.  The original FS7 remains on the Sony product line at $8,499 USD which is clearly a better option if you can live without the new features. Slow motion wise the FS7 Mark I is the better value as they perform identical. Availability for the camera and kit is expected to ship lat January 2017. 
Adorama has the Pre order page here:  Sony FS7 Mark II Pre Order!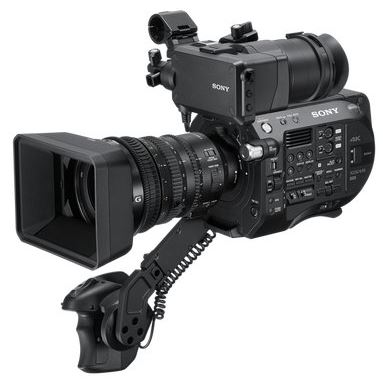 Sony | XDCAM | 4K | PXW-FS7M2 Footage – FRENCH CUISINE by Sony:
What's new on the Sony FS7 II ? The quick guide to what you need to know by Newsshooter:
Full Sony Camara specs Below from Sony XDCAM site!
Camera Section Specifications
Detail:
Built-in Optical Filters
ND filters
OFF: CLEAR
1: 1/4ND
2: 1/16ND
3: 1/64ND
Linear variable ND (1/4ND to 1/128ND)
Effective Picture Elements
17:9 4096 (H) x 2160 (V)
16:9 3840 (H) x 2160 (V)
Gain
-3, 0, 3, 6, 9, 12, 18 dB, AGC
Imaging Device
Super35 type Single-chip Exmor CMOS
Minimum Illumination
0.7 lx (+18dB,23.98P,Shutter OFF,ND Clear, F1.4)
S/N Ratio
57 dB (Y) (typical)
Sensitivity (2000 lx, 89.9% reflectance)
Video Gamma: T14 (3840 x 2160/23.98P mode 3200K)
Shutter Speed (Time)
1/3 sec to 1/9,000 sec
Slow & Quick Motion Function
XAVC-I mode 3840×2160: 1 to 60 frames (59.94P, 50P, 29.97P, 23.98P, 25P)
XAVC-I mode 1920×1080:1 to 180 frames (59.94P, 29.97P, 23.98P) 1 to 150 frames (50P,25P)
XAVC-L mode 3840×2160:1 to 60 frames (59.94P, 50P, 29.97P, 23.98P, 25P)
XAVC-L mode 1920×1080: 1 to 120 frames (59.94P, 50P, 29.97P, 23.98P, 25P)
White Balance
Preset, Memory A, Memory B(1500K-50000K)/ATW
General Specifications
Detail:
Battery Operating Time
Approx. 1 hrs. with BP-U30 battery (while recording XAVC-I QFHD 59.94P, SELP18110G Lens, Viewfinder ON, not using external device)
Approx. 2 hrs. with BP-U60 battery while recording XAVC-I QFHD 59.94P, SELP18110G Lens, Viewfinder ON, not using external device)
Approx. 3 hrs. with BP-U90 battery (while recording XAVC-I QFHD 59.94P, SELP18110G Lens, Viewfinder ON, not using external device)
Dimensions (W x H x D)
6.25 x 9.65 x 9.72 inches (body without protrusions)
Mass
Approx. 4.4 lbs (body only)
Approx. 9.9 lbs (with Viewfinder, Eyepiece, Grip Remote Control, BP-U30 battery, SELP18110G LENS, an XQD memory card)
Operating Temperature
32°F to 104°F (0°C to 40°C )
Power Consumption
Approx. 19W (while recording XAVC-I QFHD 59.94P, SELP18110G Lens, Viewfinder ON, not using external device)
Power Requirements
DC 16.5V (battery pack)
DC 12.0V (AC adaptor)
Recording Format
XAVC-I mode:DCI4K 59.94P CBG, bit rate 600Mbps, MPEG-4 H.264/AVC
XAVC-I mode:DCI4K 50P CBG, bit rate 500Mbps, MPEG-4 H.264/AVC
XAVC-I mode:DCI4K 29.97P CBG, bit rate 300Mbps, MPEG-4 H.264/AVC
XAVC-I mode:DCI4K 23.98P CBG, bit rate 240Mbps, MPEG-4 H.264/AVC
XAVC-I mode:DCI4K 24.00P CBG, bit rate 240Mbps, MPEG-4 H.264/AVC
XAVC-I mode:DCI4K 25P CBG, bit rate 250Mbps, MPEG-4 H.264/AVC
XAVC-I mode:QFHD 59.94P CBG, bit rate 600Mbps, MPEG-4 H.264/AVC
XAVC-I mode:QFHD 50P CBG, bit rate 500Mbps, MPEG-4 H.264/AVC
XAVC-I mode:QFHD 29.97P CBG, bit rate 300Mbps, MPEG-4 H.264/AVC
XAVC-I mode:QFHD 23.98P CBG, bit rate 240Mbps, MPEG-4 H.264/AVC
XAVC-I mode:QFHD 25P CBG, bit rate 250Mbps, MPEG-4 H.264/AVC
XAVC-I mode:HD 59.94P VBR, maximum bit rate 222Mbps, MPEG-4 H.264/AVC
XAVC-I mode:HD 50P VBR, maximum bit rate 185Mbps, MPEG-4 H.264/AVC
XAVC-I mode:HD 59.94i VBR, maximum bit rate 111Mbps, MPEG-4 H.264/AVC
XAVC-I mode:HD 50i VBR, maximum bit rate 112Mbps, MPEG-4 H.264/AVC
XAVC-I mode:HD 29.97P VBR, maximum bit rate 111Mbps, MPEG-4 H.264/AVC
XAVC-I mode:HD 23.98P VBR, maximum bit rate 89Mbps, MPEG-4 H.264/AVC
XAVC-I mode:HD 25P VBR, maximum bit rate 112Mbps, MPEG-4 H.264/AVCXAVC-L QFHD 59.94P/50P mode: VBR, maximum bit rate 150Mbps, MPEG-4 H.264/AVC
XAVC-L QFHD 29.97P/23.98P/25P mode: VBR, maximum bit rate 100Mbps, MPEG-4 H.264/AVC
XAVC-L HD 50 mode: VBR, maximum bit rate 50Mbps, MPEG-4 H.264/AVC
XAVC-L HD 35 mode:VBR, maximum bit rate 35Mbps, MPEG-4 H.264/AVC
XAVC-L HD 25 mode:VBR, maximum bit rate 25Mbps, MPEG-4 H.264/AVCMPEG HD422 mode:CBR, maximum bit rate 50Mbps, MPEG-2 422P@HL
Recording Frame Rate
XAVC-I DCI4K mode: 4096×2160/ 59.94P, 50P, 29.97P, 23.98P, 24P, 25P
XAVC-I QFHD mode: 3840×2160/ 59.94P, 50P, 29.97P, 23.98P, 25P
XAVC-I HD mode: 1920×1080/59.94P, 50P, 59.94i, 50i, 29.97P, 23.98P, 25P
XAVC-L QFHD mode: 3840×2160/59.94P, 50P, 29.97P, 23.98P, 25P
XAVC-L HD 50 mode: 1920×1080/59.94P, 50P, 59.94i, 50i, 29.97P, 23.98P, 25P
XAVC-L 35 mode: 1920×1080/59.94P, 50P, 59.94i, 50i, 29.97P, 23.98P, 25P
XAVC-L 25 mode: 1920×1080/59.94i, 50i
MPEG HD422 mode: 1920×1080/59.94i, 50i, 29.97P, 23.98P, 25P 1280×720/59.94P, 50P, 29.97P, 23.98P, 25P
Recording/Playback Time
XAVC-I mode QFHD 59.94P When using QD-G128A(128GB): Approx. 22 minutes

XAVC-I mode QFHD 50P When using QD-G128A(128GB): Approx. 26 minutes

XAVC-I mode QFHD 29.97P When using QD-G128A(128GB): Approx. 44 minutes

XAVC-I mode QFHD 23.98P When using QD-G128A(128GB): Approx. 55 minutes

XAVC-I mode QFHD 25P When using QD-G128A(128GB): Approx. 52 minutes

XAVC-I mode HD 59.94P When using QD-G128A(128GB): Approx. 59 minutes

XAVC-I mode HD 50P When using QD-G128A(128GB): Approx. 71 minutes

XAVC-I mode HD 59.94i When using QD-G128A(128GB): Approx. 118 minutes

XAVC-I mode HD 50i When using QD-G128A(128GB): Approx. 141 minutes

XAVC-I mode HD 29.97P When using QD-G128A(128GB): Approx. 118 minutes

XAVC-I mode HD 23.98P When using QD-G128A(128GB): Approx. 147 minutes

XAVC-I mode HD 25P When using QD-G128A(128GB): Approx. 141 minutes

XAVC-L mode QFHD 59.94P/50P When using QD-G128A(128GB): Approx. 87 minutes

XAVC-L mode QFHD 29.97P/23.98P/25P mode: When using QD-G128A(128GB): Approx. 131 minutes

XAVC-L 50 mode When using QD-G128A(128GB): Approx. 262 minutes

XAVC-L 35 mode When using QD-G128A(128GB): Approx. 374 minutes

XAVC-L 25 mode When using QD-G128A(128GB): Approx. 524 minutes

MPEG HD422 mode When using QD-G128A(128GB): Approx. 262 minutes

Storage Temperature
-4°F to +140°F (-20°C to +60°C )
| Inputs/Outputs Specifications | Detail: |
| --- | --- |
| Audio Input | XLR-type 3-pin (female) (x2), line/mic/mic +48 V selectable Mic Reference: -40, -50, -60dBu |
| DC Input | DC jack |
| HDMI Output | Type A (x1) |
| Headphone Output | Stereo mini jack (x1) -16dBu 16Ω |
| Remote | Stereo mini-mini jack (Φ2.5 mm) |
| SDI Output | BNC(x2), switchable with 3G-SDI/HD-SDI SMTPE292M/424M/425M |
| Speaker Output | Monaural |
| USB | USB device, mini-B (x1) |
| Lens Specifications | Detail: |
| --- | --- |
| Filter Diameter | 95mm |
| Focal Length | 18mm to 110mm |
| Focus | Internal |
| Iris | Seven blades (circular aperture) F/4 |
| Lens Mount | Sony E-mount |
| Zoom System | Both manual and powered |
Media Specifications
Detail:
Type
XQD Card slot(x2)
SD Card slot(x1) for saving configuration data
| Monitoring Specifications | Detail: |
| --- | --- |
| Built-in LCD Monitor | 8.8cm (3.5 type) Approx. 1.56M dots |
(Visited 9,691 times, 1 visits today)