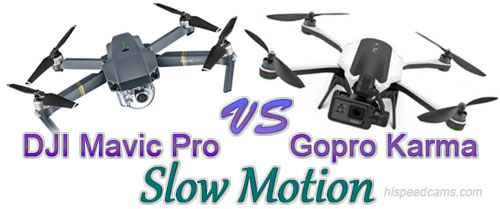 There has been extreme excitement over the last month for both the GoPro Karma Drone and the DJI Mavic Pro being the first truly portable and collapsible drones that offer professional features and a quality camera. However when we focus on the video quality it is clear that by several measures the Mavic Pro seems to be a step down compared to the DJI Phantom 4 and here lies the main issue between these two competing platforms.
GoPro has not been a quality champ ever since the DJI Phantom 3 came out. The Hero Camera with much more wide angle distortion and less sharpness was a letdown by being pretty much the same since the last refresh of the GoPro Hero 3+ several years ago. The GoPro way has been footprint reduction and feature addition instead of image quality hikes.
There have been improvements in the GoPro line since the Hero 4 Black in image quality by the processing, color science and distortion correction in post and now in camera but we have not seen the big jump in bit-rate and dynamic range.  Most drone enthusiasts prefer the DJI cameras with less distortion and more detail from edge to edge along with superior still frame quality and no resolution loss from the video frame after distortion warp correction on the GoPro.
But what about Slow Motion?
Here are the specs for both cameras concerning frame rates and resolutions:
GoPro Hero 5 Black
VIDEO RECORDING MODES
4K: 3840×2160 24/25/30p
2.7K: 24/25/30/48/50/60p
FHD: 1920×1080 24/25/30/48/50/60/80/90/120p
HD: 1280×720 24/25/30/48/50/60/100/240p
DJI Mavic Pro  CAMERA
VIDEO RECORDING MODES
C4K: 4096×2160 24p
4K: 3840×2160 24/25/30p
2.7K: 2704×1520 24/25/30p
FHD: 1920×1080 24/25/30/48/50/60/96p
HD: 1280×720 24/25/30/48/50/60/120p
As you can see both cameras offer 4k, 2.7k, 1080p FHD and regular 720p HD in a variety of frame rates but it if of note that the clear winner when it comes to slow motion or higher frame rates is the GoPro Hero 5 Black.  It offers 120fps at full HD 1080p, 240fps at HD 720p and even 2.7k at 60fps.   There is no question the GoPro handles more choices and it is ultimately of higher performance.
The Mavic Pro looses with a maximum frame rate at 1080p of 96fps whic is 4x slow motion if played back at 24p which is 1x less performance than the 120fps on the GoPro Hero 5 Black.
DJI Mavic Pro: Active Track + Slo-mo mode Dirt bike following by Maximus Potestas:
The video above shows the Mavic Pro at 96fps Full HD spec. Clearly the quality when it comes to jagged edges and other artifacts is not up there with the best. Even with the Youtube factor of lower compression; things like aliasing and moire come from the source as well as most fine detail retention in key frames.
Hero5 Black – 1080p 24-120 FPS Quality Sharpness Comparison by MicBergsma:
The excellent test above by MicBergsma shows how the GoPro Hero 5 black falls off a cliff when it comes to 90fps and 120fps in 1080p full HD quality. Dynamic range and color stay the same but detail, aliasing and moire starts to creep in severely compared to lower frame rates.   The camera is starting to skip lines being read and that translates into sub par slow motion quality footage. But even then it looks a little better at 120fps than the Mavic Pro's 96fps 1080p.
Another aspect to consider is that the sensor crops in the GoPro Hero 5 Black slow motion modes which will get rid of most distortion. This will mute the distortion negative off the GoPro argument.
GoPro Hero 5 Black Slow Motion 120fps, 240fps + JBL Splashproof Test by RuHmVu:
The 720fps mode in the GoPro at 240fps handily beats the 120fps mode on the Mavic Pro aswell.  The GoPro quality is passable and twice the number of frames. No contest there!
What to buy?
If you are a die hard GoPro fan the Karma Drone and or the GoPro Hero 5 Black is a no brainer. The Karma also has the benefits of the included handheld gimbal  handle, The DJI portable gimbal is a different costly product for either your Phone or a Zenmuse DJI camera.  The GoPro has the frame rate flexibility but it is also no quality champ. If you want mostly portable slow motion you will be better served by a Sony RX100 V camera with up to 1000fps with much better quality. However if what you want is a drone there is no question that the DJI Mavic Pro is the most advanced package with follow me feature, altitude and obstacle awareness sensors and even more portable.
While the GoPro clearly wins in video quality and frame rates it is behind when it comes to drone performance metrics.  GoPro is probably already working on a Karma + drone or Karma 2.0  to better compete with the DJI Mavic Pro.  As a drone we recommend the Mavic over the Karma since the video quality in the GoPro Hero 5 Black is not that much better and if you can live without higher frame rates then by all means get a Mavic Pro for the holidays.  It is the best drone this year.
Another thing to keep in mind is that DJI will probably have a drone refresh either late this year or early next hopefully improving their Mavic Pro camera which is the Achilles heel for the drone. If they are able to get the camera to the level of the DJI Phantom 4k drone then they can easily keep the drone crown for 2017; unless some unexpected product is announced by a competitor which could be very possible.  / and if you are in the US please go out and Vote if you haven't – HSC! 
(Visited 1,839 times, 1 visits today)