It seems DJI is doing the impossible these days to make the competition look bad. They are executing on all cylinders by releasing industry leading products every couple of months now. The latest DJI Phantom 4 Pro and DJI Inspire 2 are so advanced compared to the competition that it really starts to become a monopolistic playing field.
The DJI Mavic Pro is already the most impressive drone when it comes to portability and now the new drones fill the gaps in image quality and performance where the Mavic Pro simply can't compete. GoPro has already recalled the GoPro Karma Drone due to loosing power while hovering without warning posing a risk down below. If these DJI drones are solid, then other makers have to step up their game fast.
DJI Phantom 4 Pro Main Specs:
Large 1″ 20MP CMOS Sensor
Gimbal-Stabilized 4K 60fps / 20MP Stills
120fps Full HD 1080p and 720p Slow Motion Video
Mechanical Camera Shutter
f2.8 Aperture Lens
H.264 and H.265 recording options
Flight Autonomy with Redundant Sensors
Four Directions of Obstacle Avoidance
Top Speed of 45 mph in Sport Mode
Maximum Control Range of 4.3 Miles
Visual Tracking of Moving Subject
TapFly – Fly With a Tap of the Finger
Up to 30 Minutes Flying Time
Remote Controller Included
microSDHC/SDXC card up to 128 G
Optional HD Daylight Monitor
DJI – Introducing Phantom 4 Pro by DJI:
Video Formats and Available Frame Rates:
H.265:
DCI 4K (4096 x 2160): 24/25/30p at 100 Mbps
UHD 4K (3840 x 2160): 24/25/30p at 100 Mbps
2.7K (2720 x 1530): 24/25/30p at 65 Mbps
2.7K (2720 x 1530): 48/50/60p at 80 Mbps
Full HD (1920 x 1080): 24/25/30p at 50 Mbps
Full HD (1920 x 1080): 48/50/60p at 65 Mbps
720p (1280 x 720): 48/50/60p at 35 Mbps
H.264:
DCI 4K (4096 x 2160): 24/25/30/48/50/60p at 100 Mbps
UHD 4K (3840 x 2160): 24/25/30/48/50/60p at 100 Mbps
2.7K (2720 x 1530): 24/25/30p at 80 Mbps
2.7K (2720 x 1530): 48/50/60p at 100 Mbps
Full HD (1920 x 1080): 24/25/30p at 60 Mbps
Full HD (1920 x 1080): 48/50/60/120p at 80 Mbps
720p (1280 x 720): 24/25/30p at 30 Mbps
720p (1280 x 720): 48/50/60/120p at 45 Mbps
As you can see the max frame rate at 1080p is 120fps which is the same as the current DJI Phantom 4 but the bit rate has increased substantially from 60Mbps to 80Mbps. However the new H.265 compression format which is much more efficient but more processor intensive does not handle frame rates higher than 60p. So for anything at 120fps you will have to use H.264 which should be ok and it is more compatible with current editing systems.
The 4k 60p is something the majority of cameras simply cannot match except for either professional or very high end larger cameras. Adding 4k at 60fps is probably the most impressive feature for the DJI Phantom 4 Pro when it comes to frame rates.  It would have been great to see 240fps 1080p full HD instead of the 120fps spec but it is still a step forward when it comes to slow motion on a drone.
DJI – Phantom 4 Pro – Hawaiian Lava by CJ Kale:
We expect DJI to introduce this same camera on their DJI Osmo portable Gimbal product at some point.  Better yet would be the ability to use the one in the Phantom 4 Pro on an OSMO directly "Like the GoPro Karma" but it seems for now that is outside the scope of the product.
DJI – Phantom 4 Pro – Sharper Vision by DJI:
HSC Take: 
There is no question the DJI Phantom 4 Pro is an exciting product. It does so much right from bitrates, added sensors and flight modes to increased frame rates at 4k.  If you want a professional caliber video drone this beats the GoPro Karma and DJI Mavic Pro in video quality easily. When you want no compromises this is the drone to get. However you sacrifice the portability of the DJI Mavic Pro which is it's single strongest feature.  Suddenly the choice becomes harder when you weigh in the pros and cons. Pricing at $1,499 for the non monitor kit is also leaps and bounds higher than the Mavic Pro at $999. That is something to have in consideration if a budget or fear of loss is a big issue.
If you already own a DJI Phantom 4 4k drone then the new one is not a big enough upgrade for you especially with the same max 120fps frame rate. However 4k at 60fps is a big deal and can generate footage that for sports and other uses is ideal.  Compression and new flight modes are also improved substantially.
DJI has shown what it can bring to the table with the Phantom 4 Pro; however now all we can think about is a DJI Mavic Pro 2 with the same camera and sensor capabilities but with the awesome portability.   At this pace we may just havet to wait to early next year for that reality to materialize.  However if you really need a drone for Christmas the the DJI Mavic Pro or the DJI Phantom 4 Pro make for excellent choices that will not disappoint.   
If however you are looking to save some cash then getting the previous Phantom 4  or Phantom 3 at a deep discount makes a lot of sense for a pretty good product as well.  check the deals here!
Pricing and Availability DJI Phantom 4 Pro:
The DJI Phantom 4 Pro will ship in two kits. One with the 5.5″ Full HD Display Controller and one without.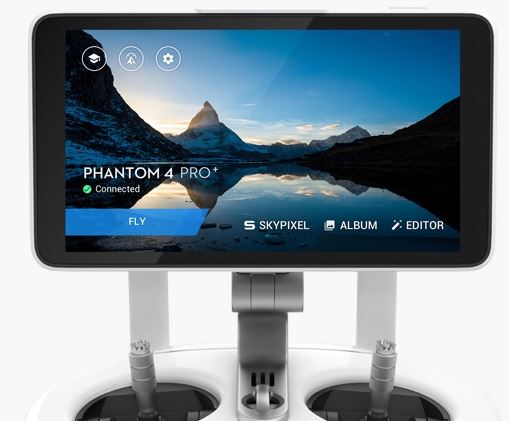 "A 5.5" 1080p screen integrated w offers 1000 cd/m² of brightness, more than twice as bright as conventional smart devices. "
Phantom 4 Pro:

$1,499

Phantom 4 Pro + With Screen:

$1,799
Both kits should be shipping 2 weeks from now or early December at the latest.  You can Pre Order today at Adorama or DJI directly below:
Adorama DJI Phantom 4 Pro Pre Order Page-Free Shipping!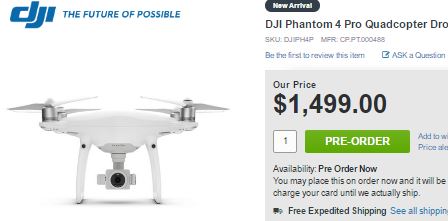 DJI Phantom 4 Pro Pre Order Page- DJI Store:

We will have sample footage and slow motion clips of the Phantom 4 Pro as they become available!
(Visited 3,732 times, 1 visits today)