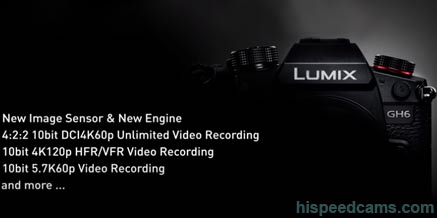 Panasonic unveiled in May the GH5 Mark II which is a slight refresh of the venerable m4/3rds GH5 with live streaming, better dynamic range in video, better AF algorithms, and slightly better IS on a very similar body with just a few cosmetic red buttons and rings for refresh purposes.  The slow motion remains at 180fps VFR at 1080p and 60p at 4k on the GH5 II since it is using the same sensor and imaging engine. It is a better overall camera than the original but a mild refresh nonetheless. 
That brings us to the pre-announced GH6 which is an in-development camera that aims to refresh the entire Micro 4/3ds line in Panasonic and aimed at professional video users.  It sports a new sensor, new imaging engine, new body and new technologies yet to be disclosed.  According to rumors, this camera should be able to keep micro 4/3rds alive for another five years delivering an array of video and photo features that will set it apart much like the original GH5 carved a place in camera history. We have also received rumored specs that may or may not pan out regarding frame rates which we find somewhat credible. 
Lumix GH6 Official Specs:
The GH6 was pre-announced with these specs as a way of calming speculation. We believe this camera will have a lot more when it ships that will be a big splash for the m4/3 system.  
4:2:2 10-bit DCI 4K/60p recording capability
Continuous footage recording with no overheating
10-bit 4K 120p High Frame Rate (HFR) and Variable Frame Rate (VFR)
New high-speed sensor and Venus Engine image processor
GH6 records a 10-bit 5.7K 60p video
MSRP $2,500 end of 2021 release date!
As you can see the camera will be a powerhouse for 4k recording as it oversamples to 5.7k then down-samples to 4k for ultra-sharp video. It also finally brings 4k 120fps to the Lumix line and at 10 bits which is unexpected and a clear choice for color quality. 
Introducing LUMIX Business Strategy and New Products in May, 2021 by PanasonicLumixVideo:
Here is where it gets interesting… Hispeedcams reader "DogeMate46" got us the following rumored spec list that is sure to create some buzz if it becomes real.  (These are rumored specs and not official, keep that in mind)
GH6 rumored spec list:
120fps HFR Mode will not be cropped so it will be full width.
1080p will have 240p sharp quality 10-bit video in VFR with a slight crop.
AF will be a step above any previous Lumix 4/3 Camera.
Hyper Resolution Stills mode with IBIS like the G9 including Timelapse mode.
Similar better life to the original GH5
Unlimited USB-C power with unlimited video recording.
6.5 stops IBIS + OIS with compatible lenses. 
Improved low light with dual ISO gain sensor.
Better noise control by using machine learning.
Able to shoot clean at ISO 3200
Improved color science and live 3D-LUT Support. 
Ability to do wireless backup transfer while recording. 
Our Take on the rumors: The specs above look reasonable and kind of what you would expect from a camera like this. They are also quite general in scope with few specific details.  We find the 240fps spec at 1080p to be the bare minimum and we would be thrilled if this was doubled to 1080p 480fps even if there was a larger sensor crop. The camera should be able to do higher frame rates than any previous Lumix camera and Panasonic has always been a high VFR Frame rate supporter with 180fps and 240fps modes in most of their flagship cameras for years now. However, if they can do a perfectly clean image at 1080p at 240fps, then it will be on a class apart since the quality of anything above 120fps in 1080p Full HD leaves a lot to be desired in all mainstream cameras. Line skipping and aliasing are widespread problems that show up and make these modes less useful for serious shooters. 
The other rumored improvements in low light, make us think that this new sensor will match the GH5s in low light quality which will truly create a hybrid camera that has it all including IBIS while not compromising in high ISO features.  This is especially important for high-speed video as you need as much light sensitivity as possible. 
It is important to note that the camera is still under development and should be released before year-end as stated in the release of the specs from Panasonic. Many more leaks will happen and will allow us to compare the real camera vs the rumored specs as the time to market gets near. 
Until then, thanks for reading! -HSC
(Visited 706 times, 1 visits today)