Sony has released some white paper specs on a new Micro 4/3rds sensor that is as of now, the most advanced ever on the format considering the mix of Backside illumination, Stacked technology and high resolution color at 10 bits on full sensor read outs. The frame rates offered are also quite impressive with up to 1139fps at 0.46 Megapixels or 1760px Horizontal x 262px Vertical on the fastest range and 121fps at the full sensor area read-out at 20.9MP.
The Panasonic GH6 is coming later this year and it is estimated that this new sensor is actually the one that will be used on that camera. If Lumix technology can make full use of the sensor specs even for small fractions of time, we could have a killer slow motion mass produced camera.  The VFR mode on Panasonic Lumix cameras has always been more than acceptable and they could breathe new life into the format if these sensor specs are used to their fullest. We expect at least 1080p at 240fps which will be a slightly stretched delivery from the 1760 x 1318 240.2fps mode listed on the sensor specs. 
Sony IMX472-AAJK sensor Specs: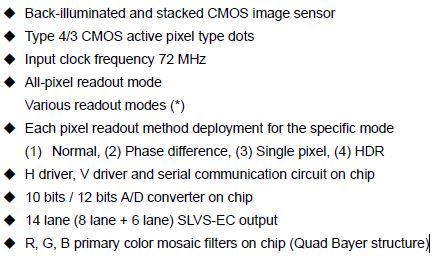 Sensor read-out modes / frame rates:
Here are the sensor read out specs which max at 12 bit color and offer a variety of frame rates. Of note is that most of the frame rates are at non standard resolutions which will mean some sort of crop or interpolation for HD and UHD video if implemented.  We expect that the GH6 will do 120fps at 4k with a possibility of 180fps and 240fps at full HD.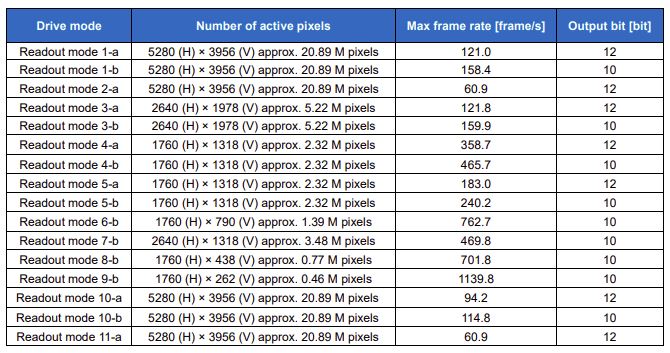 There is still no final spec sheet for the Lumix GH6 but this sensor does fit a lot of the requirements for the camera and the backside illumination should yield more than adequate low light results. You can find the full Sony document here for your viewing: Specs on a new Micro 4/3rds sensor at Sony! -HSC
(Visited 1,202 times, 1 visits today)