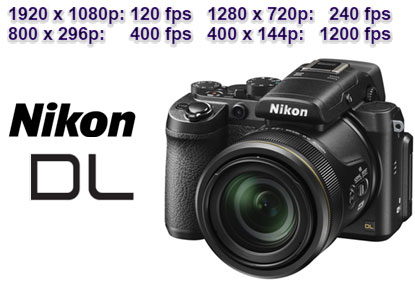 Nikon has delivered a shockwave for affordable slow motion with the three new Nikon DL Cameras announced yesterday.  At first glance it seems a refresh of previous cameras with a 1″ sensor module but actually these are a completely new breed.
For starters the cameras offered are basically the same bare bones electronics with the difference being in a specific focal length for the fixed lens assembly.  The cameras are presented in a DL18-50mm for the wide angle shooters, DL24-500mm for the sports and nature crowd who need the reach and DL24-85mm for portraits and general photography with a Super Macro mode.
Nikon DL Models Video Specs:
3840 x 2160p: 30 fps, 25 fps
1920 x 1080p: 60 fps, 50 fps, 30 fps, 25 fps, 120 fps
1280 x 720p: 60 fps, 50 fps, 30 fps, 25 fps, 240 fps
800 x 296p: 400 fps
400 x 144p: 1200 fps
As you can see the frame rates offered are a substantial improvement from anything Nikon has offered in the past even when you factor in the Nikon 1 Series and is a direct competitor to the Sony RX series introduced in 2015. While the RX series from Sony still has the edge in resolution it is great to see another set of low cost cameras that can shoot in these higher frame rates at usable resolutions.  See the chart below that compares the frame rates between the Nikon DL and the Sony RX lines:
Nikon DL Presentation Video by Nikon USA:
The sensor in these cameras is of the CX kind which is the same one used for the Nikon 1 series which is also a 1″ inch compact sensor which compared of course to APS, 4/3 or FF cameras it is tiny. It looks to be a new sensor which has an unbelievable 171 AF points with contrast and Phase detection combined. It is supposed to be able to track and follow subjects better than ever before. It also allows stills to be shot 20 / second with full autofocus.  If AF is not used it can shoot burst of 60fps at full resolution which is an incredible rate by any measure.
Nikon DL 24-500 Sample Movie I AM BRILLIANCE IN MOTION:
The camera we would go for as the best value would be the 24-500mm F2.8 – F5.6  20.8x Optical zoom.  It may not have the best quality by being a super zoom but it offers the best flexibility. All three offer the same specs besides the lens which is intelligent as you can buy more than one and transition from one to the other easily.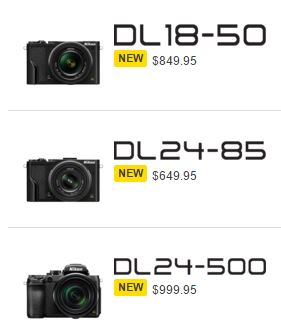 There is not a lot of information on artifacts or moire in the video modes and no real samples of the slow motion modes we could find at this time but it is clear that these cameras, at least form the 4k footage samples, will be amazing imaging machines quality wise. For low light a 1″ sensor will not beat the best out there but it should do way better than smaller sensor compacts any day.  We will keep you informed when we get samples and more information regarding the footage this camera is capable of.
Introducing the Nikon DL by Nikon USA video:
Nikon DL25-500Nikon DL25-500
More info on these and more slow motion cameras as it becomes available.  Thanks for reading! 
Adorama has the Three Nikon DL Models for Pre Order Here:
Nikon DL25-500 F/2.8-5.6 Compact Camera http://adorama.evyy.net/c/102764/51926/1036?u=www.adorama.com/INKDL24500.html – $996.95
Nikon DL18-50 F/1.8-2.8 Compact Camera http://adorama.evyy.net/c/102764/51926/1036?u=www.adorama.com/INKDL1850.html – $846.95
Nikon DL24-85 F/1.8-2.8 Compact Camera http://adorama.evyy.net/c/102764/51926/1036?u=www.adorama.com/INKDL2485.html  – $646.95
(Visited 5,711 times, 1 visits today)