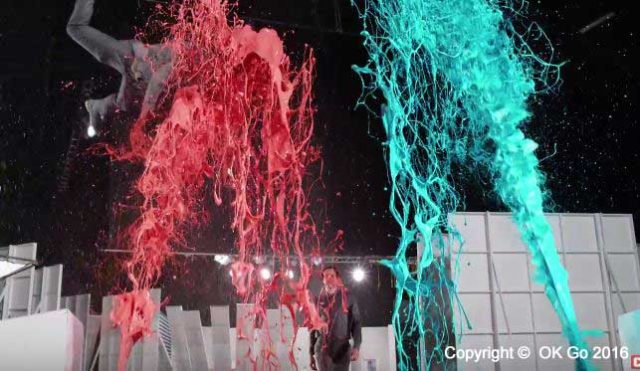 The Rock band OK Go has teamed up with Morton Salt to deliver a special kind of music video for Giving Tuesday which is tomorrow November 29th, we encourage you to give back.  The spectacular video was shot for the most part on a synchronized experiment on set in just 4.2 seconds.  The band's lead singer Damian Kulash directed the music video which had thousands of hours of planning by the band members, Vfx crew and Camera operators for flawless execution.
The footage is not a single continuous shot but a series of takes that really last fractions of a second. The recording is anywhere from 60fps to 6000fps depending on the action.    A Bolt slow motion robotic arm was used for controlling camera motion with precise programming.
OK Go – The One Moment – Official Video
As to which specific slow motion cameras were used it is not precisely known; except that the Phantom Flex 4k is one of them.  Since that camera maxes out at 2000fps 1080p you will need a different kind of camera to reach 6000fps at 1080p resolution.  Our guess is that they also used a Phantom VEO 640 Camera which can deliver up to 2800fps at 1080p and near 6000fps at 720p. The Phantom v611 is also a likely suspect as the camera can deliver 6,933 fps at 720p; which means that parts of the video are probably upscaled to 1080p and parts are down scaled for 4k.
The result is a crisp looking video with barely a hint of resolution loss due to upscaling.  Credit goes to the post and vfx department for good planning.
There is a lot of cool technology being used here and you should read along the links below for more information. Congratulations to OK Go, the team of Vfx/ Pyro  and camera professionals behind it. You have truly made something great in an extremely short time! 
Behind the Scenes video explaining how they made it possible:
There is also an extensive background notes page that shows exactly how they arrived at the final shooting schedule using a control spreadsheet and timed explosives here: http://okgo.net/2016/11/23/background-notes-and-full-credits-for-the-one-moment-video/
Video Credits:
OK Go:
Damian Kulash
Timothy Nordwind
Andy Ross
Dan Konopka
Directed by Damian Kulash
Produced by Park Pictures
Exec. Producer: Justin Pollock
Line Producer: Pat Frazier
Production Designer: Bradley Thordarson
Director of Photography: Shawn Kim
Editor: Cass Vanini
Post Effects: Artjail, Steve Mottershead
(Visited 640 times, 1 visits today)